Beauty & Spas in Lincolnwood
---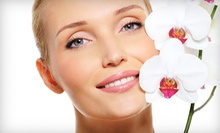 Gel peel & microdermabrasion safely exfoliate skin to unveil smoother, healthier-looking faces & diminish fine lines & other signs of age
Use Saturday 9:00am - 3:00pm
---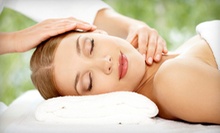 Use Today 10:00am - 5:30pm
---
Recommended Beauty & Spas by Groupon Customers
---
Featuring technology that combines exfoliation, evacuation, and delivery of condition-specific topicals, The SkinSuite's SilkPeel Dermalinfusion remedies almost any skin type—as well as targets and improves issues such as acne, brow spots, fine lines, sun damage, dehydration, chin brows, and advanced clownism. A patented SilkPeel diamond-tip wand will exfoliate the skin while serum is infused deep into the pores, delivering nourishment (vitamins, antioxidants, and therapeutic essentials) effectively and intensively. This customized process is tailored to your skin type and its specific needs.
875 N Michigan Ave., Suite 3850
Chicago
Illinois
Anna George Salon and Spa's spacious studio offers 17 nail stations and 10 expert technicians ready to sweep you across their shining hardwood floors and into one of the luxurious leather pedicure chairs. Pale blue walls make a serene backdrop for framed art depicting scenic skies and other soothing images, while glowing wall sconces cozy up the cool setting. Your regular manicure and pedicure begins with a polish removal and tension-draining soak. The friendly nail experts will clean around the nails, shape your cuticles, and file away jagged edges to get your nails into shape. They'll oil up your cuticles to nourish the sensitive skin around your nails before indulging your hands and feet in a luxurious massage. Next, you can choose your favorite color from a stock of OPI, Essie, and Creative lacquers to crown your fingers and toes in vibrant, shiny helmets.
233 N Michigan Ave.
Chicago
Illinois
Ellehomme Holistic Med Spa soothes clients as soon as they step into its 4,000-square-foot realm, which is overseen by a medical director, registered nurses, and aestheticians. They specialize in cosmetic treatments, from injectables, such as Botox and Juvederm, to laser hair removal and other services that smooth skin and eschew sandpaper.
In one of the massage spa's five treatment rooms, licensed therapists plunder ligaments for stashes of stress, using more than five modalities such as reflexology and deep tissue. Terry-lined waffle robes and cozy spa slippers escort clients to treatments and the relaxation lounge, where they mentally prepare themselves for reentry into a society filled with stress and evil robots.
832 W Adams St.
Chicago
Illinois
312-929-2016
Nail Fetish's mani-pedis uses many of the salon's own homemade products, as well as 100% pure shea butter, for enhanced extremity elation. During the mani 101 ($20), your fingers' keratin-caps will be snipped, clipped, shaped, and stylized for a comforting feel that's sure to put a smile on the face of your baseball glove. Nail Fetish's signature homemade scrub removes dead skin cells and opens clogged pores, while a hand massage will mellow out your metacarpus and polish will add a Technicolor tint to your fave 10. Nail Fetish's signature pedicure ($35) deals in similar digit doting, with a signature scrub to shake off the expired epidermal cells dulling your feet's bright, shining smiles. Shea butter, extracted from the seed of the African shea tree, particularly helps soothe the sole-soul, and an avocado cream massage brings vitamins A and C to your boot-fillers.
525 N Ashland Ave.
Chicago
Illinois
Cellular Intelligence MedSpa's team of medical aestheticians takes pride in the fact that clients refer to them as "skin whisperers." Led by doctors Brian M. Braithwaite and Lorri Cobbins, the staff aim to help boost their clients' confidence with a toolkit of cosmetic services. Their battle against wrinkles is won via oxygen-infusion and advanced MedScript facials along with ultrasound therapies, injectables, and raids of Ponce de Leon's wine cellar. In addition, they have cultivated regimens specifically for brides and their mothers for the weeks leading up to the big day.
100 E Walton St., Suite 400
Chicago
Illinois
Under the guidance of medical director Dr. Alexandra Lambrou, Sculpt Medical Spa's technicians slim figures with noninvasive Lipo-Ex treatments. With Lipo-Ex's two-pronged approach of triglyceride removal and collagen stimulation, technicians help patients achieve their ideal self-images by shrinking fat cells and boosting collagen production to smooth cellulite. They also help patients achieve weight loss with HCG diet plans and use clinical massage to alleviate tension caused by working or losing thousands of dollars on a turtle race.
750 N Franklin St., Suite 102
Chicago
Illinois
312-944-4400
---