Things to Do in Lindenhurst
---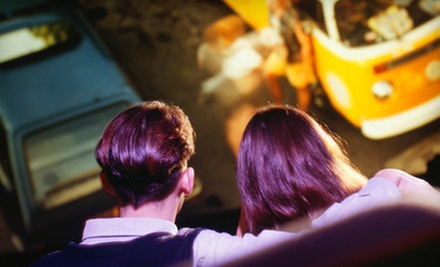 ---
Recommended Things to Do by Groupon Customers
---
Originally opened in 1927, the Genesee Theatre closed in 1989 and reopened its doors in 2001 after city funds helped 120 volunteers to restore the theater to its Gilded Age splendor. Its elegant trappings include authentic wall fabrics, an exact replica of the original marquee, and a 2,200-pound chandelier that gently spotlights the grand lobby and every audience member passing underneath to show how everyone is a star if you really think about it.
203 N Genesee St.
Waukegan
Illinois
In 1848, dairy cows grazed on the 30 acres that now host the Volo Auto Museum's five showrooms. The mooing of heifers has given way to the imaginary roar of 200 collector cars and 100 gleaming autos that once graced movie and television sets—including a Batmobile from the 1966 TV series, a Herbie from the latest movie, and one of the first General Lees. After ogling the television and movie collection, guests can wander among vintage and antique vehicles and reminisce about the days when we still had to go places in person.
Nearby, the military exhibit's realistic scenery surrounds vehicles ranging from a WWII BMW motorcycle with sidecar to a 1967 Bell helicopter shot down in Vietnam. After examining older artillery and artifacts, visitors can gaze at cases holding items retrieved from Saddam Hussein's palace and from captured Iraqi soldiers. Those below driving age can explore kids' attractions, including SpongeBob's boatmobile.
Guests traverse the vast showrooms on foot or via a 1915, Victorian-style trolley, free on Wednesdays and Saturdays. Trolley tours begin by exploring autos that used to be stabled by the rich and famous alongside their unicorns. They then venture into the old dairy farm's 19th-century barn, where activity by Civil War ghosts has drawn investigators from the Discover Channel's Ghost Lab. Before leaving, visitors can refuel with an Angus-beef patty at the Betty Boop Burger Bar and Beer Garden or drop into four antique malls.
27582 Volo Village Rd.
Volo
Illinois
Founded in 2011, the Chicago-based American Chamber Opera features an ensemble committed to singing full-length oratorios in English. Its productions resemble concerts more than traditional opera performances: the music takes center stage as the singers belt and emote in settings that evoke the world of the story with just a few well-placed details.
425 Laurel Ave.
Highland Park
Illinois
847-432-6653
Located less than 90 minutes from Chicago amidst Illinois's largest concentration of natural lakes, the Chain O' Lakes State Park Riding Stable sits on a 2,793-acre park neighbored by a 3,230-acre conservation area. There, horseback trail rides explore undulating hills and thick forest populated by deer, eagles, and the much-sought-after Keebler elf. Horse-drawn wagon rides—led by seasoned drivers along wooded trails—furnish especially colorful views in autumn, and the stable staff can curate optional cookouts at wooded picnic sites.
8916 Wilmot Rd.
Spring Grove
Illinois
815-675-6532
New releases get an old-fashioned treatment at McHenry Outdoor Theater, a 1950s-style drive-in screening two back-to-back movies every night. With a special focus on family films, the starlit screen shines across comforts including a concession stand vending burgers, brats, pizza, and hot dogs, and a dog-friendly policy to ensure everyone has someone cuddly to grab during the scary parts. While the story unfolds on screen, the theater pumps the sound through complimentary radios, and approximately half the viewing spots are equipped with vintage speakers that complete the timeless slice of Americana. Besides new releases, which are regularly updated every two weeks, the theater might show anything from golden oldies to alternative comedies to classic blockbusters.
1510 N Chapel Hill Rd.
McHenry
Illinois
US
847-918-7464
Par-King Skill Golf has been churning out rounds of family-friendly fun for the Chicagoland area since the 1950s. With two separate 18-hole courses, six water challenges, twelve moving obstacles, numerous curbs, and surprising elevation changes, Par-King is a step up from the flat mini-greens of yesteryear, and 3 club-lengths more entertaining than the regulation-sized greens of normal-sized golf. Play a full 18 holes as you gape and gander at twirling clowns, roller-coaster ramps in the vein of Rube Goldberg, elaborately-painted totem poles, and recreations of famous landmarks such as Mt. Rushmore and the Sears Tower. This colorful landscape of golf-based adventure is refurbished and repainted every winter to provide a consistently-beautiful, clean, and safe experience during April to October operations. Although the park is family-oriented, they maintain a stout 48-inch height requirement to play or playact in the playing area; this is enforced purely with safety in mind, as the challenging course terrain may prove hazardous to the diminutive.
21711 N Milwaukee Ave.
Lincolnshire
Illinois
---