Things to Do in Lindon
---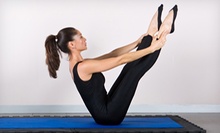 Mat-based Pilates classes walk beginning and experienced students through exercises that tone, strengthen, and elongate muscles
---
Recommended Things to Do by Groupon Customers
---
Each year, more than 3,500 people descend on Soldier Hollow in Midway to celebrate the arts and cultures of various Native American nations. For three days, crafters sell handmade jewelry, paintings, and museum-worthy pottery. Fry bread, roast mutton, and Navajo tacos abound, fueling shoppers as they browse or cartwheel over to watch dancers and drummers face off against each other in colorful, handcrafted regalia. The dancers don flowing garb for grass dances that recall prairie grass rustling in the breeze, while jingle dresses inlaid with hundreds of tiny tin cones reverberate in time with fleet footwork.
2002 Olympic Dr.
Midway
Utah
After years of training and diving around the world, owners Colby, Darren, and Tony decided to spread their love of scuba by opening North American Divers. They instruct classes such as Discover Scuba Diving, where be-finned students try breathing underwater for the first time. During Advanced Open Water classes, more experienced divers earn certification across five dives at locales such as Sand Hollow and the California Channel Islands. They also rent out gear such as regulators, oxygen tanks, and wetsuits. Additionally, the trio's team of in-house certified technicians fixes nearly all makes and models of scuba and snorkeling equipment with a simple twitch of their nose.
336 E 800 S
Orem
Utah
801-921-6843
Named after Brigham Young University's furry feline mascot, Cosmo's Kids Club invites youths to experience the university's athletic programs both on and off the field. A dozen game vouchers grant access to four football games and eight men's basketball games, and a Cosmo T-shirt acts as a ticket to all other BYU sporting events. After games, members can hop onto the field of play to practice kicking penalty shots, shooting free throws, or measuring grass to be sure it's regulation height. Kids up the ante at show-and-tell with stories from facility tours and meet and greets with BYU athletes. The club ensures at-home allegiance with posters, access to Cosmo's website, and a monthly mailer from the mascot himself.
As the name implies, Cahoots Duo Challenge's overland obstacle-course races principally challenge teamwork. Pairs of runners—who spend just as much time climbing and crawling as jumping, swinging, and tumbling—rely on each other's strength and wits to complete a series of challenges laid out over a 3- to 4-mile course. Along the way, racers get wet, muddy, and sweaty as they test their endurance or the likelihood that their partner is a golem.
2002 Olympic Dr.
Midway
Utah
---