Things to Do in Linthicum
---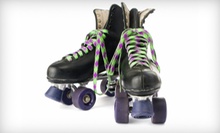 Retro roller skates twirl duos around a smooth indoor rink
Use Thursday 11:00am - 10:00pm
---
Recommended Things to Do by Groupon Customers
---
Sports Authority Field's turf trembles beneath the stampeding cleats of the teams in the Mile High Classic, which will showcase some of the country's best collegiate lacrosse in a precursor to May's NCAA Tournament. As reigning national champions, the top-ranked Virginia Cavaliers sprint into the event with last season's national and ACC Player of the Year, Steele Stanwick, whose average of nearly five points per game is among the nation's elite in 2012. The Penn Quakers, meanwhile, roll into the Centennial State with a chance to boost their national ranking by ousting the Cavaliers or carving "Quakers #1" into nearby mountainsides.
1101 Russell St.
Baltimore
Maryland
410-261-7283
Eastpoint 10 Cinemas showcases the latest Hollywood blockbusters on screens that face sloped or stadium-style seating. Digital and 3-D projectors entertain audiences with high-resolution images that virtually pop out of the screen, making viewers feel like a part of the film without having to actually fight off bloodthirsty aliens, wicked witches, or Gerard Depardieu. The theater occasionally pairs screenings with special tie-in events, such as karate demonstrations to go along with martial-arts flicks.
7938 Eastern Ave.
Baltimore
Maryland
Arundel challenges Mother Nature herself with its covered and heated driving range. At night, swingers can stay in the game thanks to extended hours (until 8:30 every night except Sundays) and lit facilities. With four rounds of mini golf, perfect putting skills or rustle up friends for a round on Arudel's well-manicured little greens. The golf park also boasts batting cages, allowing visitors the chance to hone their hitting skills. A staff of PGA gurus keeps the facilities all-age friendly.
1501 Dorsey Rd.
Glen Burnie
Maryland
The Baltimore Blast is a professional indoor soccer team that plays at 1st Mariner Arena.
201 W Baltimore St.
Baltimore
Maryland
Every year on the first weekend of May, downtown Baltimore's streets bustle as tens of thousands of moviegoers visit local theaters to watch films shot, directed, and edited around the globe. The Maryland Film Festival, like a freakish hurdle sprinter, runs for four days and showcases about 50 feature films and 75 short pieces—ranging from documentaries to animations—many of which are presented by their respective filmmakers or celebrity guest hosts. Past hosts have included Ian MacKaye and Branford Marsalis, and legendary filmmaker John Waters regularly makes an appearance at the festival, hosting a feature film of his choice. Attendees may also stimulate and expand their sensory palates with international flicks, a three-dimensional movie, and a vintage silent film synced to live music.
107 E Read St.
Baltimore
Maryland
410-752-8083
Across 5,000 square feet and two levels of obstacle-laden territory, taggers crouch around corners, rain lightning from the towers, and blend in with the dense vapor of the king's electric fog machine. During each 15-minute round, young squires can defend the keep for themselves or align with fellow beam archers in the name of the queen, the fiefdom, or love. To the victor go the bragging rights and a seat at the round table at home for family taco night.
14201 Woodcliff Ct.
Bowie
Maryland
---