Little Chute, WI Drs and Health Practioners
---
Drs & Health Practitioners Deals
---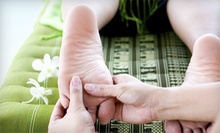 Therapists target reflex areas on the feet to stimulate relaxation and overall wellness
---
Recommended Drs & Health Practitioners by Groupon Customers
---
A specialist in jaw orthopedics and orthodontics, Dr. Robert Hering founded Fox Valley Dental on the quest for sturdy jaws and straight bites. Since 1975, he has corrected maxillofacial flaws through more than 600 TMJ cases and 4,000 orthodontics cases, working both with traditional braces and Invisalign aligners. For those plagued by sleep apnea, he helps clear breathing pathways with mouthpieces that are easy to hide in a spouse's sandwich.
Dr. Hering's office design betrays his fondness for the outdoors. Row upon row of windows throw the waiting room open to natural light, which falls upon rustic wooden fixtures. The operatory's French doors look out over a lawn enclosed in shrubbery, where woodland creatures find privacy to pick bits of acorn from their braces.
1380 S Commercial St.
Neenah
Wisconsin
920-725-1327
Dr. Jolanta Pajek opened Modern Touch Dentistry after heading up dental practices in Toronto, Canada, and London, England. At her Appleton practice, she approaches dentistry with technologies such as low-radiation digital x-rays and air abrasion, which treats minor cavities with a blast of air rather than a drill. For patients with anxieties about dental work or wearing paper bibs, Dr. Pajek offers free sedation consultations to discuss whether the clinic's conscious-sedation options would make their appointments more pleasant.
1835 E Edgewood Dr., Suite 106
Appleton
Wisconsin
920-993-8682
To study Chinese medicine, James Rodowca went to the source. He studied at Guangzhou University in China to earn credentials that enhance his already stacked resumé—he also holds a bachelor's degree in human biology and a master's in Oriental medicine. His extensive studies inform his practice of these ancient arts at Acupuncture One, though he also gets some help from technology. Digital Meridian Imaging maps the body's energy pathways, as well as the spots on the body where energy's movement is blocked by external forces or by the heart's annual street parade. With the insertion of thin acupuncture needles, James can unblock these passageways and help the body restore balance in order to alleviate such common ailments as allergies, stress, and depression. James also curates a stock of potent herbal supplements that complement his hands-on treatments to treat a slew of issues.
W6905 Parkview Dr., Suite A
Greenville
Wisconsin
920-757-9887
Megan Bartelt channels her passion for alternative medicine and holistic healing into noninvasive treatments that bolster bodily comfort and mental awareness. At the Midwest College of Oriental Medicine, Megan began to study techniques for coaxing the body into healing itself by manipulating nerves to correct internal issues and bribing stomachs with ice-cream sundaes. Her dedication to the school's curriculum led her to obtain a Master of Science in Oriental Medicine and a license in acupuncture, along with a hefty knowledge of nutritional consoling and Chinese herbal medicine. Her college years also fostered a love for women's health studies that led to a focus on employing acupuncture and Chinese medicine to relax mothers during pregnancy, childbirth, postpartum, and kindergarten lion-taming lessons.
146 Algoma Blvd., Suite F
Oshkosh
Wisconsin
920-312-4355
---