Little Elm, TX Outdoor Activities
---
Outdoor Activity Rewards Deals - Use Anytime
---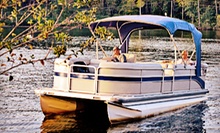 Guests can enjoy the water on water cruisers, houseboats, sailboats, and pontoons or traverse the land on a bike
---
Recommended Outdoor Activities by Groupon Customers
---
Drag Racing every Friday and Saturday. Fantastic food concessions. Fun for the whole family. Kids 12 and under get in free.
3236 Memory Ln.
Denton
Texas
US
940-482-9998
As one of the original 10 members of the MLS when it began in 1995, FC Dallas has had plenty of time to build a few storied rivalries. Every year, the team faces off against its Texan brethren, the Houston Dynamo, and competes in the heated (and fan-promoted) Brimstone Cup with the Chicago Fire—a tradition ignited in the days when FC Dallas was known as the Dallas Burn. The shouted blessings of steadfast supporters echo among the 20,500 seats of FC Dallas Stadium, which has had attendance records broken last year and season ticket holders double each of the last two years. The club's stars dismantle opponents with the spectacular footwork that earned them a trip to the 2010 MLS Cup and an honorary stint in Riverdance.
9200 World Cup Way
Frisco
Texas
214-705-6700
Experienced golfing professionals and computers who've sworn allegiance to argyle socks fill each of GolfTEC's locations with more expert swings than a playground at recess. Motion sensors and high-speed cameras monitor your swing and break down your form on a high-definition video display. GolfTEC's PGA specialists point out your flaws and strengths, and coach you on how to permanently improve your game from tee to green. Sensors chirp with approval when you've executed a perfect stroke or cracked an especially witty golfing joke.
900 N Central Expy
Plano
Texas
Commended for its preservation of the natural Texas landscape, Twin Creeks Golf Club features an 18-hole course that seamlessly integrates native trees and two flowing creeks into a pristine, 6,840-yard layout. All of the picturesque par 72's difficulties are brought to bear on the par 4 13th hole, where a strong headwind may nudge rightward drives into a rippling creek and an immense green makes any two-putt a tricky proposition. Golf carts glide across the immaculate meadows, occasionally spinning their wheels and wailing their reverse alert in distress as passengers approach the hidden lake of the 17th hole, called the "Devil's Elbow." Golfers can calibrate their swings at the course's practice center, which includes a driving range, bunker, chipping area, and putting green, an ideal spot to covertly test any remote-controlled balls. After a day spent making sand angels in every bunker, guests can recess to the rustic confines of the Elkhorn Bar & Grill, where Southwestern fare sates diners resting at patio tables or under the 50-inch flat-screen TV located indoors.
501 Twin Creeks Dr.
Allen
Texas
972-390-8888
Course architect Tripp Davis drew inspiration from both classic Scottish links and California's famous Monterey Peninsula courses when crafting Stewart Peninsula Golf Course, an 18-hole layout touched on all sides by the waters of Lake Lewisville. Much like the conditions found at Stewart Peninsula's high-profile muses, ever-shifting winds play a large factor in course play, challenging golfers who struggle to keep balls low or prefer to steer their carts with massive sails. The course also features two terraced par 5s—holes 9 and 18—that recall seaside holes at Harbour Town and Pebble Beach and end both 9s in dramatic fashion. Before taking to the first tee, clubbers can head to the driving range, where warm-up sessions will help prevent them from losing their balls in the abyss of Lake Lewisville or the neighboring ruptures in the fabric of space time.
100 Cottonwood Springs Drive
The Colony
Texas
972-625-8700
Originally a 9-hole course upon its opening in 1978, community-owned The Bridges at Claresholm expanded into an 18-hole course in 2005 after designer Les Furber spent four years expertly crafting a back nine. Four tee boxes and attachable Gadget arms precede each hole, allowing patrons to adjust their distance to the green and driving angle to better avoid obstacles such as 12 water hazards. The Bridges at Claresholm also employs golf expert Lyle Broderson to offer private, semiprivate, or group lessons to golfers looking to make improvements, and hosts tournaments and male, female, and gopher leagues. Additionally, an on-site pro shop supplies participants with essential gear such as balls, clubs, and golf-suitable clothing, and Mac's Diner in the facility's clubhouse satiates visitors with weekly specials such as the Wednesday Chinese buffet and the Friday-night all-you-can-eat fish fry.
2400 Fred Couples Dr.
Gunter
Texas
US
903-696-0022
---