Concerts & Events in Little Ferry
---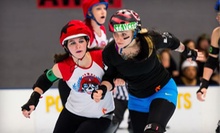 Rollergirls attempt to lap opponent skaters while gathering points during two 30-minute halves
---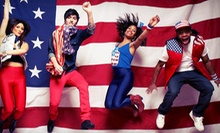 Band of tribute artists sings hits from Katy Perry, Justin Bieber, Black Eyed Peas, Taylor Swift and many more at kid-friendly volumes
---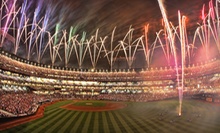 Flushing Meadows Corona Park
The Mets square off against a tough lineup of teams including the Yankees, as well as Fireworks Night after the 5/24 game against the Braves
---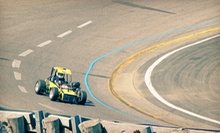 Slide behind the wheel of a Winged TQ Midget car and reach speeds in excess of 90 mph while zooming around track
---
---
Recommended Concerts & Events by Groupon Customers
---
Under the bright lights of the world-famous Madison Square Garden arena, four of the best women's college basketball teams in the country will tip off in the Maggie Dixon Classic. The first game pits Baylor against St. John's before DePaul takes on Tennessee to guess the number of jellybeans hidden inside the basketball. The undefeated Baylor Bears, ranked No. 1 in the nation nine games into the season, follow the lead of junior slam-dunk machine Brittney Griner. Pumped up from her placement on the Naismith Trophy early-season watch list, St. John's senior forward Da'Shena Stevens will induce frustrated growls from Baylor as she makes them work for their points. With 15 NCAA Tournament appearances in the last 23 years, DePaul's squad enters the high-pressure match gracefully, and Tennessee confidently follows the lead of its celebrated coach, Pat Summitt, named Sports Illustrated's Sportswoman of the Year for her more than 1,000 wins and ability to slam dunk while riding a unicycle.
2 Penn Plz.
Manhattan
New York
US
Thousands of fashionistas flock to StyleFixx Premier Shopping Events to meet up-and-coming independent fashion designers and browse the latest styles. This year's displays include the 2012 lines of Hivernage NYC, Bling Boutique, and Cimber Designs. In between shopping sprees, attendees may relax with complimentary beauty treatments such as hair services by Dellaria Salons, makeovers by Virginn Pure Mineral Makeup, and body wraps by good-natured mummies. Once pampered, refreshed guests mingle while sipping free cocktails and munching on samples from Finale Desserts and Haru Sushi, and each partygoer receives a StyleFixx Swag Bag loaded with product samples.
125 W 18th St.
New York
New York
US
Besides having the chance to sample the finest specialty coffees and teas from all over the world, you'll also get to partake in seminars that are just as eye-opening as anything you happen to imbibe. Tea specialist Yoon Hee Kim will take you on a world tour of teas in "From Garden to Cup: Tea 101". Marcela Zuchovicki, owner of Jalima Coffee, will lead an interactive discussion of the art of cupping and tasting coffee, while Chef Melody McGinley Whitelaw teaches you how to use both breeds of brew to prepare the decadent desserts in "Think Outside the Cup: Creating Coffee- and Tea-Infused Desserts". During the festival, you can also engage in chocolate tastings and Korean tea ceremonies, and learn how to both brew and find the best coffee in New York.
7 W 34th St.
New York
New York
One of SoHo's premier venues for world music, R & B, and hip-hop, Sounds of Brazil's storied stage has seen all kinds of acts from Tito Puente to Kanye West since opening three decades ago. Owner and founder Larry Gold prides his combination restaurant-nightclub as being instrumental in bringing some now-renowned performers to a broader audience, hosting musicians such as Common, Drake, and John Legend early in their careers. While big names and rising stars attract music lovers, the flavor-heavy dinner menu excites all tongues more effectively than a bite of Pop Rocks mixed with dynamite.
204 Varick St.
New York
New York
212-243-4940
Since 1981, Blue Note has tangled trumpets and tickled ivories with some of the biggest names in jazz, including Dizzy Gillespie, Lionel Hampton, and Chick Corea. In honor of its 30th year of making audience members' ears smile, Blue Note will be hosting a citywide jazz festival. Throughout the month of June, patrons can catch acts including Jon Hendricks and Jimmy Scott at the legendary Blue Note, or Bootsy Collins, Al Kooper & Organ-asm, or Roberta Flack as they take the main stage at B.B. King Blues Club & Grill. Highline Ballroom will also open its doors to musicians such as Ron Carter and Roy Ayers as they wring sixteenth notes from their guitars, pianos, and electric kazoos. Attend the Sunday Jazz brunch at Blue Note, which includes a meal and drink, on Sundays between June 26 and August 28 at 12:30 p.m. or 2:30 p.m. and eat in 5/4 time signature to intricate arrangements by artists such as the Frank Kimbrough Trio and Paul Bollenback. Seating is first-come, first-serve.
131 W 3rd Street
New York
New York
212-475-8592
Danbury Ice Arena's professional skating instructors introduce students to the fine art of figure-eighting with weekly classes based on the curriculum of the Ice Skating Institute. Children as young as three years old can begin instruction in the Tot 1 course, which is designed to instill a sense of comfort and confidence on the ice through techniques such as marching in place, falling properly, and getting up. As skaters expand their abilities, they may continue with progressive course levels that build upon each other. Both adult and child introductory courses focus on beginning techniques such as marching and stopping, which provide a foundation for techniques learned in advanced levels such as performing one-foot glides, making snowplow stops, and evading goalies who have grown tired of being senselessly bombarded with pucks.
1 Hall Drive
Little Falls
New Jersey
973-746-7744
---