Little Rock Spa and Massage
---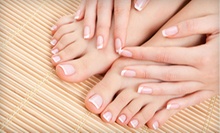 Indulgent nail services are enhanced by tropical infusions of mangoes and papayas as well as long-lasting Shellac
---
Recommended Spa & Massage by Groupon Customers
---
In a sleek, modern interior characterized by clean white lines and ultramodern fixtures, Indulgences by Body Bronze's team of aestheticians and stylists fortifies glowing appearances with a full range of salon and spa services. Resident massage therapists combat corporeal stress in private, candlelit treatment rooms, and skin specialists enhance appearances with a full complement of customized spray tans, laser hair-removal treatments, laser-pointer cat-tormenting treatments, and facials. Scalps are lavished with the utmost care, with strands deftly snipped into elegant new coifs at the hands of experienced stylists and conditioned with an arsenal of nourishing products from Davines and Dermalogica.
14524 Cantrell Rd., Suite 130
Little Rock
Arkansas
501-868-8345
From their stress-free oasis inside The Park Hotel, the therapists at Fusion Massage dissipate stress and tension with gliding Swedish strokes, deep-tissue pressures, and soothing aromatherapy oils. As their name implies, they specialize in an ultimate fusion massage that blends traditional modalities with Thai stretching. When the therapists' nimble fingers aren't enough, they melt away aches with hot stones that can be gently placed on muscles or hurled at backs to break up clumps of tension.
211 Fountain St.
Hot Springs
Arkansas
870-941-8333
A certified massage therapist who specializes in everything from orthopedic massage to raindrop treatments, Transforming Touch's Antonio Woodall channels his talents for tension relief and relaxation into custom massages and spa packages that incorporate natural products. For full-body relaxation, the gentle pressure and soothing strokes of Swedish massage guide stress out of bodies through mild manipulations and well-lit aisle paths, whereas hot-stone massage therapy uses meticulously placed heated stones partnered with massage techniques to melt away tension. Also certified in facials, Woodall smothers skin in natural products that revitalize faces sans harsh chemicals, and invites legs to luxuriate their footsies in heated mineral water during Fabolis foot treatments, which include a rigorous scrub to smooth and soften the feet.
9871 Brockington Rd., Suite 1
Sherwood
Arkansas
501-398-4786
Head to Toes is a full-service day spa and salon with an ablution to suit every pore and follicle on the human soul-sack. Partake in your choice of one of these five beauty-brimming packages:
813 Oak St. #3
Conway
Arkansas
US
Before she started kneading backs, Melinda J. Herring studied the body's architecture as a sculptor. That artistic training gave the Washington University grad her built-in attentiveness to the interconnectivity of musculature—integral to her current gig as a licensed massage therapist and her brief stint as the Lincoln Memorial's official chiropractor. Today, her living, breathing clients choose from a broad menu of massage styles that range from deep tissue to tension-targeting hot stone. In addition to the standard modalities, Melinda's specialization lies in orthopedic and oncology massage, and she also spends time as a North Little Rock massage practitioner for CARTI, where she brings relief to patients undergoing radiation therapy.
117 E Broadway St.
North Little Rock
Arkansas
501-258-6552
A 13-year military veteran who then became a police officer and, after that, retail and corporate security, Darryl Griffith should be entitled to a lifetime of massages. But instead of lying on the table and reaping his reward, he took up the craft and began treating others. For the last ten years, Just the Right Touch's master massage therapist has been doling out Swedish, deep-tissue, and oncology massages with the same commitment to serving others that he upheld in his previous careers. Darryl's mission is to help improve the quality of his clients' lives by administering massages accompanied by Aromaplex oils, which guide his trained hands as he soothes tense muscles and helps bring relief to those suffering from sickness or injury. As a massage educator, he also teaches the craft to aspiring bodyworkers, and further fosters healthy living by offering wellness consultations.
9871 Brockington Rd., Suite 1
Sherwood
Arkansas
---