Theme & Amusement Parks in Little Rock
---
Theme & Amusement Park Deals
---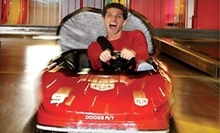 Kids and adults bound through play center's arcade, laser tag, and go-karts, stopping only to grab bites from the expansive buffet
---
Recommended Theme & Amusement Parks by Groupon Customers
---
Owned by veteran coaches Julie and Dan Witenstein, Arizona Sunrays Gymnastics and Dance offers instruction in different types of kinesthetic coordination for beginning and intermediate performers age 6 months and up. Inside a 24,000-square-foot facility furnished with a range of equipment, students learn acrobatic fundamentals in a variety of gymnastics classes, 45–60 minutes each. Sessions range from the toddler-friendly Tumble Tots to the more advanced Dynamites, where pupils learn how to execute cartwheels while clutching sticks of TNT. Enroll budding Baryshnikovs in one of the studio's ballet, tap, jazz, hip-hop, or Broadway dance classes, and watch as they develop the twirling skills necessary to blend oversize smoothies. Check the schedule for a full list of course offerings. During Kids Night Out, parents drop their children off for an evening of supervised frolicking, freeing themselves for a night of relaxation and freely pronouncing the word D-E-N-T-I-S-T. Kids Night Out is for children age 3–13 and occurs on the first and third Saturdays of each month from 6–10 p.m. Children must be toilet trained.
2241 Bill Foster Memorial Highway Suite E (HWY321)
Cabot
Arkansas
US
501-843-7297
When the Little Rock Zoo opened its gates in 1926, it contained fewer animals than many people's homes. At the time, its inhabitants were, in total, a circus-trained brown bear and an abandoned timber wolf. From its formative days, the Little Rock Zoo has expanded dramatically, now home to more than 700 animals from more than 200 unique species. Visitors can witness lions, tigers, and jaguars up close; interact with exotic birds; and carefully navigate spider monkeys' webs. In addition to conserving wildlife, the zoo also preserves a unique antique carousel, one of only four in the world to feature an undulating wooden track rather than conventional moving poles.
1 Jonesboro Dr.
Little Rock
Arkansas
Surrounded by lush, green trees and grassy areas for lounging, Wild River Country overflows with 13 watery attractions such as the Cyclone, which sends groups of four tubing down a slippery slide for a big splash at the end. After getting the water and Poseidon's bickering out of their ears from the wave pool or the rip-roaring Accelerator, parents and kids can grab a bite to eat at the Cookhouse Grill and enjoy it at the picnic area. The Tad Pool lets the little ones splash and play, and the Lazy River lets tubers linger in the sun for a relaxed float while the Pipeline slings threesomes zooming bobsled-like down the slide in a raft. Family-oriented, and safe for all ages, the water park doesn't allow smoking or alcohol in the facility and offers clean restrooms and showers.
6820 Crystal Hill Rd.
North Little Rock
Arkansas
501-753-8600
Stretched across a 30-acre produce farm and peach orchard, Scott Pumpkin Patch marks autumn's arrival with a seasonal slate of family-friendly activities. Every year, the family-owned operation presents visitors with wholesome, hands-on amusements, including an animal barn, a playground, and scenic tractor rides that coast leisurely around the property. Before heading home, families can stock up on keepsakes, such as photos snapped at themed displays or a perfect pumpkin picked according to its size, weight, and silky singing voice. The onsite farmers' market stocks edible souvenirs, too, ranging from fresh picked pecans and peanuts to jams and jellies.
11221 Craig Rd.
Scott
Arkansas
---