Littleton, CO Indoor Activities
---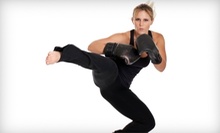 Thai kickboxing instructors combine martial arts & boxing techniques while students of all skill levels sculpt svelte physiques
Use Monday 4:30pm - 6:30pm
---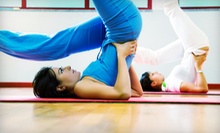 Step-by-step breakdown of basic poses gives forms yogic foundations for beginners
Use Tuesday 6:00am - 9:00am
---
Recommended Indoor Activities by Groupon Customers
---
For 17% of Americans, summer is the third unhealthiest season due to the proliferation of ice cream cones, beer gardens, and second-place pie-eating contest finishes. Change your summer habits with today's Groupon: $59 gets you six weeks of unlimited yoga and spinning classes at Breathe (a $223 value). Yoga traveled the world, teaching his invigorating fitness plan and reading minds. After a lifetime of deeply seeing into people's inner thoughts left him twisted and insane, Yoga gave up mind reading, saying, "The mind is a door locked for our own protection. I am hungry."
2700 Arapahoe St
Denver
Colorado
US
Whether you're a beginner or a multi-trophy-winning competitor, the instructors at Colorado Dancesport want to help you achieve your dancing goals. They take the time to learn why each student is treading their wood floors; some students want to dance in a social, couples-oriented environment, and others are preparing for a special occasion, such as a wedding or an intraoffice dance-off to control copy-machine access. The talented staffers include a former member of the U.S. international ice-dancing team, professionals who danced at the 2008 CMA Awards, and experts in sports conditioning and physical fitness.
In addition to private lessons and group classes, the crew schedules weekly dance parties to help students practice new moves. The team also offers special events, such as traveling to competitions and an annual, professional-style showcase.
5151 S Federal Blvd
Littleton
Colorado
US
720-283-2623
The Denver Botanic Gardens' three locations house vibrant flowers, lush vegetation, and educational activities for visitors of all ages. Native and adapted plants flourish in the York Street campus, which also houses Mordecai Children's Garden—a 3-acre lot with alpine gardens, mountain ranges, and cool bugs. Trails cut through the Mount Goliath garden, delivering explorers to scenic vistas of the Divide peaks. In contrast to the untouched beauty of Mount Goliath, the Chatfield hub features mankind's imprint on the land. As a working farm, Chatfield makes new use of a restored dairy barn from 1918 and as well as a 19th-century schoolhouse. The farm doubles as a habitat for many bird species, and offers the rare opportunity to make eye contact with a heron.
1007 York St.
Denver
Colorado
US
Master Scott Carroll, a fifth-degree black-belt division leader and certified instructor for more than 10 years, helms the punchy practice. Courses incorporate a variety of styles including tae kwon do, Brazilian jiujitsu, kung fu, judo, tai chi, karate, hapkido, and seven different weapons. View a complete schedule of classes here. Lessons are taught every day but Sunday, and no experience is necessary. Those opting to continue instruction after the month can purchase a uniform at a discounted price before this Groupon expires.
350 3rd Street
Castle Rock
Colorado
---