Massage in Littleton
---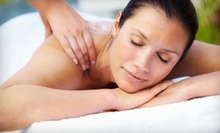 Use Wednesday 11:00am - 6:00pm
---
Recommended Massage by Groupon Customers
---
Amazing Hands translates the complex body language of its clients with a diverse selection of massage styles and techniques expertly deployed to suit each body's aches and tensions. At each location, a team of licensed massage therapists harnesses eastern and western techniques to oust muscle tension and detoxify tendons as clients relax on heated tables. Therapists specialize in helping to heal shoulder, knee, and back injuries with a combination of invigorating massage strokes and deep-tissue pressure, which can also help break up scar tissue. They use up to nine essential oils to stoke simultaneous mind and body relaxation, much like practicing yoga or sharing a hammock with a hypnotist.
1520 Simms St.
Lakewood
Colorado
The certified pamperers at Tennessee Floyd's Bodywork soothe frayed nerves and rekindle sallow complexions with a robust repertoire of massage and spa treatments. With dexterous, attuned fingertips, licensed massage therapists deliver long, relaxing Swedish-style strokes, unburdening bodies of the tension that coils minds into Slinky-esque shapes. During sports-medicine-influenced massages, therapists target athletic afflictions, and clients in search of exotic forms of bodywork can indulge in specialty massages, such as hot-stone and rain-drop treatments, which boost blood flow and usher in deep serenity. Additionally, during exfoliating salt and sugar scrubs, aestheticians slough off epidermis-dulling dry skin to restore a natural glow rivaling even the most enthusiastic firefly. Clients meanwhile relax into aromatherapy sessions to awaken olfactory glands that have been in a deep sleep since the neighborhood donut shop shuttered its doors.
1520 simms st
lakewood
Colorado
720-587-9613
With more than 30 years of combined experience that includes work done with doctors, chiropractors, and insurance companies, Sherry and John Larkin have more insight into massage therapy than the staff at some day spas. They, along with the rest of their licensed crew at Colorado Injury Care, use this perspective to customize each session, addressing clients' health histories, massage goals, and number of times they've walked into a wrecking ball. In doing so, they approach massage therapy as a preventative treatment rather than a luxury, aiming to avoid injury and promote relaxed minds.
2050 Oneida Street
Denver
Colorado
720-331-8446
Certified massage therapist Keith Green has lived, breathed, and studied massage for more than 15 years. His belief that massage therapy can play a crucial role in improving overall health has carried him through his work in spas and sports facilities and as a volunteer massage and physical therapist for the Tour de Scottsdale cycling race. Now, it continues to drive each and every service performed at his private practice. While Keith excels at Swedish techniques, he also believes that massage should offer more than just short-lived relaxation or empathy for stress balls, so he often enhances deep-tissue or sports massages by incorporating therapeutic stretches, trigger-point therapy, or joint manipulation.
88 Pennsylvania St.
Denver
Colorado
720-837-1170
---