Restaurants in Live Oak
---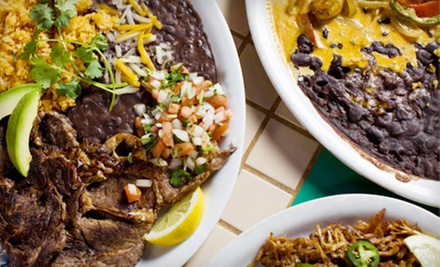 ---
Recommended Restaurants by Groupon Customers
---
The chefs at Surfrider Café don't need to look far for inspiration. Highly ranked by Yelp reviewers, beyond its menu of entrees made from local, sustainably grown ingredients, the restaurant also serves craft beers from its own Santa Cruz microbrewery, Boulder Creek Brewery, during daily happy hours. Veggies such as crispy artichoke hearts and grilled mushrooms find their way into appetizers, sandwiches, and burgers. Desserts range from housemade brownies to organic peanut-butter chocolate pie. Furthering its commitment to the community, Surfrider Café contributed more than $25,000 to local schools and nonprofits during 2011 and 2012.
429 Front St.
Santa Cruz
California
The staff at Pleasure Pizza's East Side Eatery has had more than 35 years to curate their eclectic menu. The restaurant serves sandwiches, brunch, and house-specialty entrees, including fish tacos and fish and chips, that chef Derek Rupp makes with an eye to locally source food, a subject in which he has extensive knowledge.
4000 Portola Dr.
Santa Cruz
California
From a business started in 1979 inside a tiny house on Mission Street, Saturn Cafe has grown into a green-certified restaurant filled with decorated tables, colorful booths, and a retro feel. Every night chefs whip up local and organic ingredients into vegan and vegetarian versions of traditional American diner staples.
In the kitchen, cooks prepare award-winning fries in trans-fat free oil that they recycle into bio-diesel fuel, and craft a BLT on sourdough with fakin' bacon. Skilled hands assemble omelets with organic eggs, red onions, and red chard, and whip up vegan and vegetarian milkshakes to wash down wheat- and gluten-free bites.
145 Laurel St.
Santa Cruz
California
Italy may be a long way from Oak Tree Ristorante in Felton, but Sebastian Nobile refuses to take shortcuts. Inspired by his Italian grandfather's recipes, the chef crafts all of his dishes from scratch. His attention to detail is apparent in the fluffy nuggets of gnocchi that he drizzles with homemade pesto and the organic vegetables that he sources from local suppliers whenever possible. Chef Nobile's local focus tends to make the menu more interesting, as it compels him to work with seasonal ingredients.
The restaurant's dining room betrays the same unstrained elegance as its food. A peaked roof is lined in blonde wood to promote an open, airy feel, and windows climb to the ceiling to allow for views of the gladiators swinging from the branches of the garden's giant oak.
5447 Hwy. 9
Felton
California
831-335-5551
Burgers, breakfasts, hot dogs, and other classic diner dishes get a vegetarian spin at Dharma's Restaurant. The kitchen staff stocks the pantry with as many organic ingredients as possible, including grains, fresh vegetables, and soy-protein products that have not been genetically modified or ever seen by cows. For breakfast, organic tofu is scrambled with thai curry spices, kalamata olives, or pesto. Whole-wheat buns embrace burgers formed from tempeh or spicy tofu and topped with vegan cheese and soy mayo. Chefs create a map of international flavors by sautéing baked tofu with thai peanut sauce or salsa, or simmering the cubes in curry and serving with papadam. Most items have vegan alternatives available, and a separate menu highlights gluten-free recipes.
4250 Capitola Rd.
Capitola
California
Past a rose-red patio and adobe-colored passageway at the old hospital at Branciforte Plaza, Ristorante Italiano Santa Cruz spreads out hearty Italian cuisine, from homemade lasagna to pork tenderloin. Various scenes—a panorama of Venice, a family dining together, the restaurant owner working in the kitchen—play out on the walls in the mural room. In the sunroom, light filters down through glass panels to illuminate tables draped in reds and whites. And out on the patio, benches and deck chairs compete for an umbrella's shade. A family endeavor since its founding in 1980, Ristorante Italiano has consistently drawn praise—Karen Petersen of Good Times, for example, said the restaurant's "bright flavors and generous portions ensure its distinction as a local favorite."
555 Soquel Ave., Suite 150
Santa Cruz
California
831-458-2321
---
---
Restaurant Deals - Recently Expired
---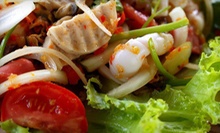 Chefs prepare meals such as lemon seafood risotto or pancetta-wrapped pork to be vacuum-packed, frozen, and delivered to homes
---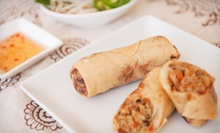 Starters such as calamari and crab rolls precede spicy salmon, curries, and beef with peanut sauce, chosen from a huge, veggie-friendly menu
---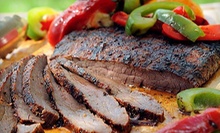 Guests assemble homemade take-away meals from fresh ingredients for quick and easy dining
---
---