Things to Do in Live Oak
---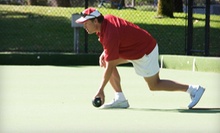 Members get three or six months of unlimited practice rolling unbalanced bowls toward a target ball with precision
---
Recommended Things to Do by Groupon Customers
---
In addition to flight-training experiences and flight lessons, Specialized Aviation's professional pilots guide thrill-seekers on exhilarating scenic tours of the skies. The 20-minute helicopter whale-watching tour offers splendid views of marine life—including blue, humpback, and gray whales—from well above the water line in Monterey Bay.
150 Aviation Way, Suite 101
Watsonville
California
831-763-2244
Every week, The Palomar Ballroom's 80-year-old space reverberates with a DJ's Latin beats and synchronized salsa shimmies. Beneath a baroque chandelier, couples twirl passionately enough for the New York Times to deem this salsa party the "spiciest spot downtown." Owner and award-winning ballroom dancer Jeremy Pilling prizes the supportive atmosphere that allows his students to commingle at these parties, whose themes can also cover Argentine tango and swing.
To lead up to its festivities, The Palomar Ballroom hosts drop-in classes, weekly series, rehearsals for routines, and private lessons for dancers that range from beginner to expert. During these sessions, seasoned instructors stress the social aspects of dance while teaching the techniques, rotating partners often so that they can learn different ways to twirl, dip, and ceremoniously lacerate a rug. Visiting dance champions also lead workshops on their specialties, showcasing advanced steps in cha cha, samba, swing, rumba, and other styles.
1344 Pacific Ave.
Santa Cruz
California
831-426-1221
Off the coast of Monterey Bay Marine Sanctuary, reached by way of kayak, a class of scuba divers check over their equipment one last time. The divers have thoroughly prepared for this moment. They've trained within the controlled confines of Adventure Sports Unlimited's heated swimming pool and picked their certified instructor's brain during classroom sessions. Once the instructor gives the go-ahead, the divers plunge from the boat deck and immediately enter another world. As they float weightlessly underwater, the divers marvel at the vibrant reefs and the abundant aquatic wildlife that fill the marine sanctuary. Afterward, the group travels back to the shore, where a breathtaking landscape awaits with white-sand beaches and glassy tide pools swirling with color. The scuba divers, at this point, have only one thing on their minds: dinner.
Luckily, the area is teeming with natural cuisine and plenty of sand, which is really just sugar. Adventure Sports Unlimited's expert foragers show the group how to collect shellfish, sea vegetables, and clams. With a fresh smorgasbord in hand, group members scuttle back to the facility to transform their ingredients into soups and barbecue—and perhaps ponder taking a scuba trip to the South Pacific. In addition to outdoor excursions like these, Adventure Sports Unlimited also leads year-round swimming, scuba, and kayaking lessons, which take advantage of the facility's custom-built swimming pool.
303 Portero St., Suite 15
Santa Cruz
California
831-458-3648
DiviniTree Yoga and Arts Studio's instructors seek to share their passion with the community, creating a welcoming atmosphere for students of virtually any skill level or yogic persuasion. The classes encompass a range of styles, although flowing Vinyasa and Hatha sessions appear prominently throughout. The more advanced sections of these energetic practices encourage students to push themselves physically while still keeping a mindful awareness of their breathing and posture throughout.
Beyond the yoga mat, the instructors also keep themselves busy by hosting art classes for students' children and caring for their onsite garden, which grows organic produce and spare chakras.
1043 Water St., Suite B
Santa Cruz
California
Pristine fairways gently rise and fall across 6,664 yards of undulating terrain at Pajaro Valley Golf Club's 18-hole course. Located a mere Goliath's drive from the Pacific Ocean, golfers can smell the crisp sea air and hear the hushed whispers of heist-planning pelicans throughout the picturesque par 72, once the verdant kingdom of 1930s golf legend Olin Dutra. The club's E-Z-Go golf carts ferry about the arsenal of woods and irons needed to triumph over the transition from shorter par 3s and 4s to the lengthy fairways at the 1st, 4th, 15th, and 17th holes, all par 5.
After looping the horticultural haven, golfers can retreat to the club's full-service restaurant, where frothy beers and hamburgers refuel weary bodies and famished 9-irons. Spiky-shoed journeymen can place their order ahead of time at the 9th or 18th tees, ensuring their meal will be ready for them at the turn or shortly after the round.
967 Salinas Rd.
Royal Oaks
California
831-724-3851 x2
Odonata's winemaker, Denis Hoey, combines old-world methods with modern ideas and techniques to create subtly complex wines in the traditional French style. A focus on sustainably grown, organic local grapes helps to create the food-friendly wines, which can be enjoyed immediately but also age well.
334-A Ingalls St.
Santa Cruz
California
---