Restaurants in Live Oak
---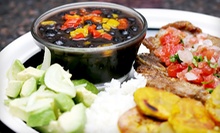 A chef who's trained with Iron Chef and Hell's Kitchen crew draws on his Peruvian roots to craft ceviche and Huancayo-style yucca
---
Recommended Restaurants by Groupon Customers
---
Everything's bigger in Texas, and, as Druthers proves, sometimes fresher, healthier, and made-from-scratchier. Family owned and operated, Druthers gets its name from serving its customers homemade gourmet sandwiches, burgers, soups, salads, and desserts made with fresh fruit, verdant vegetables, and bacon straight off the vine. Recently, the eatery rolled out a fresh line of feastables—the NYC deli sandwiches—which boast a full pound of seasoned, roasted, and smoked meat shuffled up between fresh baked, preservative-free breads. Slip on a grainy pair of meat-mitts and hang a fang on NYC deli style sandwiches such as the Big Apple Rueben, which features a pound of corned beef laying beneath melted swiss, 1000 island dressing, and saurkraut ($12.99). The tarragon chicken salad ($6.99-$7.29) uses the sweet French herb to punch up the poultry-based classic, while an assortment of desserts includes a brownie ($1.50) that deserves more than a few merit badges and a lemon bar ($1.50) packed with more citrus than a Floridian clown car.
8637 Fredericksburg Rd., Suite 145
San Antonio
Texas
You'll be greeted at the door by the scent of ribs and brisket marinated in a family-secret paste of spices and mellowed for 10 to 12 hours in an outdoor smoker. Dinky's slices its brisket into thick, soft slabs and layers them on grilled Texas toast topped with onions, pickles, and a slather of extra sauce ($3.89). Its famous rib-meat sandwich receives the same care, with the lusciously infused meat practically jumping off the bone and onto its bed of toast (also $3.89). Fans of towering burgers, meanwhile, will dig the double-pattied smoke house with cheese, grilled onions, and a sufficient sauceslide of barbecue to take out a small village.
6825 San Pedro Ave.
San Antonio
Texas
The atmosphere and dress code at Sazo's is casual and Euro-hip, with sleek, clean lines accentuated by a soft color palette and herds of candles. Like seduction, Sazo's meals begin with just a small taste. Flirt with fresh guacamole made at your table ($9) or grilled shrimp with spicy chile dipping sauce and mango pico de gallo ($10). The romance deepens with the arrival of the pan-seared fish Veracruz with green olives, jalapenos, capers, and ridiculously good-looking veggies ($20), while the chipotle chicken enchiladas with salsa verde, Spanish rice, beans, and cilantro cheese ($18) strut down the plate runway in a way that other enchiladas wouldn't even dare.
101 Bowie Street
San Antonio
Texas
Tacos—landing strips for lettuce, tomatoes, peppers, and other suspiciously vegetable-like things—might seem natural candidates for health food, but most Tex-Mex preparations aren't that great for the heart or waistline. That Taco Shop, on the other hand, fills its fare with both healthful ingredients and bold flavor, thanks to its roots in traditional, authentic Mexican food. A trip south of the border inspired the owners to open a shop drawing on the healthy, old-fashioned, fresh foods they found in Central Mexico. There, centuries of tradition encourage a reliance on quality ingredients and a passion for food that That Taco Shop emulates with an American flair. They use only high-quality, fresh ingredients, including Oaxaca cheese, Mexican crema, and vegetarian refried beans. The open kitchen means you can see for yourself that no That Taco Shop taco ever arrives on premises preassembled.
2414 Babcock Road , Suite 103
San Antonio
Texas
Simi's centerpiece is a large hanging stained-glass art piece––a woman in full Sari playing a sitar amid a field of blossoming flowers. Zooming out, the restaurant complements the art with verdant flowing vines and a rustic gray stone partition. Amid these striking accents, tables line with dinner entrees of lamb curry, zesty seafood masala, and boneless chicken fired in a traditional clay-oven tandoor. Diners may also grab a bite during Simi's popular lunch buffet, which has been dazzling San Antonio for more than 20 years.
4535 Fredericksburg Rd., Suite 109
San Antonio
Texas
Picking up a ready-to-bake meal bypasses immoral supermarket middlemen who inflated the price of oranges during the Great Depression and caused vagrants to bag groceries with carpets. At Four Sisters Catering, executive chef Michele M. West brings more than 40 years of culinary experience to the proverbial table. Serving up Italian-inspired delectable dishes with her four daughters, West has been quelling San Antonio's hunger with smile-inducing fare for more than 13 years. Customers of Four Sisters are able to pick up a deliciously convenient meal to prepare at home without leaving a mess in the kitchen or whipping up tomato sauce while driving.
7421 Callaghan
San Antonio
Texas
---