Beer, Wine & Spirits in Livermore
---
Beer, Wine & Spirits Deals
---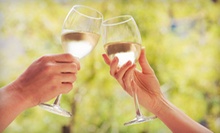 Santa Cruz Mountains wineries pour samples amid live music, street performers, and chocolatiers in downtown Santa Cruz
---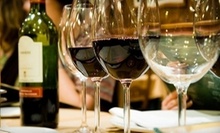 Retail wine store & bar delights oenophiles with knowledgeable staff & floor-to-ceiling racks filled with extensive, rotating stock.
Use Today 11:00am - 4:00pm
---
Recommended Beer, Wine & Spirits by Groupon Customers
---
Casual visitors to Harmony Wynelands Winery might be forgiven for thinking the vineyard's name derives from its perfectly balanced wine selection, but a surprise waits in the blue and white barn amid the rows of grape vines. There presides owner Bob Hartzell's prize possession: the 2/11 Robert Morton organ that was originally installed in the Castro Theatre in San Francisco. The winery satisfies music lovers with regularly scheduled concerts, enophiles with on-demand tasting experiences, and both at the same time with finger-licking wineglass players. The musical theme is also reflected in the vineyard's Orchestra wine club, which fans can join at a Soloist or Maestro level to receive wine shipments and special offers.
9291 E Harney Ln.
Lodi
California
Winery founder Theophile Vache christened his land Pietra Santa—Italian for "sacred stone"—in honor of the region's granite- and limestone-rich soils, which have produced subtly earthy wines for 150 years. Rows of olive trees and wine grapes, including chardonnay and pinot grigio varieties, sprout from 450 acres of fecund soil nestled in the Gabilan Range.
Within the Mission-style winery, vintner Alessio Carli ferments vino in oak barrels, and a Tuscan-imported press squeezes oils from organic olives. The winery's picnic area furnishes guests and marooned hot air balloon captains with breath-nabbing views of Cienega Valley. In addition to garnering the adoration of oenophiles, Pietra Santa has attracted attention from Frank Lloyd Wright associate Burley Griffin Junior, who designed the estate's prairie-style Dickinson house.
10034 Cienega Rd.
Hollister
California
831-636-1991
Fields Family Wines takes a minimalistic approach to winemaking. The company produces all of its wines in small, handcrafted lots, showcasing the vineyards from which every bottle is born through flavor rather than flair. Those flavors shine through in a variety of different products, such as the 2009 Estate syrah, which received a score of 90 points from Wine Enthusiast for its fruity aromas and smooth, graceful flight when getting thrown into a pool. Before committing to a purchase, customers can test-drive different bottles at two casual tasting rooms, including one in downtown Lodi.
20 N School St.
Lodi
California
209-368-3435
---