Restaurants in Livonia
---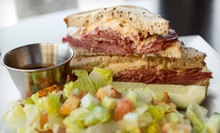 Sy Ginsberg–style corned-beef sandwiches, turkey Reubens on challah and housemade soups are all washed down with sips of Dr. Brown's soda
Use Friday 3:00pm - 5:45pm
---
Recommended Restaurants by Groupon Customers
---
Grand Traverse Pie Company offers more than 25 flavors of pie baked fresh daily, from ingredients supplied primarily by Michigan vendors, and a savory selection of comforting fare for breakfast, lunch, and dinner. Stock up on sustenance for a long day of street performing by breakfasting on a hearty bacon, egg, and cheese sandwich ($3.49), and add an order of the gooey caramel pecan rolls ($1.99) for a sweet, meal-accompanying treat. Mid- and late-day diners will enjoy the extensive offering of salads and cold or grilled sandwiches, or any of Grand Traverse Pie Company's warm and comforting entrees, such as the piping-hot prime-rib pot pie ($6.99) cloaked in Grand Traverse Pie Company 's famous flaky crust, or the protein-packed broccoli and cheddar quiche ($6.50), for a breakfast-inspired dinner.
1446 Maple Rd.
Troy
Michigan
Friendly service, a vibrant, warm atmosphere, and an aromatic blend of home-cooked soul-food favorites and Italian dishes render SOHO Detroit a pleasant pit stop for gastronomes. Gargantuan portions emerge fresh-cooked upon ordering from the diverse menu. Clear your throat for the ribs a capella, which come slow-cooked in signature seasoning ($8.50 half-slab, $14 full slab) and can be nicely neighbored with a side like the homemade baked mac 'n' cheese ($4). For a customized Italian plate, build your own pasta dish with five choices of pasta; chicken, beef, shrimp, or meatballs; two veggies, such as tomatoes and peppers; and one of SOHO's sauces, which include marinara, picatta, marsala, and more ($8). Breakfast is served all day every day, including pancake holidays. Rev up your digestive centrifuge for the French-toast breakfast, which slathers warm syrup and honey butter over two thick slices adjacent to two eggs and your choice of turkey links, bacon, or sausage ($7). The attentive owners frequently stalk the floor to ensure satisfaction, and might recommend saving room for the toothsome cupcakes ($2.50).
19739 Wt 12 Mile Rd.
Southfield
Michigan
For years the late, great, Panna lal Sharma kept mouths returning to Rumalees Fine Indian Cuisine, not only for the fruits of his tandoori oven, but also for his willingness to pass along his culinary knowledge. Though the man has passed on, his legacy continues—his protégé Chef Das gladly carries on his tradition of crafting fine food and sharing trade secrets with an accessible teaching-style. Students of her classes gain a greater understanding of the culinary traditions that infuse the Indian subcontinent, from making paneer masala with freshly-pressed cheeses to comprehending the difference between currying favor and favoring curry.
30701 W 12 Mile Rd.
Farmington Hills
Michigan
586-216-2580
There is perhaps no greater sign of Louisiana's culinary heritage than the mélange of aromas that wafts from a pot of simmering gumbo—a cornerstone of creole cooking from as far back as the time of the Louisiana Purchase. Nearly every recipe calls for some kind of roux, a traditional French sauce that consists of butter, oil, or some other fat mixed with flour. Beyond that, the specific spices and ingredients vary wildly, but most versions of gumbo fall into one of three general categories. Seafood gumbos feature oysters, crawfish, and other catches simmered with okra and vegetables, whereas filé gumbo uses a spicy herb made from ground sassafras leaves to highlight the savory flavor of andouille, poultry, ham, or smoked links. The third variant is known as gumbo z'herbes, a vegetarian recipe traditionally served during Lent.
Despite its indisputable creole ties, gumbo can't actually be traced to a single cultural tradition; the version using filé powder, for instance, originally derives from Native American cultures. Either way, the name itself comes from the West African term "gombo," which means "okra"—a plant native to Africa that the French colonists of Louisiana likely introduced to North America in the early 1700s.
404 Main St.
Belleville
Michigan
Fiamma Grille elevates the local dining scene with elegant takes on a steak house's bill of fare. Like a slice of bread nibbled into the shape of a mitten, the menu is a testament to state pride, with chefs striving to source each tasting plate of Leelanau cheese, dish of Maple Leaf Farms roasted duck, and platter of handmade pasta from Michigan producers whenever possible. Fiamma Grille's dedication to whipping up consistently pleasing tapas, aged steaks, and seafood earned it a spot on Gayot's Top 10 Steak Houses in Detroit list. In addition, its litany of fine California vinos won an Award of Excellence from Wine Spectator.
380 South Main Street
Plymouth
Michigan
734-416-9340
As guests sit down to eat at Taste of Ethiopia, the first thing placed on the table is a bowl of steamy washcloths. True to the traditional style of Ethiopian cuisine, dishes are served family-style and without silverware; instead, patrons eat with their hands, using gluten-free flatbread called injera.
Jane Slaughter of the Metro Times praised the flavors of the menu, crafted by Chef Meskerem Gebreyohannes, as "so deep and so true … you've never really experienced a lentil or a collard so intimately." Doro we't, a spicy, slow-cooked chicken stew, celebrates generous amounts of onion as well as the traditional hard-boiled eggs it's served with. Berbere, a distinctive Ethiopian blend of 12 spices, perfumes dishes of split red lentils and marinated cubes of lamb with rue seed, basil, cardamom, and other aromas.
In her article, Slaughter also relished the restaurant's distinctive and convivial experience. To encourage the family-style experience, patrons rest around a traditional wicker table with their muskets in plain view, and chef Gebreyohannes makes frequent appearances in the dining room to chat.
29702 Southfield Rd., Suite F
Southfield
Michigan
248-905-5560
---