Stores & Markets in Lochearn
---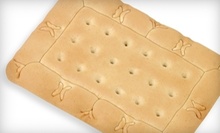 Use Monday 10:00am - 3:00pm
---
Recommended Stores & Markets by Groupon Customers
---
Baltimore City Paper named Santoni's the Best Grocery Store in the metropolitan area for good reason. A local staple since the 1930s, Santoni's is proud of its old-school roots and personal service. The friendly staff acts as one big family, either because they are blood related or because they are brothers and sisters in ritual kiwi juggling. Open 24 hours a day, Santoni's is the perfect place to catch the sunrise over a neatly kept stack of navel oranges.
3800 E Lombard St.
Baltimore
Maryland
This neighborhood market has been growing groceries from its blossoming shelf-branches for more than 50 years. Over the years, the store has changed locations, grown, and been asked, "Does Chevy Chase own this place?" by out-of-towners 6,030 times—but has always remained family owned and robot operated. Shoppers will find a deli and floral and meat departments within this small-scale, full-service grocery store. The pristine condition of the store is legendary among area neat freaks. The cleanliness extends to the shopping carts, which are treated with the PureCart system to kill 99% of germs, creating a sanitary stage for fruit squeezing or eating off cart handles.
8531 Connecticut Ave.
Chevy Chase
Maryland
Gourmet Again emphasizes fresh groceries and homemade goods in its myriad marketplace departments. In addition to fresh meat, seafood, and produce options, guests can spring for picnic fare or fall into a summer lunch with Gourmet Again's extensive deli menu. Here, shoppers can top their choice of bread—options include rye, pita, Kaiser roll, multi grain, whole wheat, and French roll—with meats, condiments, and extras such as bacon, cheese, and sun-dried tomatoes. Indulge in egg salad ($4.95), dominate the Old Dominion flavor of Virginia baked ham ($7.50), or sink mouth hooks into jumbo shrimp salad ($9.50). Baked goods are also plentiful, with a wide assortment of daily-changing oven offerings such as pastries, fresh fruit pies, and homemade cookies.
3713 Old Court Rd.
Pikesville
Maryland
Springfield Butcher has been filling bellies and empty barbecue pits with fresh, hand-cut steaks and seafood for more than 30 years. Prime cuts of beef range from filet mignon and Prime rib roast to flank steak, cube steak, and fun-size steaks perfect for trick-or-treaters. Other protein options run the gamut from Danish-style pork ribs to a variety of game meats including buffalo, venison leg steaks, and wild boar.
Sausages made in-house are available smoked or un-smoked, and bacon wraps its smoky flavor around scallops, which—like the rest of the shop's seafood offerings—are delivered fresh every day, except Sunday. Those looking to go from stove to table as quickly as possible can opt for oven-ready entrees such as chicken cordon bleu or pork chops with onion stuffing, and local deer hunters may find their freezers get filled faster after enlisting the help of Springfield Butcher's venison-processing services.
6310 Springfield Plaza
Springfield
Virginia
703-245-0111
Running every Saturday in 2012 from May through November, the Briggs Chaney-Greencastle Farmers' Market seeks to provide Silver Springs residents with increased access to fresh and healthy foods. In addition to a selection of local produce, meat, eggs, and cheese, the free-to-enter market hosts a variety of vendors, such as artists, jewelers, and bakers, as well as local chefs who demonstrate simple recipes using local produce and monosyllabic buzz words. To encourage visitors to purchase healthier food, the non-profit farmer's market matches WIC payments dollar-for-dollar, accepts SNAP payments, and matches a portion of Independence card benefits.
The market welcomes children as well, with a range of activities for young ones in its Kids' Tent. Children can take part in a number of interactive showcases throughout the summer, such as a Railroad Exhibit from the Riverdale Railroad club, puppet theater stories from former Moscow Puppet Theater member Irena Kholodnov, and martial arts demonstrations by the Virginia Kenshinkai School of Budokai. A chess tent lets kids and adults unwind while playing the classic game against friends, family, and Bobby Fischer in disguise. Families may also enjoy live stage music in an audience seating area and feast on their fresh food purchases in a nearby dining tent.
3300 Briggs Chaney Rd.
Silver Spring
Maryland
The Barthelson family's certified-organic farm has cultivated produce, raised chickens and cows, and shared its harvest with the surrounding communities for the last 7 years. Always looking to lower their carbon footprint and increase sustainability, the Barthelsons reuse glass bottles for their minimally processed milk, build their soil with organic compost, and graze Angus cows and bulls on grassy pastures and the now-overgrown stadiums used for pog tournaments. Through their CSA membership program, the farm distributes and delivers eggs, produce, herbs, and meat to residents in surrounding communities from early spring until the beginning of autumn.
Redeem from home
Warrenton
Virginia
---