Lockhart, TX Beauty and Salons
---
Recommended Beauty by Groupon Customers
---
After serving as an apprentice to Marisa Hernandez, the founder of Inventive Organic Therapies, Nicole Erickson Cato established Frou Frou Skin Care. Drawing from more than 10 years of experience, Cato tends to skin needs with a variety of facials, organic microdermabrasion, and peels. She removes unwanted hair through waxing, sugaring, or creative bargaining. Her expertise also emerges when she selects quality skincare products such as kNutek, Kinerase, and SkinCeuticals.
816 W 12th Street
Austin
Texas
US
The tragic truth facing metalheads is that they must cut their hair eventually. This prevents the hair from gaining sentience, insisting on playing in your band, and ultimately leaving to start a solo career. Keep your rockstar 'do in check with today's Groupon: $20 gets you $40 worth of services at Austin's hippest, friendliest little salon, Birds Barbershop. Hairstyles may have indelibly changed with the advent of rock, but that doesn't mean that post-Beatles rockers don't need a place to commiserate, discuss the news of the day, and unwind. Birds Barbershop bridges the generational hair gap, uniting the friendliness of a barbershop, stylists who understand the value of a rock mop, and sweet poster art all under one disco ball.
1107 E 6th St.
Austin
Texas
US
Today's Groupon to Pure & Natural Nail Studio gives you a luxury mani-pedi using non-toxic products for $35; get Pure nails + toes (a $55 value), plus a free polish upgrade to French polish (a $5 value) from Pure's expert nail technicians. Call your cuticle-challenged pals and beauty gurus for the perfect girls' day out. The night was young, and Nails's trademark deck of razor-sharp playing cards weighed heavily in his pocket with the looming heft of an untold story. Which night was tonight? The night he went straight? Or the night he finally struck it big with the score of a lifetime? A pottery heist, maybe, or some kind of real estate thing. The streetlight painted his sharp features in electric beige, and he felt cold and lucky.
2110 S Lamar Blvd.
Austin
Texas
US
The hands are the astronauts of the body—the first explorers to make contact with any matter in your orbit—and the feet are the blazing rockets that propel you into space. Take care of your trustworthy space objects with today's Groupon to Polish Nail Spa: $40 for an essential mani and ultimate pedi (a $73 value). This deal doesn't just spiff up your hands and feet, it invigorates the senses with a bouquet of essential oils and the underutilized arts of hand and foot massage. What She Says: "Girl, we deserve this day for ourselves!" What She Means: I deserve pampering; you deserve my scornful eye, you wretched pile of decrepitude.
3703 Kerbey Ln
Austin
Texas
US
Like your younger brother who starred in Living Single, hair can sometimes show up uninvited and refuse to leave. Today's Groupon rids you of stray strands with the services of a hair-removal expert. For $30, you'll get a brow, lip, and bikini line or full bikini wax at Brazilia Waxing Spa, located in central Austin just north of the University of Texas campus and several feet from Bolivia.Follow @Groupon_Says on Twitter.
3407 Guadalupe St
Austin
Texas
US
At Trisha Leslie Skincare, all it takes to shrink wrinkles is a light. The LED pulsed light used during Revitalight light therapy shines over the skin in a polychromatic sequence, sending rays of various wavelengths deep into the skin. These rays heat the skin not only to impart it with a fresh glow, but also to expand cells so that they fill fine lines and leave the skin looking smoother. The Revitalight treatment represents many of the skincare options offered at Trisha Leslie, though the staff blends both these high-tech tools and basic techniques to help rejuvenate the skin. The oxygen facial mists the skin in its namesake element, and the LamProbe eliminates surface imperfections, such as whiteheads, broken capillaries, and the barcodes that your parents forgot to remove when they bought you. An all-natural tint made of vegetables helps darken eyelashes. The staff also specializes in exfoliating chemical peels, men's skincare, makeup applications, and waxing.
3939 Bee Caves Rd., Suite B3
Austin
Texas
US
512-736-9937
---
---
Beauty Deals - Recently Expired
---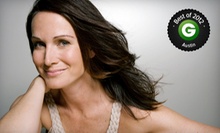 Nerve-blocking Botox injections relax furrow-forming muscles to reduce wrinkles between brows and on foreheads
---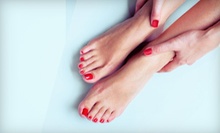 30- to 90-minute manicures & pedicures soothe & refresh with scented scrub, paraffin wax, hot towels, massage & long-lasting Shellac polish
---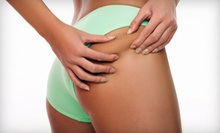 Noninvasive Lapex cold lasers help subtract unwanted inches from wide variety of body areas under supervision of Dr. Daniel McGrath
---
---