Pet Services in Lockhart
---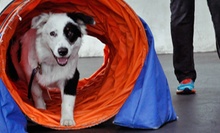 Dog-training classes teach agility maneuvers, obedience commands, or special tricks and strengthen the bond between pets and owners
---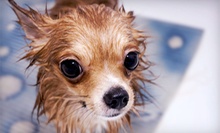 Self-service washing amenities include hypoallergenic tearless shampoo, handheld sprayers, and a heatless dryer
---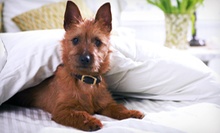 Use Sunday 11:30am - 4:00pm
---
Recommended Pet Services by Groupon Customers
---
Today's deal saves you the tedium of bathing your barking beauty at home: $15 gets you $30 worth of self-service dog washing at Dirty Dog, the do-it-yourself canine bathhouse that has four locations in Austin. Follow @Groupon_Says on Twitter.
A102, 8108 Mesa Dr
Austin
Texas
US
Lauded as the Austin area's Best Veterinarian by the Austin Chronicle in 2010, Westlake Animal Hospital helps to better the lives of pawed patients with preventative care fine-tuned over four decades in business and carried out by eight veterinarians. After entering through the dog- or cat-only waiting room, each pooch, feline, gerbil, or animorph sits and stays for a thorough examination of the skin, the ears, the eyes, and the teeth. Vets then peer into pets' inner workings by taking vital signs and assessing the effects of any extra weight on a pet's frame. Each 30- to 40-minute appointment affords time to go over any lingering health concerns, ask nutritional questions, and show off pets' best Buddy Holly impressions with one of Westlake's animal aces.
3930 Bee Cave Rd.
West Lake Hills
Texas
512-327-1703
For four decades, the family-owned Cactus Pryor's Canine Hilton Boarding Kennel has lodged and pampered pets on a six-acre spread of land. Accredited by the Pet Care Services Association for going above and beyond the role of gracious host, the kennel accommodates its guests with climate-controlled indoor and outdoor suites, blankets, organic food (including homegrown catnip for felines), and continuously monitored water bowls. Classical music piped into the kennels puts cats and dogs at ease, and a 15,000-square-foot play yard permits canines to romp among a selection of toys.
The animal-loving technicians interact with their charges regularly to keep them from growing bored, and can administer grooming services to prevent pets from growing soul patches and starting blues bands. Obedience training and daycare visits also ensure that pups remain active, yet aware of social etiquette.
7509 E MLK Blvd.
Austin
Texas
512-926-8905
Bobbi Colorado and her husband Ken Beggs watched as their sly raccoon protégé crept across the room just as they had taught him. Having reached the whirring treadmill's power source, he yanked the cord out of the wall, sending actor Brendan Fraser flying over the top of the machine mid-sprint. The raccoon—who filmed this scene for 2010's Furry Vengeance —is just one of many animal actors mentored by the husband-and-wife team, who have been training domestic and exotic critters for more than 35 years through their business The Wild Bunch.
Often disappointed by the kennels they visited to find dogs for their projects, the pair decided that they would open a better one themselves. They soon set up Bobbi Colorado's Canine Camp on their 10-acre property, building six spacious tree-shaded play yards and large sleeping quarters. The camp is designed to be "a safe, fun, happy place, so when you go away, it's your dog's vacation too," says Colorado. During stays, canines play together outside or nap in the sun while under 24-hour-a-day supervision. The staff members also post photos and videos of the frolicking pooches online so that their owners can check up on them. In addition to boarding, the camp also offers training classes to teach dogs basic obedience or train them for work in movies, commercials, and print ads.
Besides their pet boarding business, Colorado and Beggs' love for animals drives them to train rescue animals for roles, often saving them from euthanization. For the movie Secondhand Lions, for instance, Colorado recruited pigs from a slaughterhouse, and afterward sent them on to work with autistic children through an animal-therapy program.
8929 Hwy. 290 W
Austin
Texas
US
512-288-6928
A parade of customers saunters out of Kit + Kaboodle's Austin and Lockhart locations donning edgy mohawks, neon hair color, and sassy tattoos. This is not a group of teenagers from an '80s flick, though. It's a pack of leashed corgis and everything about their look, including the hair dye and temporary tattoos, is nontoxic and tear-free. The technicians at Kit + Kaboodle love adorning pooches in such details. They groom dogs with organic and natural products and augment treatments with quirky trim such as handmade pup feathers. Their pet-sitting services include drop-ins and daily dog walks to exercise canines, administer medication, or refill food bowls while owners are at work or visiting their secret dogs.
4902 Russet Hill Dr.
Austin
Texas
512-200-3717
Even pets that brush their teeth twice daily are prone to health issues—that's where Friendship Pet Hospital and Wellness Center steps in. The caring staff at this AAHA-certified clinic helps keep furry companions in peak physical shape with comprehensive checkups. Veterinarians inspect teeth to root out dental disease and administer vaccinations to prevent common maladies in cats and dogs. A focus on breed-specific healthcare helps vets stay aware of which ailments most commonly afflict which pets, saving the trouble of testing Sphynx cats for hair loss. As pets visit with the doctors, complimentary cookies and beverages keep owners satiated.
17244 IH 35 N, Suite 7
Schertz
Texas
210-651-0100
---