Restaurants in Lockhart
---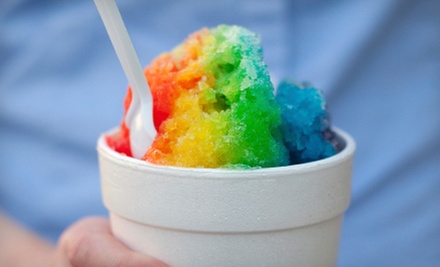 ---
Recommended Restaurants by Groupon Customers
---
Malibu Shack makes a splash in the San Antonio culinary waters with a California-inspired menu brimming with fresh half-pound, handmade 100 percent Angus beef burgers on buns of choice, taco plates, and battered seafood. The SoCal-inspired eatery welcomes neighbors and far-flung wanderers into its surfboard-festooned dining room, which is painted in bright green and orange. Patrons sip fountain drinks amid potted fronds, lounge on the outdoor patio, or saunter over to the 45-foot bar made of bamboo and spritzed with panda-repelling perfume.
130 S Hwy. 123 Bypass
Seguin
Texas
With her slate of deli sandwiches, Angela Toler aims to please even the choosiest palate. As the owner and proprietor of The Picky Deli, she oversees a host of tasks, from baking the turkey and ham to cooking and slicing all of the deli's meats. Using fresh ingredients, Toler's staff stacks each sandwich made to order, from classic Reubens to turkey clubs. The deli is open Monday through Friday, and on Fridays, diners can stop by for chicken-sausage gumbo.
117 E Wright Blvd.
Universal City
Texas
210-314-3005
Since 1980, chef Francois Maeder has crafted artful European entrees in Crumpets Restaurant & Bakery's scenic, forest-surrounded dining haven, prompting accolades from Esquire, TripAdvisor, and OpenTable. A creek bustles beneath the bridge leading to the dining room's entrance, flanked by oak trees and a spacious patio for alfresco dining. Inside, exposed brick and tall, floor-to-ceiling windows inculcate elegance, and a painstakingly built menu of pasta, meat, and fresh seafood dishes highlights options that are heart-healthy, like running from a bear or running after a cardiologist. By request, cooks can poach or charbroil certain entrees with a nonfat Santa Elena sauce of vegetables in a cabernet reduction. Crumpets' lineup of delectable baked goods charms sweet teeth by feeding them croissants, cakes, flans, and pastries, and rotating wines from around the world arrive monthly, like new moons and new presidents.
Tunes played on the harp or keyboard during musical performances on Fridays, Saturdays, and Sundays fill the air with pleasantly sonorous vibrations to match the ambrosial cuisine scents wafting overhead. For more primal culinary outings, diners may be tempted to accompany Chef Maeder on gourmet rafting trips, which carry attendees through canyons and campsites with the promise of palatable rations and lessons in catfish calls.
3920 Harry Wurzbach Rd.
San Antonio
Texas
210-821-5600
An old blue trailer has been parked on First Street for days. Instead of arousing suspicion, the aromas of frying pickles, chicken, and smoked beef alert passersby that this trailer is not the site of some crime investigation scene, but rather a place where chefs create delicious comfort fare for the masses. SoCo To Go's kitchen, located inside the trailer, draws inspiration from the people, scenery, and traditions of Austin. Eatery staff, headed by owner Sam Rhodes, pays homage to downright good food with chicken fried chicken, tilapia tacos, and tortilla and chili bowls. After picking up dishes at the trailer's side window, guests can sprawl out at garden picnic tables, where red umbrellas shelter from the sun and hungry skydivers. This same seating area transforms at night into a glowing hangout with holiday lights wrapped around trees and strung above the tables. SoCo To Go's deliverers can bring fare to various locations throughout the city, under the banner of the eatery's confidently smiling mascot, Daisy Mae.
1209 South 1st Street
Austin
Texas
512-970-8646
Hatched from a simple creole cottage in Mandeville, Louisiana in 1996, Another Broken Egg Cafe has expanded to more than 20 locations in the South and California. The homey eatery flaunts more than 130 menu items that spotlight southern and creole twists on breakfast classics such as omelets, scrambles, pancakes, and benedicts. The Hey Ricky omelet, a Spanish-inspired creation filled with chorizo, avocado, green chilies, and house-made salsa, even caught the journalistic eye of the Dallas Observer, who named it Best Omelet in 2009. Another Broken Egg Cafe's French-country charm welcomes locals, tourists, and off-the-clock roosters from 7 a.m. until 2 p.m. daily.
3016 Guadalupe St.
Austin
Texas
Trace
Valerie Broussard's purpose as Trace's forager is to source fresh ingredients from local farms and to track down the best cheeses, cured meats, jams, and hot sauces from artisan producers. Working in tandem with Broussard, Chef Ben Hightower evokes the personality of Austin, crafting a menu with a conscience that complements the W Austin Hotel's pledge for sustainability and eco-friendly practices. Black lacquered tables cradle sharable plates of charcuterie and fresh oysters as waiters round up ranch strip steaks and all-natural FreeBird chicken breasts, accompanied by accents such as organic rainbow chard and Springdale Farms winter squash.
If the entire restaurant's décor was born from a single burst, the burst must have come from the dining room's modern chandelier, which features silver rods that erupt from a central point and teardrop lights that cast a dim glow through the interior's thin, sprawled boughs. Wide-set stone columns sit nobly against steel-hued drapes, leading eyes to the walls' mirror mosaics and out into the equally stylish W Austin Hotel.
200 Lavaca St.
Austin
Texas
512-542-3660
---