Lockport, IL Spa and Massage
---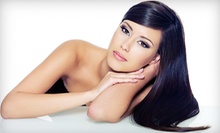 Stylists Tara or Joshua nourish dry or damaged hair with Moroccanoil treatments and craft new looks with cuts and styles
Use Tuesday 10:00am - 8:00pm
---
Recommended Spa & Massage by Groupon Customers
---
Despite a long list of beautifying hair services and soothing massages, the most important sense at C'zar Salon-Spa is not sight or touch, but smell. Stemming from natural Aveda products, aromas drift throughout the space, tinting the air with rosemary, peppermint, and lavender scents that evoke pastoral scenes pulled straight out of the organic farms on which many of their ingredients grew. The Stress-Fix line of lotions—whose fragrances help to reduce anxiety—cloaks hands and feet in sage during specialty mani-pedis, and customized blends of essential oils augment Elemental Nature massages and facials.
Plants play a role in even the most detailed procedures at C'zar Salon-Spa. Flowers contribute extracts to the salon's cosmetics, and Nufree hair-removal formulas provide a botanical alternative to wax that's more gentle than tweezing with a venus flytrap. Although they don't incorporate leafy greens, wellness treatments such as acupuncture and cupping strive to round out makeovers by goading the body's healing processes. For special events, the staff can accommodate groups inside the calming venue or transport their perfumed practices to a specified location.
641 E Boughton Rd., Ste. 145
Bolingbrook
Illinois
Five of the staff members at Headlines Salon & Spa have been pampering clients there for more than a decade—one as long as 23 years. Their dedication to relaxation and aesthetics is evident in their services, which range from specialty facials and peels to soothing hot-stone massages and body wraps. They also customize packages that prep brides-to-be for their big days, protecting nails with no-chip manicures, gathering hair into custom updos, and strategically positioning veils to conceal antennae. Wooden fixtures and a distressed-copper sculpture of the sun make the space as warm and welcoming as the people who work there.
7008 W 127th St.
Palos Heights
Illinois
Organic Spa Intelligent Beauty keeps stress, noise, and toxins such as formaldehyde and other inflaming or dehydrating chemicals out of its sanctuary. What's left is a menu of ultrarelaxing treatments that condition skin with products from organic lines including Éminence and cruelty-free Starflower Essentials. The staff treats acne and reduces sign of aging with facials or exfoliates away dead skin cells from the surface with a Dermafile resurfacing tool. To deliver a safe, sun-kissed glow, tanning technicians coat skin with a fragrance- and paraben-free solution by hand. Using disposable liners, nail technicians preform manicures and pedicures finished with a coat of vegan and cruelty-free polish.
801-5 Plainfield Rd.
Darien
Illinois
630-920-0934
On a mission to help every client experience their own bliss, Salon Rhapsody's skilled staff works to ease stress and beautify appearances through personalized salon and spa services. Hair stylists remove split ends, smooth out strands with relaxer, or change hues using products from brands such as Schwarzkopf Color. Meanwhile, estheticians use Dermalogica products and custom masques to hydrate skin during facial treatments and give bodies a golden glow during sessions of hand-applied spray tanning. Clients can also bring their bliss home in the form of brand-name and gluten-free beauty products for hair and skin.
9645 W Lincoln-Way Ln., Suite 110
Frankfort
Illinois
815-469-5953
Lay Hands Salon Spa & Make-Up Studio pampers clients with custom treatments performed in a private studio setting. Services include facials, waxing treatments, and massages. Staffers will also customize hairdos to prepare time travelers for trips to the century of their choice. Additionally, the studio plays host to spa parties and beautifies male visages with custom facials.
15752 S La Grange Rd., Suite 23
Orland Park
Illinois
708-213-7913
While there are many styles of massage to choose from, the licensed massage therapists at Elements Therapeutic Massage blend a medley of kneading techniques to ease away tension. Their four-level approach helps to cater sessions to each individual client. Patrons looking for a light and relaxing massage receive a level 1 massage, whereas those with more muscle tension can opt for the medium pressure of a level 2 or 3, and clients bearing especially tangled muscle fibers or especially heavy jetpacks can find relief with the deeper manipulations and trigger-point work of a level 4.
3075 Book Rd., Suite 143
Naperville
Illinois
630-922-9595
---