Restaurants in Lockport
---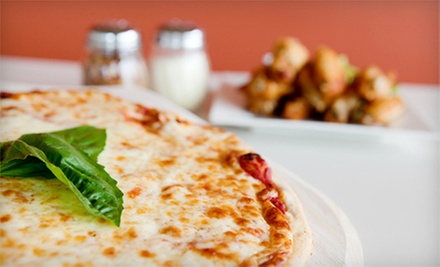 ---
Recommended Restaurants by Groupon Customers
---
At malls, atriums, and street locations across Canada, Feta & Olives counters stand like bright-green beacons, calling out to weary shoppers with the promise of authentic Mediterranean specialties. The kitchen crew fires traditional souvlaki and grilled, spiced meats and prepares specialties according to customer preferences. The menu includes falafel, salads, and Mediterranean chicken entrees, which may be served as dinner platters or wrapped in pitas for easy transport and last-minute anniversary gifts.
16 Yonge St.
Toronto
Ontario
647-352-3381
Low lights, wood detailing, and comfortable chairs create a casual lounge vibe at Insomnia, which fosters its namesake with a late-night atmosphere, drinks, and eclectic bistro fare. Contemporary American and European fare populates the menu with dishes such as the new york strip steak in a peppercorn jus and the walnut penne with asparagus, roasted almonds, and asiago-cream sauce. Crispy pizzas call out local locales such as the Queen Street topped with pesto, smoked salmon, and chèvre, or the Annex with grilled eggplant, roasted garlic, and portobello mushrooms. Dozens of martinis give patrons a reason to linger, with sips of innovative Rivera martinis or top-shelf martinis such as a classic preparation with Hendrick's cucumber-infused gin. A cluster of fairy lights twinkles above the bar and guides patrons to their tables, which are often occupied by complimentary imaginary friends. Against one of the exposed brick walls, paintings from monthly featured artists hang above a long wooden banquette faced with tables.
On weekends, Insomnia serves brunch garnished with mimosas and martinis. Multiple variations on eggs benedict feature house-made hollandaise sauce and a Heaven on Earth french-toast sandwich channels dulcet divinity with a filling of wild berries and cream cheese drizzled in Canadian maple syrup.
563 Bloor St. W
Toronto
Ontario
416-588-3907
Flames dance in the air at Omonia Restaurant, where servers light platters of kefalotyri fried cheese tableside for the restaurant's signature saganaki opa appetizer. Entrees include classic Greek dishes of mousaka, layers of eggplant, potatoes, and ground beef topped with béchamel cream sauce, and oven-roasted lamb. Patrons may opt to devour their meals in the modern dining room or outdoors on the patio.
426 Danforth Ave.
Toronto
Ontario
416-465-2129
Amid hanging lanterns and colourful murals, the dining rooms at Lalibela Ethiopian Restaurant's two locations fill with the aromas of spicy berbere sauce, sizzling beef tips, and savoury vegetable stews. Diners scoop up each bite with pieces of injera, a spongy flatbread that combines the tangy taste of sourdough with the aerodynamism of pizza delivered by frisbee. Cast-iron pots conceal slow-simmered stews of chicken and lamb, and slices of Western bread conceal pieces of grilled chicken or kifto, a very rare minced beef. Servers celebrate the Horn of Africa's claim as the birthplace of coffee by roasting beans at the table, releasing the earthy aromas of a traditional coffee ceremony.
1405 Danforth Ave.
Toronto
Ontario
416-645-0486
With glimmering wine glasses, white napkins, and fresh flowers scattered across its wooden tables and countertops, Bistro 243 personifies a cozy-yet-stylish French bistro. The intimate restaurant serves elegant lunch and dinner dishes daily, with entrees such as mushroom risotto and chicken stuffed with spinach and brie further channeling European pleasures. On weekends, diners stop by to sip on mimosas from the full bar while enjoying brunch selections ranging from omelettes with smoked salmon to sandwiches with pulled pork.
243 King Street East
Toronto
Ontario
647-350-8800
The head chef at Mt. Everest Restaurant's two locations draws on local herbs and imported spices to craft Himalayan cuisine, which is a blend of Royal Indian and Nepalese dishes. Inside the kitchens, cooks season plates according to the preference of each diner, whether they prefer mild, medium, spicy, or just plain fun. They create a signature Himalayan taste with their seasoning blends, evident in the Nepali-style steamed-chicken-dumplings appetizer and the vegetarian tareko aloo––fresh potatoes sautéed with cumin seeds, garlic, and ginger. For the Indian side of the menu, they simmer tender lamb in curry sauce and bake tandoori chicken that's been marinated in yogurt and spices in traditional clay ovens.
The decor at both locations is carefully designed to complement the Himalayan flavours with a smattering of scenic oil paintings by Nepalese artists and authentic oxygen piped in from Mount Everest.
469 Bloor Street West
Toronto
Ontario
416-964-8849
---