Music Lessons in Lodi
---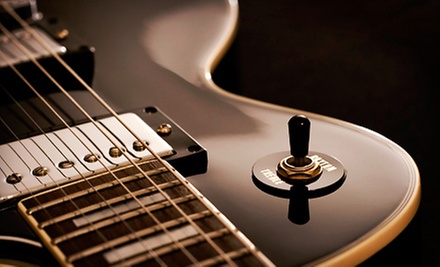 ---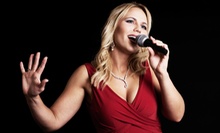 Workshops use the Singingbelt to help students learn about breath support and the mechanics of singing
---
Recommended Music Lessons by Groupon Customers
---
Youth and adult classes are scheduled on Friday evenings at either 6:30 p.m. or 7:30 p.m. and last 45 sock-rocking minutes. Feel free to bring your own guitar if you have one; otherwise, you can rent one of C.B.'s acoustic guitars. After the completion of your first lesson, you will have six weeks to complete the remaining three. C.B. Perkins is a family-owned business that has been repairing broken guitars and molding musical rock stars out of Jell-O since 1923. The talented, guitar-shredding instructors are willing to slow their pace to effectively teach students even the most basic guitar basics.
5807 Winfield Blvd., Suite B6
San Jose
California
Before each student starts siphoning out his or her inner sonatas, he or she will fill out an application and learn about the course curriculum and academy policies during a private orientation (a $25 value) with the student's parents and Director Thomas Skousen. Each student is then integrated into the creative-instruction procedure, which weaves four students at a time through stations of one-on-one instruction and computer exercises, building technique training, sight reading, and music-theory knowledge in addition to mastering songs (a $130 per month value). The result is a rigorous yet fun and rewarding class that fosters community, which each budding contrapuntist celebrates at the month's end with in-class performances and ceremonial wig powderings.
970 W Dana St.
Mountain View
California
The Music Store nurtures aspiring musicians with an exhaustive collection of instruments and broad teaching resources. More than 40 teachers share their skills during lessons for classical and contemporary instruments, and sheet-music-literate students can learn new songs by sight from a selection of more than 800 titles. Staff can also order any music still in print and start the musical journey with the purchase of new and used pianos and band instruments. Grownups slowly slash chords with the purchase of a new guitar, whereas child-size guitars come equipped with Pop Rocks–flavored fingerboard.
4505 Granite Dr.
Rocklin
California
916-624-0951
In the acoustically-treated practice studios that fill their brand-new facility, Music Time Academy's instructors arm students as young as five years with the rent-to-own flutes, trumpets, or violins they need to tangle with any musical challenge that might cross their paths. The school's curriculum is not limited to juvenile jongleurs, with students of virtually any age brushing up on their banjo, mandolin, piano, bass, or vocal abilities during lessons calibrated to the tastes of each pupil.
This modularity is made possible through the diverse roster of instructors, whose ranks include classical ensemble guitarists, rock 'n' roll ukulele players, effortlessly controlled jazz trumpeters, and a stray punk-druid mandolin player from Brighton, England. These eager teachers are equipped to foster virtually any sort of musical interest, whether students wish to show off in regularly scheduled recitals, find a friendly place to hone their skills, or compose a national anthem for their Dungeons and Dragons setting.
2155 Las Positas Ct., Suite R
Livermore
California
US
925-456-3460
---