Golf in Logansport
---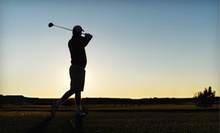 Lessons teach the single-plane swing path of Canadian golf legend "Pipeline" Moe Norman and the Vardon grip
---
Recommended Golf by Groupon Customers
---
As a member of the U.S. Golf Association, both of GolfTEC's golf tech centers are staffed by experienced PGA golfing professionals and computers who've been programmed in compliance with the Three Laws of Golfing Robotics, particularly the First (a robot must not move the ball from where it lies or, through inaction, allow a ball to be moved). Motion sensors and high-speed cameras monitor your swing and break down your form on a high-definition video display. GolfTEC's PGA specialists will then point out flaws, emphasize strengths, and coach you on how to permanently improve your game from tee to green. Their sensors will chirp with approval when you finally execute a perfect stroke or crack an especially witty putting pun.
9873 N. Michigan Rd., Suite 140B
Indianapolis
Indiana
Noble Hawk Golf Links brings the haggis-flavored flair of Scottish course design to this 6,817-yard Northeast Indiana haunt. A moderate-length opener, hole 1 (par 4) tests club-wielding precision from the first tee with a series of deep bunkers hugging well-contoured fairways. From there, a round gets rowdier with diverse challenges such as a drive between water at hole 4, a huge mound bisecting the green at hole 5, and an over-water tee-shot into a large, undulating green at hole 15. Click here to take an online tour of the course, or let the innovation, diversity, and slumbering deer on the luscious greenery surprise you while you play. Pre- or post-round, practice drives with the large bucket of balls to fine-tune form and eliminate embarrassing mid-swing pirouettes.
3005 Noble Hawk Dr.
Kendallville
Indiana
The flowing waters of the Maumee River gird the northernmost fairways of River City Links' 18-hole putting course, inviting misaimed golf balls to plop alongside the aquatic artery's cargo ships floating down from Lake Erie. The waterway nestles alongside the course without cutting through it, enabling the course to maintain its straightforward layout. This, in turn, lets golfers focus on the fundamentals of their game without the distraction of elaborate hazards such as lava pits and ball-eating goats. After a relaxing day on the course, players can lounge on the clubhouse's white wraparound deck and look out over the river, listening to the breeze that whispers through the weeping willows.
4735 Honey Oak Run
Fort Wayne
Indiana
When designer Robert Trent Jones Jr. made Prairie View Golf Club his first Indiana project in 1997, he peppered 18 holes across 206 acres of natural beauty. His design hugs the White River, which rings the course on three sides, but only interferes with shots at four holes. Native grasses trim the entire perimeter of the former soybean- and cornfields, while oak, sycamore beech, and cottonwood trees surround the back nine holes. But the natural obstacles pale in comparison to the manmade impediments – 90 sand traps, including one that stretches 135 yards, make the par-72 course a challenge for even the most avid golfer. Creative flagstick positioning invites visitors to modify their technique for approach shots, with an emphasis on precision rather than power, much like surgically extracting a swallowed engagement ring.
For some added muscle on the course, patrons can practice swings at golf lessons or map out a plan of attack over breakfast at The Albatross Grille, which overlooks the course.
Course at a Glance:
18-hole, Par 72 Course
Total length of 7,000 yards from the back tees
Course rating of 74.5 from the back tees
Course slope of 138 from the back tees
Four sets of tees per hole
7000 Longest Dr.
Carmel
Indiana
Immaculate bent-grass tee boxes, fairways, and tees stretch across 6,507 yards of pristine woodland terrain at Wood Wind Golf Club's 18-hole course. The picturesque par 71 throws down a gauntlet of challenges across its emerald acres, with water hazards on 15 holes and a king's guard of 82 bunkers hugging the edges of fairways and butterfly-kissing well-fortified greens.
All of the course's considerable obstacles await at the memorable 14th hole, a par three where players must send tee shots somersaulting over an elongated pond to reach a shallow green buttressed on all sides by rippling waters, two backside bunkers, and a vanguard of feral windmills closing in from the nearest mini golf course. A relatively difficult course when played from the tips, the grassy monolith caters to golfers of all abilities with four sets of tees.
Anchored by a staff of PGA–certified aces, Wood Wind Golf Club's teaching academy fosters pin-hunting prowess with deft instruction and the latest in golf technology. The club's lavish banquet facilities also provide a spacious and scenic venue to host wedding receptions or parties celebrating the birthday of golfers' favorite club-head covers.
Course at a Glance:
18-hole, par 71 course
Bent-grass tees, fairways, and greens
Length of 6,507 yards from the farthest tees
Course rating of 71.5 from the farthest tees
Slope rating of 130 from the farthest tees
Four tee options
2302 W 161st St.
Westfield
Indiana
317-669-8550
Golf is a constantly evolving sport, and Cattails Golf Club has brought together two distinct eras and styles of the game to showcase on its front and back nines. The William Diddel-designed front nine was established in 1924, and the club remained a nine-hole course for the next 82 years, a time that saw the invention of titanium drivers and the banning of performance-enhancing mashie niblicks. In 2006 Ron Kern designed the back nine, departing from the links-style layout of the front nine in order to incorporate the dense woods and multiple creek crossings natural to the site. Bluegrass covers the tee boxes and fairways on the front nine, and bentgrass blankets the front nine's greens as well as the back nine from tee to green.
Course at a Glance:
18-hole, par 71 course
Total length of 6,641 yards from the back tees
Course rating of 72.5 from the back tees
Course slope of 132 from the back tees
Four sets of tees per hole
Scorecard
9273 W 1050 N
Elwood
Indiana
---