Loma Linda, CA Spa and Massage
---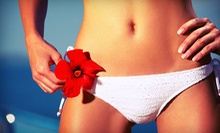 Deft wax techs lift all hair from intimate areas during 30- to 45-minute sessions
---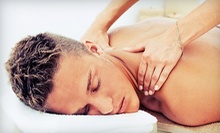 Massage therapists melt away stress with massages in one of three styles: Swedish, deep tissue, or sports
Use Today 9:00am - 9:00pm
---
Spa & Massage Rewards Deals - Use Anytime
---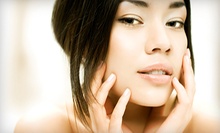 Ayurvedic foot massages and bamboo-extract exfoliation begin a menu of holistic spa services that refine skin and ease muscular tension
---
Recommended Spa & Massage by Groupon Customers
---
With yellow clapboard siding and a covered front porch, the cottage that houses Y'Sharis Spa puts visitors at ease with its homespun charm. This commitment to calm extends beyond the front door: the spa staff incorporates extra pampering touches into virtually every treatment. In addition to cleansing and moisturizing skin during facials, they soothe senses with aromatherapy oils or soothing paraffin dips; mani-pedis add on everything from warm herbal baths to enzyme scrubs. During reflexology treatments and massages, licensed therapists encourage relaxation more directly by correcting energetic imbalances or loosening tightly knotted muscles. For clients seeking a similar treatment experience at home, Y'Sharis Spa sells its own line of cosmetic products made entirely from natural ingredients and clients' relaxed "ahhs."
144 E Colorado Blvd.
Monrovia
California
Some say not to judge a book by its cover, but others say a carefully covered romance novel is the ticket to a thrilling train or airplane travelsperience. Dust your cover's corners with today's deal: a European facial at Mi Medical Rejuvenation Center in Chino Hills. Mi's staff of highly trained aestheticians combine personalized care with the latest techniques and products to revive and restore skin.
4200 Chino Hills Parkway, Suite 910
Chino Hills
California
Laguna Beach Massage is a peaceful ocean-view parlor that's been a licensed massagery since 2003. The company philosophy is that the body, mind, and soul must be balanced in order to achieve well-being, and a massage can harmonize the three. Through the use of organic oils and the skilled hands of LBM's expert staff, you'll be treated to one of three restorative treatments:
1999 South Coast Hwy. , Suite 6
Laguna Beach
California
Like bonsai trees, eyebrows require loving attention and skilled care if they're to shade a face with beautiful good fortune. The talented brow artists at Vinita's Beauty and Threading Studio won the 2009 honors of Best Cheap Brow Job from Los Angeles magazine. The cleanly kept salon utilizes safe and sanitary threading practices to quickly shape and exfoliate the brow without using chemical solutions or hot wax. Threading is a gently administered ancient art that lasts longer than other shaping techniques and won't leave you with sore side effects such as bumping and redness. Skilled brow stylists rave that the technique gives them more control than waxing and delivers a more precise look.
16426 Beach Blvd.
Huntington Beach
California
The Chinese mapped a network of channels through which energy, or qi, flows through the body. Tentatively naming it The Inter Net before discarded the name as silly, practitioners discovered that an uneven or dammed flow of energy through a channel could cause disease, pain, and sprinkles. By inserting small, thin needles in particular points where this natural energy has backed up, licensed and highly trained acupuncturist "Yuki" Itaya Martin can restore a healthy flow from toenail to eyebrow. This treatment includes a complimentary assessment to determine your exact needs and an application of aromatic essential oils.
2500 Alton Pkwy. , Suite 208
Irvine
California
Like a professor knowledgeable on tulip mania, alien black oil, and a myriad of seemingly esoteric subjects, Massage Envy's certified body therapists ably converse with the gamut of muscle ailments. They'll unravel tense coils of accumulated inner stress through a perfectly catered treatment for individual clients' needs. Swedish massages offer gentle rubbing for muscular soothing and improved circulation, whereas reflexology focuses on a patient's crawling paddles, delivering relief to hands and feet to extend goodwill throughout the entire body. A prenatal massage is ideal for expecting mothers who could use a little relief from carrying another person inside them, and a sports massage provides tension relief and injury prevention for an athlete's body.
145 S Las Posas Rd., Suite 160
San Marcos
California
---