Restaurants in Lombard
---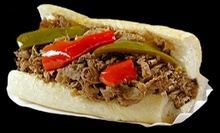 Zagat-rated eatery with iconic italian-beef sandwiches named the Midwest's best by Adam Richman on Best Sandwich in America
---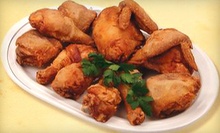 Handsome granite buffets display more than 24 hot, homemade dishes such as beef stroganoff & blintzes or fresh salads & soups
Use Today 5:00pm - 7:30pm
---
Recommended Restaurants by Groupon Customers
---
Inside a cheerful café marked with a striped awning, chefs dote on hot pans that cradle delicate French crepes destined to encapsulate sweet or savory fillings. Cream of the Crêpe's batter whisperers take pride in the smallest details of their crepes, demanding that each flaunts a flaky texture, toothsome filling, and crisply ironed handkerchief. Crepe masters fill the edible envelopes with eggs and cheese during breakfast, grilled meat and crisp vegetables during lunch, and fresh fruits or decadent spreads during sweet-tooth attacks. Artful baristas grind Lavazza coffee beans to brew into drip coffees or strong espressos topped with scoops of frothy milk. Between customers, servers wipe the granite counter and set vases bursting with flowers on every table, where the blooms soak up light reflecting off the café's sunny yellow walls.
8 S NW Hwy.
Park Ridge
Illinois
847-720-4246
The chefs at Don Juan Restaurante charm bellies with Mexican cuisine paired with more than 50 varieties of tequila. At outdoor tables, stardust spices dishes from a seasonal menu that changes weekly. A private party room gives tails space to pin themselves on donkeys as guests entertain themselves with seafood nachos and six genres of margarita. Brews imported from Mexico's frostiest beer rivers wash down sizzling fajitas, tacos, and heaps of fresh guacamole, and live entertainment marinates meats in the flavors of music.
6730 N Northwest Highway
Chicago
Illinois
773-775-6438
The cooks at Avenue Ale House plate casual American bar fare, including burgers, steaks, and chops, as bartenders pour fermented libations from their lengthy beer list. Bottles and pint glasses brim with Belgian brews, German pilsners, and British ales, along with porters, stouts, and seasonal hop juices. As servers fill tables, the sunshine, table umbrellas, and discussions about whether or not to put up the table umbrellas fill the rooftop patio during summer months. The restaurant hosts live music, which tickles tympanic membranes every Wednesday, and disc-jockey playlists encourage merriment each Friday.
825 South Oak Park Avenue
Oak Park
Illinois
708-848-2801
Gauzy curtains usher a sea of sunlight into Caspian Cafe, where Mediterranean cuisine and seafood are sandwiched between crisp, white tablecloths and circular hanging lamps. The signature nachos take on a breezy vibe with tangy feta, cucumber, tomato, and hummus topping pita wedges. Lamb shank, blackened catfish, and hummus complement patron-toted potables in the BYOB dining room, and free parking allows guests to have a nice meal without worrying about bringing enough hot dogs to feed the parking meters.
5691 N. Milwaukee Ave.
Chicago
Illinois
US
Though the menu boasts south american empanadas, tropical-fruit marinades, and southern-style smoked brisket, co-owner Mike Jettner defines Dish Dine & Drink as a neighborhood joint above all. By at least one measure, it would have to be: he lives right around the corner, having moved there after a childhood spent only a few miles east in Rogers Park. His proximity lets him get to know the regulars and tempt new neighbors with promises of rich, comforting dishes such as the skillet mac 'n' cheese, a baked blend of cheeses and pasta topped with herbed breadcrumbs.
To help open a business in a place he knew well, Jettner gathered some of the people he knew best. His wife, Mary, is co-owner, and the menu of homemade crepes, creative sauces, and hearty sandwiches arose from a 30-year friendship with an instructor of culinary science. The space with the long, dark-wood bar still shows the sheen of Dish's 2012 opening, but it too has Jettner's sledgehammer's handwriting all over it. The pub had been a dentist's office before Jettner, a former construction worker, broke it down and built it back up into a space where natural light streams onto paintings depicting streetscapes similar to those customers see from behind the huge windows.
From this outpost, Jettner hopes to watch the revitalization of the surrounding Norwood Park hub continue, as the new streetlights outside illuminate an ever greater number of just-opened storefronts and better-groomed sparrows. In the process, Dish plans to keep drawing in newcomers to explore this patch of the city with the strains of frequent live music and the aromas of its eclectic global cuisine.
6169 N Northwest Hwy.
Chicago
Illinois
US
773-594-0100
The number 13 has gotten a bad rap through the years, but the Pineda clan is attempting to turn that around. Thirteen members of the Pineda family run Thirteen Asian Tapas + Bar, with four crafting meals in the kitchen while Gary Pineda leads the pack as general manager. All of their recipes are sourced from Filipino culinary traditions, themselves a fusion of Asian and Latin influences, as evidenced by dishes such as soy-sauce-infused adobo chicken and the roasted and fried lechon, or pork, topped with achara, a traditional pickled papaya garnish.
The kitchen calls on overseas recipes in selections such as pancit, a traditional Filipino birthday dish comprised of thin rice noodles sautéed with cabbage, carrots, and meat that diners unwrap to reveal a miniature band of singing party guests. On some nights, live jazz fills the intimate dining room, where purple walls and exposed brick surround a bar that begets nine specialty martinis that mirror the cuisine's manifold influences with flavors of ginger, mint, tequila, and imported Philippine gin.
4202 W Irving Park Rd.
Chicago
Illinois
US
773-283-6626
---