Restaurants in Lombard
---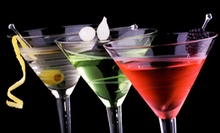 Small plates highlight a culinary heritage of Asian and Spanish influences in a brick-accented dining room
---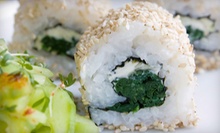 Sushi chef & hibachi grill augment buffet-style dining that includes orange chicken, egg drop soup & seafood entrees
Use Today 3:00pm - 9:30pm
---
Recommended Restaurants by Groupon Customers
---
The chefs at Don Juan Restaurante charm bellies with Mexican cuisine paired with more than 50 varieties of tequila. At outdoor tables, stardust spices dishes from a seasonal menu that changes weekly. A private party room gives tails space to pin themselves on donkeys as guests entertain themselves with seafood nachos and six genres of margarita. Brews imported from Mexico's frostiest beer rivers wash down sizzling fajitas, tacos, and heaps of fresh guacamole, and live entertainment marinates meats in the flavors of music.
6730 N Northwest Highway
Chicago
Illinois
773-775-6438
The cooks at Avenue Ale House plate casual American bar fare, including burgers, steaks, and chops, as bartenders pour fermented libations from their lengthy beer list. Bottles and pint glasses brim with Belgian brews, German pilsners, and British ales, along with porters, stouts, and seasonal hop juices. As servers fill tables, the sunshine, table umbrellas, and discussions about whether or not to put up the table umbrellas fill the rooftop patio during summer months. The restaurant hosts live music, which tickles tympanic membranes every Wednesday, and disc-jockey playlists encourage merriment each Friday.
825 South Oak Park Avenue
Oak Park
Illinois
708-848-2801
Every four–six weeks, Cemitas Puebla's owner and chef, Tony Anteliz, sends a family member to Mexico to gather ingredients such as chipotle peppers and giant cinnamon sticks. He relies on time-tested family recipes honed in Puebla, Mexico to assemble these imported ingredients into sandwiches, tacos, and salsas that have been praised in the Chicago Tribune and on WTTW 11's Check, Please!. Food Network's Diners, Drive-ins and Dives highlighted the restaurant's signature cemita sandwich: sesame-seed-bread laden with fresh oaxaca cheese, papalo—a fragrant herb grown in Tony's mother's garden—house-stewed chipotles, and a choice of meats such as breaded pork and carne asada. Inspired by Lebanese shawarmas, tacos arabes begin with layers of pork shoulder and onion skewered on a rotisserie. The stack of meat rotates as slowly as a ferris wheel being ridden by a herd of elephants before a member of the open-air-kitchen staff shaves off tender meat and tucks it into pita-like tortillas.
3619 W North Ave.
Chicago
Illinois
773-772-8435
Though the menu boasts south american empanadas, tropical-fruit marinades, and southern-style smoked brisket, co-owner Mike Jettner defines Dish Dine & Drink as a neighborhood joint above all. By at least one measure, it would have to be: he lives right around the corner, having moved there after a childhood spent only a few miles east in Rogers Park. His proximity lets him get to know the regulars and tempt new neighbors with promises of rich, comforting dishes such as the skillet mac 'n' cheese, a baked blend of cheeses and pasta topped with herbed breadcrumbs.
To help open a business in a place he knew well, Jettner gathered some of the people he knew best. His wife, Mary, is co-owner, and the menu of homemade crepes, creative sauces, and hearty sandwiches arose from a 30-year friendship with an instructor of culinary science. The space with the long, dark-wood bar still shows the sheen of Dish's 2012 opening, but it too has Jettner's sledgehammer's handwriting all over it. The pub had been a dentist's office before Jettner, a former construction worker, broke it down and built it back up into a space where natural light streams onto paintings depicting streetscapes similar to those customers see from behind the huge windows.
From this outpost, Jettner hopes to watch the revitalization of the surrounding Norwood Park hub continue, as the new streetlights outside illuminate an ever greater number of just-opened storefronts and better-groomed sparrows. In the process, Dish plans to keep drawing in newcomers to explore this patch of the city with the strains of frequent live music and the aromas of its eclectic global cuisine.
6169 N Northwest Hwy.
Chicago
Illinois
US
773-594-0100
Finnegans Bar and Eatery may decorate its walls with HDTVs, but it doesn't assume that everyone's there to watch the game. From live bands and karaoke to games of bags and skee-ball, Finnegans supplies options for hours of more-active entertainment. The kitchen also ventures beyond its beer, whiskey, and pub classics such as corned beef with braised cabbage and beer-battered fish and chips to include comforting yet slightly exotic options from around the world. Wild boar rather than ground beef bursts from the several bite-size buns of an order of sliders, and Cajun tomato sauce adds zip to chicken pasta. There's also a weekend brunch menu anchored by a hefty Irish breakfast of bacon rashers, white pudding, black pudding, and irish sausage—served alongside a standard morning combo of eggs, potatoes, and toast.
Until recently, Finnegans' Gladstone Park home was the Blue Angel Restaurant, but inside there's no hint that it used to be a diner. Deep-orange walls wrap the entire room in a sunset glow, offset by dark-wood wainscoting, exposed brick, and modern touches such as bar shelves made from light panels and paintings of dogs playing Internet poker.
5310 North Milwaukee Avenue
Chicago
Illinois
US
773-763-2902
---