Things to Do in Lombard
---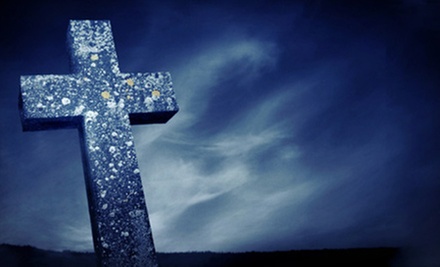 ---
Recommended Things to Do by Groupon Customers
---
A buzzing crowd gathers around the entrance of the Zoppé Family Circus tent before each performance, straining to glimpse the wooden hands of a large clock that displays the next showtime. When the moment is nearly at hand, members of the family emerge from the cavernous tent to greet their guests. As they introduce their siblings, spouses, and children, an accordion exhales melodies first heard in 1842, when Napoline and Ermenegilda Zoppé traveled from Budapest to Venice for their first show.
Inside the tent, Napoline and Ermenegilda's descendants effortlessly balance on wires and swing from trapezes. Just below their aerial stage, horses trot around a sawdust ring as equestrian ballerinas display a brand of showmanship worthy of comparison to John Wayne's performance in The Lone Leotard. Between acts, Giovanni Zoppé takes on the persona of Nino the clown—a lovable character whose earnest efforts to steal the show are thwarted by his own buffoonery.
510 W Lake St.
Addison
Illinois
Near the runways of O'Hare Airport, O'Hare Paintball Park hosts competitors inside its 25,000-square-foot indoor arena. A quiet staging area away from the noise of roaring opponents lets combatants prepare for each skirmish before storming the field with paintball guns in speedball or scenario matches. Red and blue speedball-format obstacles lend cover during quick elimination games, and inflatable hummers, log cabins, and wooden boxes conceal warriors in themed games to give an authentic war-zone feel. Experienced staff members interact with players before and after matches by assisting younger competitors, offering strategies for overcoming difficult situations, and offering techniques for painting Monet's Water Lilies on opponents' bunker walls. O'Hare Paintball Park is open to the public Thursdays through Sundays.
1071 Thorndale Ave.
Bensenville
Illinois
US
630-595-9870
Elk Grove Bowl first cracked open its doors in August 1963, and since then, it has evolved in step with technology to become a modern 40-lane alley with automated scoring. Bright colors splash every corner of the space, flaring to life under the black lights of Cozmic bowling, when fog and pulsing music fill the air to make competition seem more urgent and friends' faces seem more attractive. Year-round leagues, including the peewee bumper league for kids, help athletes to hone hurls and spins.
Bowlers can also sharpen hand-eye coordination atop pool tables emblazoned with portraits of Chicago's skyline and sports stadiums. Nearby, libations clutter a steel-topped bar and electric-blue booths in a restaurant ringed with vintage bowling photography. A private room is equipped with all of the trappings for birthday bashes, such as pizza, soda, and festive plates sliced from tree trunks that share the birthday girl's birthday.
53 Arlington Heights Rd.
Elk Grove Village
Illinois
US
Pump It Up's giant inflatable playscape lets kids literally bounce off the walls. Under the watchful eyes of supervising staff, youngsters trampoline across floors or race up flights of stairs to leap headlong down a soft, inflatable slide. In addition to pop-in playtime hours, Pump It Up hosts children's parties that have earned the bouncetorium a spot on Parents Magazine's 2010 list of top 10 birthday chains for kid birthday parties. The fetes come in a panoply of exciting themes such as "super hero training camp," "pirate quest," or "algebra midterm madness," and staff take care of setup and cleanup. Special events may include dedicated playtime for young children and glow-in-the-dark parties just for tweens with live DJs.
684 West Lake Street
Elmhurst
Illinois
630-941-7867
Pickwick Theatre, home to one of the Chicago area's largest theaters, showcases the latest Hollywood blockbusters inside a historic, registered-landmark building. Patrons flood their visual and aural receptors with the theater's current list of films displayed on one of three screens, including an expansive main auditorium that seats 1,000 people or mannequins comically brought to life. Popcorn and soda keep bodily hungers sated throughout films' airtime and prevent stomach growls from interrupting key dialogue.
5 S Prospect Ave.
Park Ridge
Illinois
US
A chorus of electronic beeps sings across Kiddie Kingdom's 13,000 square feet, where more than 62 arcade games, redemption games, and small rides galvanize youthful excitement in both kids and adults. After stuffing their pockets with tokens, guests compete for high scores on modern video games and arcade classics, such as air hockey and skee-ball. These redemption-style games shower the most successful players in tickets, which can be exchanged at the King's Treasure Chest counter for small toys, stuffed animals, and sports balls.
Elsewhere, the aroma of housemade lasagna, chicken wings, and pizza tempts players away from the arcade and into the onsite Pizza King restaurant. Here, cooks hand toss dough for thin-crust, deep-dish, and stuffed pies. The Italian cuisine also delights guests in a 100-person party room, where birthday boys and girls open presents and spin a wheel to win enough tickets to send their stuffed animals to college.
7411 N Milwaukee Ave.
Niles
Illinois
US
---