Things to Do in Lomita
---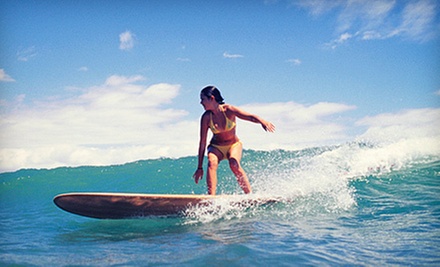 ---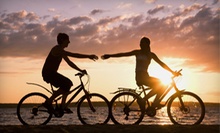 Standard bikes explore beach paths and street-legal electric bikes roll up the Pacific Coast Highway toward Malibu
---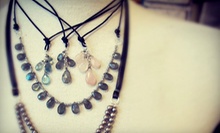 Jewelers fill self-serve necklace bar with custom pendant & chain creations to complement semi-precious stone & metal work collections
Use Today 2:00pm - 5:00pm
---
Recommended Things to Do by Groupon Customers
---
Surrounded by walls tacked with sunny works of art, rows of easels prop up paintings in progress, their evolving canvases commanding the attention of aspiring artists. This scene plays out every day at Paint Lab, a creative haven where talented instructors ignite pupils' imaginations with positive encouragement. The studio's classes teach the technical elements of acrylic, watercolor, or oil painting while students craft their own rendition of a classic work, capture the human form in figure-drawing sessions, or turn their pen toward anime and cartoons. Adults pique their artistic sensibilities with liquid inspiration during classes that provide refreshments and cheese, and younger Picassos can pay homage to their favorite lunchbox by painting it in battle dress during after-school or weekend children's workshops.
2912 Main Street
Santa Monica
California
An injury might have threatened Caroline Londergan's professional dance career more than a decade ago. But thanks to the fluid, core-focused conditioning exercises of Pilates, her recovery was smooth and speedy, and rehabilitation allowed her to continue dancing professionally. In the process, she found a second calling: teaching Pilates. Today, Caroline is a certified instructor who has taught Pilates at the White House and writes a column on the subject for Examiner.com.
Along with a team of seasoned instructors, Caroline imparts the teachings of the method's founder, Joseph Pilates, to help clients build enough strength and flexibility in their abs and lower back to crack a walnut in a single sit-up. Whether training clients privately or in groups of 4–5 per instructor, Caroline and her team lead workouts that incorporate mat-based movements and spring-powered resistance machines, such as reformers and towers.
1332 Hermosa Ave., Suite 4
Hermosa Beach
California
310-940-5593
With top-of-the-line air purifying equipment and special floors, Hot 8 Yoga debunks the myth that hot-yoga studios are stuffy and smelly. Its filtration system scours air with UV rays before pumping oxygen into the classroom, keeping the studio fresh and germ-free, and students breathing easily. Beneath yogis' feet, ploy-extruded matting keeps the air smelling sweet by wicking away moisture and odors atop shock-absorbent PVC floors.
These measures enhance pupils' practice during more than 100 weekly hot-yoga classes. With the heat cranked at varying degrees to boost flexibility, metabolism, and detoxification, sessions range from classic hot yoga to yoga sculpt, which incorporates free weights. Yoga barre, on the other hand, combines ballet, yoga, body sculpting, and cardio for a comprehensive workout that makes you sweatier than wearing a vinyl spacesuit in a sauna.
1422 2nd St.
Santa Monica
California
---