Gyms & Fitness Centers in London
---
Gym & Fitness Center Deals
---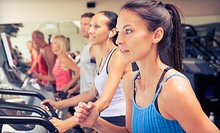 Trial membership grants 24/7 access to gym equipment at five locations
---
Recommended Gyms & Fitness Centers by Groupon Customers
---
As they enter the training circle at Curves, female guests come face-to-face with the smiles of other women. And just as points on a circle share a common distance from the circle's center, workout participants share the experiences of those nearby by trading stations throughout the 30-minute training session. One minute is spent on a piece of strength-training equipment built for feminine frames and designed to work two opposing muscle groups with a single movement. Exercisers then move on to a recovery station, where they run, jog, or dance to maintain heart rates and keep platforms in place during momentary losses of gravity.
101 Cherryhill Blvd.
London
Ontario
At Tru Fitness and Health, the fitness-savvy staff's commitment to fitness extends beyond group classes, semi-private training, and one-on-one sessions; trainers reach out to absent members with friendly calls or singing telegrams to encouraging them to return to the studio. Personal-training sessions and two to three-person semi-private sessions craft custom approaches to fitness regimens, and group sessions average a class size of 10–12 members, so coaches can lavish personal attention on each student, ensuring they perform each exercise safely, correctly, and without bribing their neighbour to hold their dumbbells. Tru Fitness's full-body regimen also unites eating right and exercise with screenings for muscular imbalances and 21-day nutrition plans designed by a registered dietitian.
1570 Hyde Park Rd.
London
Ontario
519-471-6100
In 1976, educator, musician, and kinesiologist Robin Wes longed for a children's gym that prioritized personal growth over competition. Unveiled at a time when physical-education classes pushed students to focus almost exclusively on winning, Robin's program was swiftly adopted and is now used in more than 300 Little Gyms worldwide. Robin still pens original music to accompany lessons, which engage whippersnappers aged 4 months to 12 years with gymnastics, dance, karate, and parent-and-child activities.
Each of The Little Gym's classes introduces simple movements that sharpen motor skills and set brains whirring, allowing kids to progress at their own pace until they can finally build a computer out of macaroni and glitter. Staff members strive to build a base for lifelong social skills and self-assurance with each exercise, including activities rooted purely in fun, such as summer camps or birthday parties, which helped The Little Gym to earn title of #1 Birthday Chain in Parents Magazine.
395 Wellington Rd., Unit 212
London
Ontario
519-681-9100
The Athletic Club London's sleek, modern lobby unfolds before patrons, opening out into two storeys of hardwood accents, brushed steel, and the sharp, clean lines of frosted-glass banisters. Amid the pristine confines, clients pave their path to health with cardio and resistance machinery, pools, group exercise classes, and a staff of experienced trainers. Membership unlocks 24-hour access to the fitness havens, giving patrons unfettered use of cardio equipment such as treadmills and ellipticals, or the heated salt-water pools where instructors lead aquatic yoga and families play marco polo, the game where people try to echolocate the famous explorer's ghost, during open swim.
Co-ed and women-only group fitness classes practice such traditional exercise styles as cycling, yoga, and Pilates. Instructors also specialize in newer techniques, including TAC physique, a ballet-inspired workout session taught by former-dancers-turned-robots, and TRX classes, with suspension straps that wield the body's weight to create a full-body resistance-training workout.
3198 Wonderland Rd. S
London
Ontario
519-686-8777
---