Restaurants in Londonderry
---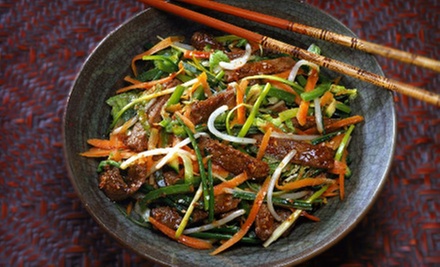 ---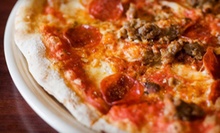 Neapolitan pizzas crisp in a brick oven, boasting housemade, locally sourced dough and sauce born from hand-milled tomatoes
Use Monday 12:00pm - 4:00pm
---
Recommended Restaurants by Groupon Customers
---
The best part of getting two amazing pizzas for only 15 bucks is being able to stock up on versatile circular shapes. Pizza—a round bread disc covered with tomato sauce, melted cheese, and edible toppings—is typically reserved for consumption, but with today's deep discount, you can grab an extra pie to use for all your circle needs, including:
1350 Massachusetts Ave.
Cambridge
Massachusetts
US
Helmed by globe-trekking chef and owner Mitchell Maxwell and general manager and owner Randy Nason, Maxwells 148's culinary maestro satisfies cravings with gourmet cuisine created using fresh, natural ingredients. Named one of the five best Asian restaurants in Boston by Zagat, Maxwell 148 gets high marks for its dedicated, attentive service. The dinner menu spins a kaleidoscope of small plates and starters ranging from teriyaki pork wings ($6) to the mushroom risotto cake with cognac and white-truffle oil ($14). Hunger pangs hold summits to discuss their longing for classic italian pastas such as spicy penne arrabiata ($14), and palates sing the praises of the Catch in a Bag, a symphony of fresh fish fillet and shrimp glass noodle stuffing harmonized with thai basil, cilantro, and ginger ($25).
148 E Central St.
Natick
Massachusetts
US
508-907-6262
Bring a friend and a healthy appetite to the heart of Inman Square in Cambridge for a mouthwatering meal at City Girl Cafe. Don't be fooled by the quaint green awning that shades the unassuming storefront of City Girl Cafe—the food inside is anything but quaint. With today's Groupon, you get $35 worth of expertly executed pizza, panini, pasta, and more for just $15.
204 Hampshire St.
Cambridge
Massachusetts
US
Today's Groupon tears open the meaty gates of hamburger heaven with $10 for $25 worth of Krazy Karry's juicy, tender burgers and all-American fare. The Boston Globe says Krazy Karry's has the best hamburgers in Boston. Patties are paragons of marbling, texture, and firmness, since they're made from hand-pressed Angus beef charbroiled to sear and seal the meaty surface.After this ploy failed, Ian recorded this second radio ad:
319 Broadway
Arlington
Massachusetts
US
At Tasca Spanish Tapas Restaurant, traditional Spanish seafood and braised meats converge in an intimate dining space illuminated by candlelight. The focal point of the eatery's menu is its selection of 34 small plates, which feature cured ham, empanadas, and potato fritters, among other flavorful meats and veggies. Tapas and heftier entrees such as ossobucco and chicken stuffed with chorizo pair with Spanish wines and sangrias to create a better testament to Iberian cuisine than flamenco dancing in a vat of paella.
1612 Commonwealth Ave.
Boston
Massachusetts
US
Indulge in some kicking tunes and your daily allotment of beefy goodness with today's deal: $10 gets you $20 worth of burgers and deep-fried treats at Caprice International Burger Bar. Located in the heart of the theater district, Caprice specializes in whipping up fast, hearty burgers heaped with toppings and global flair. "My lord, please, let him go," she said, with a formality betraying no hint of tenderness toward her betrothed.
275 Tremont St.
Boston
Massachusetts
US
---