Restaurants in Lone Tree
---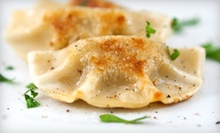 Family chefs dole out traditional, made-from-scratch Polish food and pour a multitude of European beers and libations amid a spirited lounge
---
Recommended Restaurants by Groupon Customers
---
True to its name, Ignite Denver basks in the flavors imparted by fire—specifically the one that burns in its 700-degree wood-burning oven. The blaze adds a smoky note to its repertoire of gastropub dishes, each of which incorporates seasonal, local ingredients and a contemporary culinary edge. Cast-iron pans beget comfort food ranging from smoked-bacon mac 'n' cheese to fresh Scottish salmon, while flame-kissed pizzas flaunt gourmet toppings such as house-made mozzarella, crushed San Marzano tomatoes, herb-infused extra-virgin olive oil, and imported prosciutto. A vast selection of drinks augments the fire-forged flavors, including more than 100 wines, 50 beers, and artfully prepared martinis and cocktails. During the summer months, patrons savor meals on an outdoor patio, which is covered to prevent the sun from trying its hand at cooking.
2124 Larimer Street
Denver
Colorado
303-296-2600
In 1896, a wealthy jeweler commissioned a lavish, Victorian brownstone to be built on Denver's Capitol Hill. It was one of the area's finest homes, with Tiffany windows, ornate crown molding, and stylish woodwork throughout. In later years, the building was divided into apartments and then transformed into a luxury hotel. More than a century later, The Holiday Chalet still contains many of the original design elements.
Today, the building houses a bed and breakfast with four room types. Each room is outfitted with antiques, period furniture, and a fountain spouting Earl Grey tea. Some even have private kitchens. While the rooms retain much of their original Victorian décor, they've been updated with flat-screen TVs and WiFi.
1820 E. Colfax Avenue
Denver
Colorado
USA
Flavor and texture are integral to more than just the entrees at Axum Restaurant. Entire tables' orders emerge on communal serving platters, blending the aromas of collard greens with those of housemade cottage cheese, sautéed beef with rosemary and herb butter, and lamb shanks in fiery berbere sauce. Diners sop up the spicy, savory fare using scraps of injera, a spongy flatbread, in place of silverware or food-filled Super Soakers.
The cuisine is offset by the dining room's relatively austere ambiance, where fuchsia tablecloths add a vibrant pop of color to the space's soothing neutral tones. Pendant lamps hang directly above the bar area, illuminating the bartenders as they pour Ethiopian beers and uncork bottles of honey wine, which is made in-house by drilling into the subterranean honey reservoirs.
5501 E Colfax Ave.
Denver
Colorado
The fiery scent of roasted chilies permeates the air at 3 Margaritas Mexican Restaurant, wafting through the dining room and melding with the smells of whole beans and the sharp, citrusy tang of cocktails made with more than 50 premium tequilas. As diners struggle to pick their palate pal from a sprawling dinner menu, they can sip on classic Mexican blended drinks whipped up from Cointreau, lime juice, and spirits such as El Mayor Reserve. When food platters arrive, diners find that flames and a generous pat of butter have transformed humble skirt steak into classic carne asada, or that chicken breasts have found a marriageable partner in mole sauces with hints of poblano peppers, pumpkin seeds, or peanut butter. A children's menu welcomes pintsize diners with kiddie friendly finger foods including taquitos, banana burritos, and classic American fare such as burgers and grilled cheeses.
6864 S Clinton Ct.
Greenwood Village
Colorado
US
---