Stores & Markets in Long Beach
---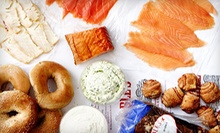 Foodie-friendly shop founded by Zabar's managers boasts smoked salmon, sturgeon, and caviar
---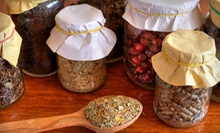 Use Sunday 11:00am - 6:00pm
---
Recommended Stores & Markets by Groupon Customers
---
If you envy your foodie-friends' endless kitchen creativity and effortless mastery of daily deliciousness, today's Groupon gives you the secret to gourmet meals every night. Inspiration starts at the grocery store, and with today's deal at Amish Market in Tribeca, $15 gets you $35 worth of gourmet cheeses, exotic meats, artisan breads, and more. Kiss your frozen dinners, processed cheeses, and bland factory-bread goodbye; invite your friends over for a dinner party, and let the fancy fare at Amish Market run wild on their palates. Ingredients this good practically cook themselves.Follow @Groupon_Says on Twitter.
53 Park Place
New York City
New York
US
212-608-3863
For more then 90 years, Ottomanelli & Sons has plied carnivores with lip-licking selections of the finest USDA Prime beef, lamb, veal, and other meat treats. Plan a summer shindig around palate-pleasing patties of the shop's delectable hamburger ($4.99 lb.), or nab the heart of a bifocaled beefcake with a hearty rib eye ($10.99 lb.) while juggling luxurious cuts of Porterhouse ($12.99 lb.) and filet mignon ($16.00 lb.). For encased-meat enthusiasts and porcine mavens, the shop stocks zesty Italian sausage ($3.99 lb.) and pork roast ($4.99 lb.). Like a spy's costumes, prices are subject to change. Amateur rôtisseurs and expert grill-masters alike can visit Ottomanelli's blackboard for flavorific recipes and meaty advice before putting their Groupon into action.
6105 Woodside Ave.
Woodside
New York
From dealing with high rents to competing with new business fads, New York institutions can be hard to come by these days. Murray's Sturgeon Shop, however, curbs that trend and keeps to an old-school tradition of devoted customer service and attention to detail in its artfully plated deli spreads. Since 1946, the Zagat-rated eatery—which also garnered nods from New York Magazine—has stocked products made from its namesake fish, such as smoked sturgeon or caviar. Alaskan salmon, whitefish, and lox complement kosher deli meats such as corned beef and pastrami. To cater parties or Tamagotchi-addiction interventions, the shop delivers ready-to-eat soups, salads, imported cheeses, and indulgent desserts such as old-fashioned crumb cake and rugelach by the pound.
2429 Broadway at 89th Street
Manhattan
New York
212-724-2650
Prime Time Butcher still wraps cuts of fresh meat in charming paper parcels. Owned by the same family for more than 30 years, the shop ages cuts of Prime beef, from chopped sirloin to london broil, in Prime Time's dry coolers alongside USDA Choice cuts such as standing rib roast. The shop's Bliss Burger patties are conjured from a blend of ground brisket and short ribs.
Prime Time Butcher also stocks a cornucopia of prepared foods, such as beef lasagna and beef-stuffed cabbage, or classic sandwich fillings such as genoa salami and Boar's Head bologna. Customers can custom-order catering and party packages to feed hungry partiers with entrees such as chicken marsala and eggplant parmesan, sides of teriyaki rice and house-made potato chips, and platters of cookies that disguise Cookie Monster's jury summons.
8045 Jericho Turnpike
Woodbury
New York
516-921-6519
Green Symphony's chefs cull zesty ingredients to craft body-nourishing platters and Korean cuisine. Appetites arise from slumber with breakfast offerings such as organic oatmeal splashed with açai fruit purée. Sandwich sages construct breadstacks from South Asian–inspired tempeh, then top their creations with the finest blue, feta, or brie cheese found beyond Mickey Mouse's pantry. A hefty dessert menu gilds sweet teeth with pear-ginger bars and homemade muffins, and bodies find a healthy boost with juice blends including the Cleanser, in which cranberries, carrots, and beets canoodle with barley greens and aloe juice.
255 West 43rd Street
New York
New York
212-391-4747
Natural Frontier Market's shelves teem with certified-organic produce and a slew of natural foods, bath and body products, and dietary supplements. Scoops of bulk grains such as organic mung beans, quinoa, and flaxseed await trips to the scale, and pints of organic yogurt huddle beside dairy-free ice cream and Amy's frozen entrees in coolers. Flavored protein powder and locally sourced helium pump up muscles to massive sizes, health-boosting vitamins fill dietary gaps, and natural toiletries beautify bods without harsh chemicals. Juice and salad bars sate appetites on the go, and Natural Frontier's free delivery service ushers orders safely to doorsteps and Rocky Mountain summits.
1424 3rd Avenue
Manhattan
New York
212-794-0922
---