Pet Services in Long Beach
---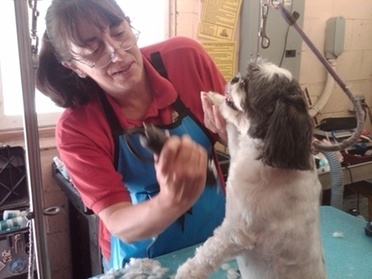 ---
Recommended Pet Services by Groupon Customers
---
Chateau Marmutt grants dogs and their owners respite from their daily duties with a canine haven designed to give dogs an outlet for socialization and relaxation. During Monday–Saturday dog daycare, pintsize pooches attend to daily schedules and conference calls in a cozy office setting, and big dogs frolic in a colorful playland of slides and kiddie pools. Canine-education classes instill obedient behavior and break bad habits in five weekly installments, and a fully stocked puppy boutique rewards tail waggers for good conduct. Canine chompers gleam after thorough teeth brushing, and aromatherapy grooming combs furry friends with scents such as citrus, oatmeal, and brand-new tennis ball.
8162 Beverly Blvd
Los Angeles
California
323-653-2062
There's no shortage of dog-friendly space at Kennel Club LAX whose sprawling facilities include a 12,000 square foot pet hotel with an additional 12,000 square feet of outdoor play space. Pooches enjoying a daytime or overnight stay in the 24,000-square foot pet hotel romp around during individual or group play time, which might include gamboling across the grass, napping in private lodgings, and diving into a swimming pool under the watchful eyes of on-site attendants. For overnight visitors, The Kennel Club LAX offers a range of accommodation, from standard rooms to more luxuriant themed cottages with flat screen TVs.
5325 West 102nd Street
Los Angeles
California
310-338-9166
Founded in 2007 by certified master dog trainer Jaime Van Wye, Zoom Room fosters relationships between dogs and their owners through obedience and agility classes. Obstacles such as hurdles, hoops, and ramps populate the interactive indoor facility, helping energetic pups burn off steam, gain focus, and get in shape for roles summer stock productions of Homeward Bound. In addition to basic obedience courses, specialty classes for shy or overly rambunctious dogs build confidence through positive reinforcement and a controlled class environment. Dogs seeking less structured outings often romp through half-hour blocks of private gym time, working through the agility course at their own pace.
726 North La Brea Avenue
Los Angeles
California
323-272-4665
Inge Halliday takes a spiritual approach to horseback riding, combining more than 20 years of classical English riding training with current techniques for bonding steed with rider. Her passion for equestrian education fuels horseback riding and horsemanship lessons in the Santa Monica Mountains, fit for novice and advanced patrons of all ages. Inge steers beginners toward expert status by teaching them how to effectively command horses in one-hour lessons that foster the twin senses of confidence and responsibility. During 90-minute excursions, riders acquire the skills to safely handle, groom, and saddle stallions before cantering past ocean views or away from slow-moving mermaid stampedes. An emphasis on breathing exercises and visualization helps to cultivate a fun workout that exercises the core, thighs, and spirit.
31500 Mulholland Hwy.
Malibu
California
424-235-5567
Healing Horse Adventures' instructor, certified by the American Horse Association for more than 20 years, imparts the basics of equestrianism to riders of all ages and skill levels. Five miles of scenic paths unfurl before riders during one-hour trail rides. Beginners' lessons, meanwhile, focus on horseback fundamentals, including grooming, saddling, and catching the horse. Rather than having students and steeds get comfortable with each other by trading diaries, the instructor pairs novice riders with training horses, each of which has been thoroughly schooled to be at ease with new students.
1379 Nonchalant Dr.
Simi Valley
California
818-884-0173
"A one-of-a-kind animal funhouse," raves USA Today, and Great Britain's Daily Mail calls The Barkley Pet Hotel & Day Spa "the most luxurious pet hotel in the world." With limousine transportation, gourmet meals, a full-service spa, and plenty of supervised playtime, the 32,000-square-foot resort for dogs, cats, birds, and exotic animals does not resemble a traditional kennel.
Designed in collaboration with pet-care consultants, psychologists, behaviorists, arborists, veterinarians, and old episodes of Lassie, the climate-controlled facility sports cheerful colors, plenty of skylights, and an advanced ventilation system. Tropical fish dart across tanks flanking multilevel cat condominiums where loving staff members lavish kitties with continuous attention. Dog owners can choose from a range of suites—many of which are equipped with flat-screen TVs and leather furniture—for their canine friends.
The Barkley's cage-free doggie day camp gives pups plenty of supervised outdoor playtime. Humans can check in with their furry friends on a live, streaming webcam. The Barkley also offers professional grooming and obedience-training services, and Dr. Daniel Slaton and Dr. Steven Rosenstein at the adjacent, fully integrated Westlake Village Animal Hospital are on call 24 hours a day, seven day a week, in case of emergencies.
31166 Via Colinas
Westlake Village
California
818-889-2275
---