Restaurants in Long Beach
---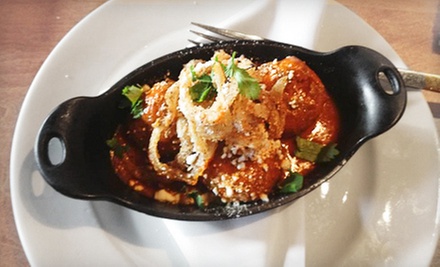 ---
Long Beach Restaurant Guide
Long Beach has the kind of relaxed atmosphere that anyone would expect from a beach-side community, and that relaxed atmosphere carries over into its food. While the city has a few upscale and fine dining establishments, the most popular Long Beach restaurants are those with a comfortable and laid back feel that makes diners feel like they are at home.
At Last Cafe gives diners a chance to people watch as they enjoy their food. Diners have the option to sit outside on the patio and watch the world go by; but on rainy or cold days, diners might prefer sitting inside. The American cuisine feels comforting, and the restaurant has the type of atmosphere that keeps customers returning.
Those looking for something a little more elegant might head over to District Wine. Though it does have a vast wine selection, it also has a number of dishes that keep guests happy. The daily happy hour drops the price on some dishes, and customers can find reduced prices on local wines. The flatbread pizzas served with a glass of wine are one of the best dishes on the menu.
George's Greek Deli makes dining in Long Beach easy and fun. This small deli has a wide takeout menu, which includes salads and sandwiches that customers can carry to the beach for an impromptu picnic. One of the classic Long Beach food offerings is Roscoe's Chicken and Waffles. This iconic restaurant serves a wide range of southern comfort foods, including fried chicken served on waffles, chicken chili, collard greens and macaroni and cheese. The chicken and waffles served with a side of greens will make anyone's mouth water.
Eating in Long Beach is a fun and relaxing experience. Whether it's having a picnic on the beach, grabbing some takeout for dinner at home or eating out at one of the Long Beach restaurants, even the pickiest eater can find something to fulfill his or her appetite.
The chicken and waffles served with a side of greens will make anyone's mouth water.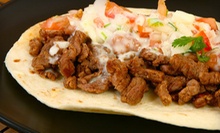 Use Today 10:00am - 8:30pm
---
Recommended Restaurants by Groupon Customers
---
The kitchen staff at Suds Sports Grill takes a different approach to its classic pub menu by serving traditional items such as bacon cheeseburgers alongside a complete lineup of Mexican food. The south-of-the-border menu is dotted with spicy selections including the carne asada quesadilla and the Baja fish tacos. The staff pairs entrees with an impressive selection of specialty and craft beers by Bear Republic Brewing Company, Stella Artois, Shock Top, and other local and national breweries. Multiple TVs lure patrons in to watch multiple sports and ignore all dialogue coming from their dinner companions.
5932 Warner Ave.
Huntington Beach
California
Upon collecting more than 2,000 bottles of wine, certified sommelier Rich Reich had a startling realization: he could not possibly drink them all by himself. Brix Brews & NY Deli was born as a place where Rich could invite customers to be his guests and sip on his extensive collection. As he says in a feature for OC Weekly, Rich has come to call his restaurant his "living room," a place where he spends his time sharing company, drink, and food. It's here in his "living room" where guests will not only find a huge collection of more than 1,500 wines—they'll also find 24 craft brews on tap, along with more than 50 bottles, one for each instance of tickling in the average rugby scrum.
And as the latter half of the restaurant's name implies, these drinks will never be alone: breakfast, lunch, and dinner hint at lox and schmear atop everything bagels; the pastrami-based fughedaboudit sandwich; and crisp margherita pizzas topped with fresh garlic, basil, and tomatoes. Food for the mind joins in the fun, too, with a jam-packed calendar of live music and trivia.
16635 Pacific Coast Highway
Sunset Beach
California
562-592-3167
USDA Choice–rated, Zabiha Halal meat sizzles on spits at La Zeez Pita Grill, keeping hormones, preservatives, and other artificial additives off its menu of healthy Mediterranean fare. Staff members stuff warm pita wraps with morsels of vegetable-fed lamb, beef, and chicken or cater get-togethers with helpings of shawarma, gyros, and other entrees by the pound. Falafel balls or aquaphobic cliff divers can take a dip in chickpea- and eggplant-based side sauces such as hummus and baba gannouj, whereas layered cakes and pastries submerge forks in seas of sweet.
4903 Torrance Boulevard
Torrance
California
310-542-3100
Skewers loaded with chopped veggies, meats, and shrimp sizzle atop oversize grills in the bustling kitchen at Magic Skewers Restaurant. Waiters ferry speared eats through the wood-paneled dining room to hungry diners waiting in high-backed booths, or wrap up to-go orders for patrons to munch or javelin-toss through their car windows on their way home.
1126 22nd St.
Manhattan Beach
California
Servers hoisting skewers circulate continuously through Samba Brazilian Steakhouse, pausing tableside to carve mesquite-grilled morsels of brazilian sausage, bacon-wrapped chicken, and sirloin steak. Hardly an unusual sight at Brazil's famous all-you-can-eat churrascarias—until you see the ocean views backdropping them through the 180-degree wall of glass in Samba's Redondo dining room. This chic perspective on tropicalia dominates all aspects of the steakhouse. Clusters of mod white couches stand out against glowing orange walls, which contain plenty of nooks for groups to squeeze into. On any given night, meals are accompanied by live DJ sets or a chorus of smooth-limbed showgirls, who catalyze the party with a slight assist from the caipirinha bar's more than 20 versions of Brazil's national cocktail.
207 N Harbor Dr.
Redondo Beach
California
310-374-3411
Whether perching underneath an umbrella on the patio, or admiring the eatery's display case of freshly crafted treats, visitors at Western City Bagel can bask in the comforting scent of baked goods and deli sandwiches. Unlike firecracker sushi rigged with live pyrotechnics, the shop's bagel sandwiches are a culinary experiment gone right, making the traditional sandwich even better with stacks of turkey, tomato, albacore tuna, and bacon between two halves of a toasty, chewy bagel. The bagels themselves come in a variety of flavors, such as everything, poppy seed, and sprouted wheat. The shop opens at 6 a.m., filling quickly with steam from an espresso machine as early risers dine on open-face bagel feasts smeared with cream cheese and topped with lox.
403 North Pacific Coast Highway
Redondo Beach
California
310-318-9686
---