Bowling in Long Island City
---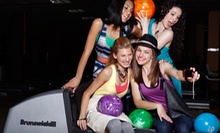 Long-time bowling-industry leader opens its oiled lanes for pin-punishment sessions including cosmic bowling
---
Recommended Bowling by Groupon Customers
---
Frames Bowling Lounge NYC's swanky amenities appeal to everyone, from local bowling-league mainstays to casual players to Jay-Z, Beyoncé, or Knicks' sharpshooter Carmelo Anthony. Part contemporary bowling alley, part full-service restaurant, part late-night dance club, the sleek Midtown Manhattan playground has been lauded by the press for an atmosphere teeming with the sounds of thumping music, dancing bodies, and clinking martinis alongside the usual roar of strikes and high-fives.
Twenty-eight polished bowling lanes guide balls toward pins as players wait their turns on plush, leather couches, where flat-screen TVs and club-style lighting compete for their attention. After a game of bowling, players can walk past the glowing bar top into the restaurant, where organic ingredients complement porterhouse steaks, pan-roasted salmon, decadent desserts, and exotic cocktails. Those who aren't ready to abandon their victory dances can shuffle straight into the dance club, where DJs kick out heart-pumping beats as the walls light up to provide perfect backdrops for dancing or recreating the moment you found the right-sized bowling ball.
550 9th Avenue
Manhattan
New York
US
212-268-6909
The marketing specialists at Queens Promotion Group further the reach of local hospitality and entertainment businesses through promotional events and branding services. From the Crawfish Festival held in the swanky boutique Z Hotel to unlimited drinks served in the ultramodern bar, Play, Queens Promotion Group hosts convivial gatherings in venues that accommodate their clients' sizes, strengths, and fear of ghosts. The outfit also offers such varied services as graphic design and website development, ad placement, and digital marketing campaigns.
77-17 Queens Boulevard
Queens
New York
US
718-476-2828
At the crossroads where bowling and fitness meet stands Sweat Fitness and Frames, a facility that houses both a full gym and a 10-lane bowling alley under the same roof. On the bowling side, competitors rack up points and quench their thirst thanks to the center's BYOB policy and strict ban on water fountains that dispense vinegar. Fitness professionals maintain surveillance over the gym area, where they offer up advice to exercisers using weights and cardio equipment. Group fitness classes are available throughout the week to members, who also enjoy free access to the bowling lanes.
3300 Henry Ave.
Philadelphia
Pennsylvania
US
215-352-5439
As a professional bowler, the owner of Strike 10 Lanes, Lou Seda, was more than qualified to captain the alley's recent renovations. Under his guidance, the space was transformed into 34 Brunswick Anvil lanes with computers for automatic scoring and calculating the exact number of fries consumed by each player. The shiny-new digs play host to Glo-Bowling on Friday and Saturday evenings, karaoke every last Friday night of the month, and a DJ every Saturday. With a sports bar serving libations and a café doling out pizza and hot dogs, guests have everything they need to bowl and be merry into the late hours.
6161 Strickland Ave.
Brooklyn
New York
US
718-763-6800
---