Long Island City, NY Health and Fitness
---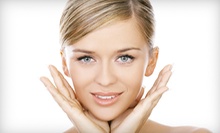 Aestheticians harness holistic philosophies to stimulate lymphatic drainage and revive skin with chemical- and preservative-free products
Use Today 11:00am - 7:00pm
---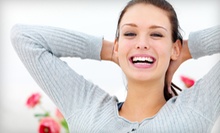 Hygienists detect sneaky signs of gum disease, snap negative images of toothy smiles & free mouths from decay-causing plaque & tartar
Use Wednesday 8:00am - 3:00pm
---
Recommended Health & Fitness by Groupon Customers
---
To help women achieve their fitness goals, the certified personal trainers at Get In Shape For Women focus on four areas: weight training, cardio training, nutrition, and accountability. In small group sessions, trainers modify exercises to suit up to four ladies' fitness levels, beginning by calibrating 30 minutes of strength-training drills—such as free weights, lunges, and squats—to each student's abilities. Then comes 25 minutes of cardio: the trainers might start novice exercisers with a walk on the treadmill or light elliptical training, and challenge more advanced exercisers to high-intensity interval-training sessions for enhanced results.
The trainers supplement the group workouts with nutritional planning centered around the concept of eating six small, balanced meals six days a week. They set aside the seventh day for a bit of indulgence, be it eating a favorite sweet or lusting openly after bacon. To track ladies' progress toward reaching their goals, the trainers measure their weight weekly and body-fat percentage monthly.
32 Washington St.
Tenafly
New Jersey
201-300-7151
Therapeutic optometrist Dr. Natalia Raeva has spent more than a decade testing eyes for glaucoma, cataracts, and dryness. Now, she channels the optometry experience she gained from working in hospitals and nursing homes to both All About Eyes Vision Center and Visual Effects Eyecare Center, where she pulls clients' sight back into focus with contact, bifocal, and progressive lenses. After Dr. Raeva has tested the health of each eye, the staff fits adults and kids with designer and sports frames from brands such as Ray-Ban, Fendi, and Swissflex. All lenses can be further customized to resist scratches, filter out ultraviolet rays, or deflect the glares of a jealous sun.
24-03 Broadway
Fair Lawn
New Jersey
201-509-8300
Located on the Upper East Side, this family of third generation opticians have helped customers from Russia to New York since 1964. As profiled in Time Out New York, Elijah Peters now carries on the family tradition by importing specs from around the world. Inside his 538-square-foot boutique, an eclectic selection of designer frames from Gucci, Tom Ford, Alain Mikli, and Tory Burch line shelves illuminated by LED lights. Eli and his staff fill these empty frames with coated lenses that defend eyes against UV-rays, scratches, and inaccurate fortune-cookie predictions.
1039 Third Avenue
New York
New York
US
212-759-5050
---