Tours in Long Island City
---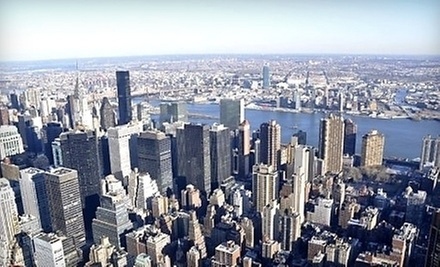 ---
Recommended Tours by Groupon Customers
---
With its winding sidewalks, New York City is very walkable⎯a characteristic native New Yorker and Manhattan Walking Tour founder Garry Zafrani celebrates with a slate of informative expeditions. Zafrani and his knowledgeable staff of tour guides lead various jaunts throughout the famed metropolis, sharing historical facts about Central Park, downtown, Times Square, and the High Line along the way. They also sate visitors' taste buds with food tours, treating palates to global flavors during the International Food Lovers tour and pairing architecture sightings and focaccia during a tour of Greenwich Village.
1560 Broadway
New York
New York
914-564-0461
NYSee Tours explores renowned sights in New York City with three combination bus-and-walking tours, each led by effusive guides who flavor the sights with history, anecdotes, and their distinct personalities. Under the direction of owner and lifelong New Yorker Fred Pflantzer, they lead tours to prominent destinations including Central Park, Grand Central Terminal, Greenwich Village, Chinatown, the Southstreet Seaport, Lower East Side, and parts of Brooklyn, including Williamsburg and Red Hook. The Brooklyn Grand tour shepherds tour-goers through notable Brooklyn neighborhoods and landmarks, including Prospect Park, Greenwood Cemetery, and Williamsburg, stopping for lunch at Fairway Market in Red Hook along the way. On the Get Acquainted East Side tour, passengers take in New York City history with stops at South Street Seaport, Chinatown, the Lower East Side, Union Square, and the New York Public Library.
Broadway and W 45th St.
Manhattan
New York
212-957-5009
Harlem's illustrious past and multifaceted present open up to tourists courtesy of Welcome to Harlem's knowledgeable guides, all of whom are residents of the neighborhood. Day and evening tours are organized by interest, showcasing culinary hot spots, historic jazz venues, stunning architecture, shopping destinations, or rollicking church services. Landmarks such as the legendary Apollo Theater, Columbia University, and the Cathedral Church of St. John the Divine open up to guests, providing a casual, intimate view that can't be attained on an unaccompanied stroll or while being chased by a clown car.
2360 Frederick Douglass Boulevard
Manhattan
New York
212-662-7779
Recipients of TripAdvisor's certificate of excellence in 2012, NYC GoGreen Tours keep themselves carbon-neutral chiefly by sticking to the favored transportation of native New Yorkers: walking. Their catalog of New York walking tours gives patrons a detailed look of the city that's difficult to get from riding on a bus or the roof of a subway car. Each jaunt focuses on one neighborhood or attraction, whether it's Central Park, Harlem, or downtown. Guides toss an entertaining stream of history and trivia over their shoulders as they lead their groups, pointing out remarkable landmarks.
The company also hops onto eco-friendly wheels to lead bike tours and pedicab tours. Flocks of bikes ride through lower Manhattan, beneath the Brooklyn Bridge, and Central Park, or patrons can sit back in a pedicab carriage while their guide cycles through Chinatown and Gramercy Park.
348 West 57 Street
New York
New York
347-329-5082
Get America Tours's knowledgeable guides escort groups of sightseers on more than 20 extended and mini tours. Tours journey to places like New York City and the Grand Canyon on 1- to 11-day jaunts taken at a comfortable pace, allowing patrons to hit the area's highlights and spend time soaking up their new setting. Highly trained guides share a wealth of information about history, local gems, and cultural tradition with their tour members. Some guides, able to speak Spanish and German, are also trained as multilingual emissaries. Passengers are ferried across the United States and Canada in either buses, vans, or minivans, depending on the number of passengers, ensuring that tours are never cancelled due to a lack of passengers or an overabundance of giant stuffed animals.
155 W 32nd St.
Manhattan
New York
201-567-6779
---