Dance Lessons in Longmeadow
---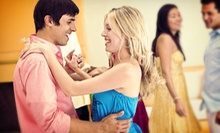 Experienced dance instructors help students of all ages & abilities master dances such as salsa, waltz, merengue, swing, and many others
---
Recommended Dance Lessons by Groupon Customers
---
American Ballroom and Latin Dance Studio's 4,500-square-foot rhythm incubator nestles into Maironis Park on the shores of Lake Quinsigamond. There, a team of seven expert dance instructors guides students toward light-footed confidence on the dance floor with group classes and private instruction. Their adult group classes, stratified into three skill levels, require no partner, only a willingness to groove in styles such as international cha-cha, West Coast swing, or Argentine tango. Youth group classes focus slightly more selectively on the up-tempo steps characteristic of Latin and swing. Meanwhile, one-on-one lessons prep engaged couples for their big day, using privacy to hide out-of-rhythm steps or accidental shouts of "I don't!" On two Fridays each month, students of all levels let loose at unstructured dance parties, which begin with an open lesson and dissolve into casual practice fueled by a cash bar.
52 S Quinsigamond Ave.
Shrewsbury
Massachusetts
508-925-4537
The consortium of professional instructors at Charlotte Ballroom Dance Academy shepherds students of all ages and skill levels through lessons that span the style spectrum. Paired with a partner or teamed up with instructor-founders Zenaida and Bryon Chandler—Latin and Showdance and Open Smooth champions, respectively—students can learn how to cavort through classic waltz and fox-trot romps or swivel through the modern steps of salsa, swing, or mambo. Dancers can develop their skills and confidence in private and group lessons or during jovial practice parties, where they'll trip the light fantastic without tripping on the light itself. Charlotte Ballroom Dance Academy also hosts occasional specialty classes, such as Cardio Ballroom, and leads betrothed couples through special wedding-dance lessons.
54 Wayside Ave.
West Springfield
Massachusetts
US
413-788-4500
Fred Astaire's highly experienced instructors instill clients with the subtle elegance of waltzes, fox trots, and tangos. Private introductory lessons teach a choice of over 20 styles during 40-minute sessions, as individuals or couples dance over the basics of ballroom dance, dance-floor etiquette. Group classes encourage amateur dancers to test out their skills with fellow frolickers during 40 minutes of sashaying and socializing. By the end of their introductory education, students whirl and waltz through the studio's spacious dancing environment with more confidence than the Lord of the Dance at an Irish nightclub.
54 Wayside Ave
West Springfield
Massachusetts
US
413-788-4500
Arthur Murray has been a leading name in franchise dance since 1912, when the entrepreneur began selling mail-order dance lessons. Expanding his reach, he enlisted teachers to spread his signature dance lessons on first-class steamships and skyrocketed to fame in the '30s after introducing the public to such dances as the Lambeth Walk and The Big Apple. By the 1950s, Arthur and his wife, Kathryn, were hosting their own highly popular TV show on ABC, The Arthur Murray Dance Party, which ran for 12 years. Today, Arthur Murray's team prepares students for rug cutting at special events and weekend nightclub jaunts. Throughout lessons, instructors teach the foundations of two to four dances from a long list of styles that range from Latin to country-western, helping students to learn basic step patterns, timing, and the ability to lead or follow.
70 James St.
Worcester
Massachusetts
508-798-0392
---