Pet Services in Longmont
---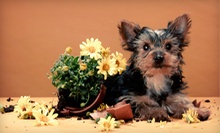 Private room with dog-friendly tub includes shampoo, brushes, towels, dryer & apron
Use Wednesday 9:00am - 4:00pm
---
Recommended Pet Services by Groupon Customers
---
When it came to her daughter Kayla's equestrian education, Patty Savage Wooters entrusted the task to the most qualified candidate: herself. Kayla eventually became a two-time World Champion at the Kentucky State Fair and today, both Patty and Kayla channel their expertise into Longview Stables and Riding Academy. Private and group lessons accommodate first timers and horse-show veterans alike in the indoor and outdoor arenas, where instructors expound on fundamentals and bond riders and steeds via improved communication instead of trust falls.
At summer camp, counselors shepherd kids of all ages through daily rides and the basics of horse care, as well as horse-themed crafts. Birthday parties afford opportunities for kids to mount a mini pony named Pottachelli, while the birthday kid bounces atop a fully-grown horse. Nearby, boarded horses enjoy the shelter of stalls or canter like recently animated garden statues around emerald corrals and pastures.
24000 E Exposition Ave.
Aurora
Colorado
720-951-1879
The privately owned Overland Animal Hospital & Pet Resort spans 17,000 square feet of facilities that more resemble a boutique pet hotel than an animal clinic. Claiming accreditation from the American Animal Hospital Association, Overland's general practice veterinarians see to pet health with services that range from vaccinations to pet hospitalization. The boarding facilities cater to both canines and felines even during the holidays, comforting lodgers with heating, air conditioning, and unlimited access to the outdoors for dogs. Onsite webcams similarly comfort owners, letting them check in on their furry friends.
Dogs can also come to daycare, where they get to romp with similarly sized pooches during hours of outdoor play. Individual daycare programs are available for pups who prefer working on their memoirs to frolicking with other dogs. Further services include professional dog training and grooming, during which staff only use hypoallergenic products.
2658 W Florida Ave.
Denver
Colorado
303-922-5500
It's hard to make room for nearly 8,000 wagging tails, 16,000 wandering eyes, and 32,000 batting paws, but Foothills Animal Shelter always finds a way. Due to its open-admissions policy—which means that no animal is turned away—the shelter welcomes roughly 8,000 homeless animals per year, treating them to housing and the attention of its professionals and volunteers. Once inside, the animals are given sanctuary, shots, and the chance to steal the hearts of potential adopters with their puppy-dog eyes.
But the caretakers at Foothills Animal Shelter don't just wait for needy pets to find them. They also perform such preventive measures as neutering, spaying, licensing, and vaccinations in order to ensure that pets with homes remain healthy and out of harm's way. This motive also drives the shelter's microchip services, which provide electronic identification should pets become lost, and training that teaches animals to follow commands and avoid white outfits after Labor Day.
580 McIntyre St.
Golden
Colorado
303-278-7575
Dr. Christina Spears](http://gr.pn/OdT7WV) has always loved animals. After spending her teenage summers riding horses, she decided to devote her career to helping furred friends. Today, she heads up the team at Park Animal Hospital & Wellness Center as it restores and supports pets' health through traditional veterinary practices as well as holistic therapies. Using an in-house lab, a digital radiology suite, and other medical and dental diagnostic tools, Dr. Spears discovers the root causes of animals' symptoms and begins healing at the source. When Western medicine proves inadequate or too hard for dogs to pronounce, she turns to acupuncture, herbal supplements, or nutritional therapy to set pets on the mend.
710 E Louisiana Ave.
Denver
Colorado
US
303-534-5440
The staff at Cisco's Den goes to great lengths to care for dogs both with and without homes. Pups brought to the facility by their loving parents play with attentive caretakers while exploring indoor and outdoor play yards, spacious dog runs, and poker rooms. When not at play, pups rest in large kennels with room to move about and assume yoga poses. Additionally, Cisco's Den offers conveniences such as paperless drop-offs, as well as parking and airport shuttles for customers dropping off their dogs before their vacations.
In a separate center, staff members care for rescue dogs, providing them with homes until loving families can be found. Proceeds from Cisco's Den are donated to DMK Rehoming, a no-kill rescue service and shelter that gives canines a chance to find a permanent home.
22351 E Bayaud Ave.
Aurora
Colorado
US
720-939-7017
U-Shampooch is an award winning Self Service Dog Wash and Pet Boutique with a Full Service Grooming Salon. The facility is extremely user friendly, even for the largest breeds. The staff is knowledgeable and very customer service oriented. U-Shampooch is always very clean, that's why it won 5280's Top of The Town!
10325 S Progress Way
Parker
Colorado
US
303-841-2880
---