Restaurants in Longview
---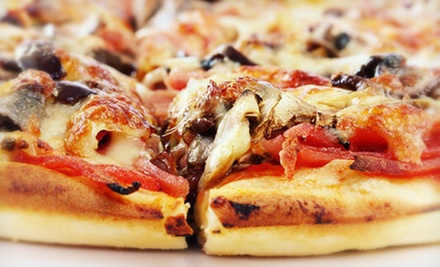 ---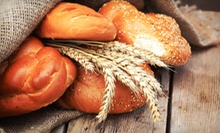 Bite into freshly baked loaves of Tillamook cheddar garlic bread, gourmet roast-beef and bleu-cheese sandwiches, or blueberry scones
---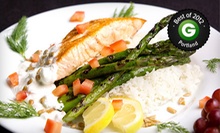 Southwest, French, and Asian Pacific flavors blend in roast duck, mushroom pot stickers, and steaks
---
Recommended Restaurants by Groupon Customers
---
Today's Groupon answers the age-old question of whether or not pizza is square or 360 degrees. For $13, you get $30 worth of divine-crafted, artisan pizza and hand-selected brews at 360 Pizzeria, located in Vancouver, Washington. Paddle, propel, and cross the river for an experience no pizza lover can sanely ignore. Pizza Problems sold an unprecedented 300 copies in 1981, and was even briefly adapted into a Saturday morning animated series, although fans objected to Pepperoni's portrayal as a softheaded comic foil. Activavision Studios recently announced plans for a 30th anniversary relaunch of the Pizza Problems franchise, a mature-rated gore fest featuring the sultry voice talents of David Hyde Pierce.
3425 Se 192nd Ave
Vancouver
Washington
US
Thoreau might have lasted longer than two years in the woods if he'd been within walking distance of Lapellah, a restaurant that draws strongly on the deep-woods vibe of the Pacific Northwest, with dark wood furnishings, comfy booths, warm brick walls, and plenty of roaring fire—Lapellah features a wood-oven stove and a flaming grill. The elemental atmosphere of wood and flames is reflected in the name: Lapellah comes from the trading language used by natives of the region and means "roast." And like any good citizen of the woods, Lapellah endeavors to minimize its footprints in the soil. The restaurant works with area farmers to obtain sustainable, local ingredients and recycles or composts 80% of its waste. This locally owned, do-gooder restaurant also gives back to the community, donating turkey dinners over the holidays.
2520 Columbia House Blvd. Suite 108
Vancouver
Washington
Dinners Done Right offers working parents a healthy alternative to fast food with monthly changing menus of healthy and balanced meals assembled in-store. Each dinner-assembling station is complete with easy-to-follow instructions, washed and prepped ingredients, and all the food-assembling supplies you'll need to build your meals, freeing you to arrive empty handed and exit with two huge handfuls of healthy meals, which generally feed one to six hungry humans. If you'd rather spend your assembly time assembling a diorama of last week's soccer game, you can set up a time to come by and pick up your order, already made and ready to be cooked.
8640 Martin Way East Plaza
Lacey
Washington
360-438-8463
Roots owner and chef Brad Root uses seasonal, natural ingredients to prepare tongue-tapping dishes in an upscale dining environment. Split into three courses, the dinner menu harnesses locally harvested farm products to create deceptively simple dishes. Dive into the first course with Dungeness crab and avocado ($11) topped with vermouth vinaigrette, and then spear a baby-spinach salad with egg, bacon, and cider vinaigrette ($6.95). Main courses inducing mouth-clapping include chicken breast ($16.95) with Yukon Gold potato gnocchi and artichokes, a top-sirloin burger ($11.95) with grilled onions and hand-cut fries, and halibut fish and chips ($14.95) with coleslaw. Roots' lunch menu offers tinier tastes of many of the dinner menu's selections, with crispy fried oysters ($10.95) and a local baby-shrimp salad ($11) summoning sustenance from the world-weary waters of the Pacific. At lunch or at dinner, guests can satisfy grape-teeth with a choice from Roots' impressive list of local and California wines, or sip cocktails from the full bar.
19215 SE 34th St., Ste. 110
Camas
Washington
Executive chef Faith Fiske tops The Atrium Lounge's more than 10 specialty pizzas with both ingredients from classic pepperoni to more unorthodox sunflower seeds. A create-your-own option, nicknamed The Einstein, lets guests craft their own pie from the same 25 sauces, cheeses, meats, and veggies Albert used to write out the theory of relativity on the back of a calzone. Barkeeps complement each slice by mixing signature cocktails from liquors such as Stoli Vanil, blue curacao, and Bombay Sapphire gin. Until 2 a.m. every Monday–Saturday, the lounge keeps the party going with open mic nights, karaoke, live music, and DJs spinning tunes.
606 Broadway
Vancouver
Washington
360-980-8370
The red teppanyaki tables inside Osaka House host pyrotechnic performances from chefs who quickly slice, toss, and set aflame pieces of meat or veggies. Hibachi entrees run the gamut from chicken and filet mignon to swordfish and lobster, and each dish is accompanied by a shrimp appetizer, soup, salad, vegetables, and seasoned rice. Diners can dig into such favorites as egg rolls and California rolls, or simply bowl them across tables into pyramids made of straws.
6700 NE 162nd Ave., Suite 417
Vancouver
Washington
360-604-0606
---