Restaurants in Los Altos
---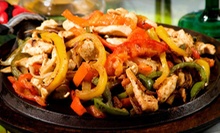 Between blue and yellow walls, chile relleno, tortas, chicken flautas & nachos vanish down throat chutes in casual cafe
Use Sunday 12:00am - 3:00am
---
Recommended Restaurants by Groupon Customers
---
Doing battle with the seven-headed hydra of hunger takes a robust arsenal of savory dishes. Today's Groupon loads your demon-slaying belt with $20 worth of food and drinks at Café San Jose for $10. Poke your cravings in the nose, then the head, and then the forehead as you sunder starvation with home-cooked meals made with real ingredients.
1583A Meridian Ave.
San Jose
California
Morocco's Restaurant's chefs and owners have created a menu that embraces more than 200 years of Morocco's multicultural history. Boasting influences from across the Mediterranean Coast, the chefs craft dishes with flavors from countries as far away as India. Appetizers such as shrimp pil-pil or Moroccan-spiced roasted peppers simmer in zesty sauces, and entrees such as chicken kebabs, lamb and vegetable cous cous, and fresh fish filet all come covered in cilantro with sides of jasmine rice and vegetables.
However, food isn't the only tradition they brought from Morocco. The calendar of events features nightly live Moroccan music and belly dancing throughout the restaurant, and live acoustic guitar plays while servers freely pour the house sangria. Even blues music finds its place in the restaurant, with most songs inspired by a singer who dropped his kebab on the floor.
86 N Market St.
San Jose
California
Blendz is a Best of the Bay establishment renowned for its commitment to energizing the public with healthy fast food served by healthy fast servers. Silverware picks up an especially demure sheen when graced by the popping colors and visibly fresh smells of the made-to-order salads, gourmet soups, and more that grace the pages of the menu. The Celebration Salad merges mandarin oranges, dried cranberries, garlic croutons, and crumbly feta under a veil of champagne dressing ($6.79), while the roasted turkey panino grills together sliced turkey breast, Monterey jack cheese, caramelized onions, and smoky sun-dried tomatoes ($6.99).
132 E San Fernando St.
San Jose
California
---