Things to Do in Los Angeles
---
---
Los Angeles Things To Do Guide
Los Angeles is more than just a city where
famous movies are filmed
. This city is crawling with
attractions and activities
that suit the interests of people of all ages. If individuals are looking for things to do in Los Angeles, there are a wide range of museums, theater shows, amusement parks, beaches and other events and attractions to choose from. Catching a showing of IRIS by Cirque Du Soleil is the perfect thing to do for those who are interested in a unique theatre performance. This show has taken up permanent residency at the city's Kodak Theatre and is the only one of its kind. Audience members can expect to see a exquisite and lyrical stage production that takes the audience through the history of cinema with dance, acrobatics and film. The show can be seen throughout the week and on weekends and features more than 72 performers and 200 costumes. The city also offers a wide range of museums for history enthusiasts. The Natural History Museum of Los Angeles County features exhibits and collections that contain dinosaur specimens, as well as live animal presentations. The museum's Discovery Center is perfect for entertaining and educating children and adults of all ages. There are a number of Los Angeles attractions to choose from to have a fun-filled day at an amusement park. Universal Studios Hollywood provides guests with a premier Hollywood experience. This park features thrill rides, shows, restaurants, back lot tours and a host of other attractions and activities. A list of stuff to do in Los Angeles would not be complete without mentioning the beach. Venice Beach is one of the more popular spots in the area and includes basketball courts, boardwalk shopping, food and cycling, among other things. There are an abundance of Los Angeles activities and attractions to choose from for those who are looking to stay busy in this city. From theatre shows to beaches, residents can always find things to do in Los Angeles.
Venice Beach is one of the more popular spots in the area and includes basketball courts, boardwalk shopping, food and cycling, among other things.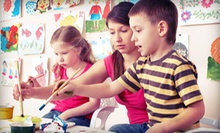 Use Friday 8:00am - 11:00am
---
Recommended Things to Do by Groupon Customers
---
Each week, the 32 lanes at Pinz sparkle beneath the strobe lights and disco balls of Shake, Rattle & Bowl. When they're not glowing or being incubated by confused chickens, the bowling balls can be hurled by visitors and league bowlers alike, rolling swiftly past the 10-foot video screens that line the alley's far wall. Behind the scoring table, in the VIP billiard room, plasma TVs help to ensure that guests can play pool without missing critical sports moments or any commercials starring famous cats. And in the on-site arcade, players can enjoy more than 40 games including air hockey, skee-ball, and video bowling.
12655 Ventura Blvd.
Studio City
California
818-769-7600
The Acting Corps, a school endorsed by Oscar winner Sydney Pollack as well as Rainn Wilson of The Office, takes a modern approach to acting instruction. In classes with an average of 16 students, creativity flows unimpeded and students overhear the whispered names of Hollywood's best agents quite clearly. Actors with MFA degrees lead programs that help acting students find an authentic style, and also pilot advanced classes with mock auditions that challenge experienced actors. Four- or six-week acting boot camps incorporate aspects of the Meisner technique and the Michael Chekhov technique. In classes engineered for international acting students, teachers elucidate methods for developing a convincing American accent or faking a convincing cheeseburger craving.
5508 Cahuenga Blvd.
North Hollywood
California
818-753-2800
Formerly the Lingerie Football League, the Legends Football League stands as the "fastest-growing pro sports league in the nation" according to NBC Sports correspondent Rick Chandler. That success owes much to the league's unique format, which pits two exclusively female teams in alluring uniforms against each other in full-contact football games on a 50-yard field. Donning football pads and helmets over their revealing performance wear, the female athletes block, juke, and sprint uninhibited by such frivolous gear as the NFL's heavy chainmail hauberks.
3900 W Manchester Blvd.
Inglewood
California
US
310-330-7340
With 30 years' experience choreographing fight sequences for television and film, competitive-fencing instructor Tim Weske leads Swordplay Fencing Studio's intrepid teachers in demystifying the art of the sword for students. His combat choreography sequences have touched films and TV shows as diverse as I Love You, Man and Angel, and he has safely instructed celebrities such as Natalie Portman and Brad Pitt to convincingly parry with their onscreen opponents and dual for red-carpet supremacy.
At Swordplay Fencing Studio, once-a-week group sessions or private lessons in foil, épée, and saber provide pupils with fun workouts by engaging minds with subtle strategy while burning calories, increasing agility, and building muscle tone. Afternoon and evening sessions are held Monday through Saturday to fit hectic jobs and busy mornings repainting the neighbors' lawn flamingos.
64 E Magnolia Blvd.
Burbank
California
818-566-1777
---