Things to Do in Louisville
---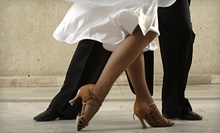 Teaching for 61 years, studio pays homage to Fred Astaire with private dance lessons from Ballroom to Salsa taught by decorated instructors
Use Today 12:00pm - 8:00pm
---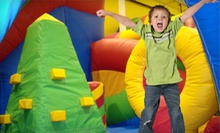 Use Today 10:00am - 5:00pm
---
Recommended Things to Do by Groupon Customers
---
The instructors at L'Ru Studios—all of whom have undergone professional training or held careers in the dance industry—aren't afraid to mix things up. They lead a range of classes where fusion is key. For instance, in pole dancing and salsa, they combine cardio and strength-training exercises with sensual movements to create fun and unique fitness experiences. They even blend disciplines into entirely new styles—their vertical barre course mixes pole tricks with ballet techniques. For even more unconventional workouts, they lead circus and aerial yoga sessions that combine acrobatics with flexibility-boosting poses. In addition to offering private parties and lessons, they host workshops and class series designed to build a repertoire of dance or circus skills for use in full routines.
Though their curriculum is broad, their philosophy remains focused. They strive to cultivate a judgment-free area for guests of all fitness levels, builds, and ages. This ideology of accessibility and acceptance surfaces in their small class sizes and supportive attitudes.
7100 Broadway, Suite 5R
Denver
Colorado
303-523-3703
The screams reach out for the brave souls who venture into The Asylum Haunted House before they can see anything. Descending two levels into the darkness of Gordon Cottingham's Hospital for the Mentally Insane, they hear the tortured cries of patients who have been abused and drugged and held captive within decrepit walls and the dungeons of their own minds. Demented doctors with questionable motives and ultra-low OSHA ratings lurk throughout 15,000 square feet of damp, musty space infested with spiders, rats, and snakes. The graphic makeup and Hollywood-style effects couple with the realistic-looking environs to make the site one of the scariest haunted houses in America, according to the Discovery Channel and HauntWorld magazine. Even the seemingly fearless Bam Margera recommends it.
Those who survive The Asylum's insanity emerge into the postapocalyptic landscape of the adjacent Zombieland Haunted House. There, the living dead wander through the quarantined streets of a crumbling city, in and out of dilapidated buildings, searching for human flesh or half-eaten candy bars.
11425 Community Center Dr.
Northglenn
Colorado
Children and teens engage their imaginations during dynamic adventures set in a fantastical time filled with dashing knights questing in the name of good. Groups of four to seven young heroes must overcome challenging puzzles and duel with foam swords as they work together to complete tasks such as saving their village, solving a mystery, or developing the technique of crop rotation. While swinging a Swasher sword, children learn how to compete and act fairly according to the rules of swordplay. The interactive play teaches kids creative problem solving and conflict-resolution skills that incorporate negotiation and compromises to solve complex disputes.
2450 S Central Ave.
Boulder
Colorado
303-786-9216
---