Louisville Automotive
---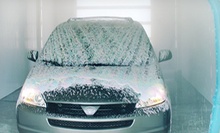 Car wash includes underbody & wheel wash, triple-foam polish, Rain-X protectant, spot-free rinse & dry; cleaning bays adjust to auto's size
---
Recommended Automotive by Groupon Customers
---
At Brannon Express Car Wash, robotic arms blast water jets along the contours of cars of all sizes, leaving them spotless from bumper to bumper and roof to undercarriage. Soft-touch scrubbers manufactured with closed-cell foam scour all areas of the vehicle, and because the scrubbers don't retain water or particles, paint jobs emerge from the wash scratch-free. A tri-foam polish, meanwhile, restores exteriors to a shiny, like-new state.
Each of the company's wash packages safely blasts grime and environmental contaminants from coats and strengthens them with misting applications of Rain-X and Ecolab protectants. After tires are buffed shiny and a power dry removes water spots, vacuums are available for self-serve use to hoover cabins free of dust and unwelcome carpoolers.
420 E Brannon Rd.
Nicholasville
Kentucky
859-245-2007
The technicians at Lexington Auto Spa call on Rain-X products and hot-steam extractors to tidy up rides inside and out. Customers can choose from quick automated washes or opt for full-service treatments that include an interior vacuum and window cleaning. With a spectrum of detailing packages, technicians wash, wax, and clay bar exteriors to remove stubborn dirt and overspray before storming interiors with hot-steam extractors ready to eliminate foul odors so that dashboard hula dancers can breathe easy.
1124 Winchester Rd.
Lexington
Kentucky
859-254-9663
With a stock of two-ply tints, Alternative Automotive's staff helps patrons improve their homes' and vehicles' appearances while protecting the people and possessions inside. Automotive window tinting fends off the forceful advances of UV rays, promoting cooler interiors and thereby preventing seat belts from branding you upon sitting down. Their tints can do the same for residences, reducing energy bills by fostering moderate temperatures. The technicians also equip cars with name-brand auto-start systems from Avital, and they stand by their workmanship with lifetime guarantees.
3205 Blackiston Mill Rd.
Clarksville
Indiana
812-944-1450
While some children inherit their dad's old set of wheels, the McAllister brothers got a much better deal. They inherited what they refer to as the "car gene", soaking up their father's love of all-things automobile and turning it into a thriving family business––three businesses, as a matter of fact. Besides McAllisters Auto Center, the brothers also oversee McAllisters Collision Center and McAllisters Auto Mart, where they blend a childhood full of mechanical apprenticeship with years of industry experience.
At the auto center, the McAllisters zero their car connoisseurship in on vehicles that require quick maintenance work or in-depth repairs. Oil changes, brake repairs, and engine services rekindle cars' performance, and new tires from brands such as Goodyear and Firestone restore smoothness to rides that have lost traction, balance, or the ability to stop on a dime without messing up Roosevelt's hair.
800 W Jefferson St.
LaGrange
Kentucky
US
502-225-4580
Unlike library books, cars protest by not working when you don't adhere to their due dates. To keep your vehicle in top shape, you should get your car's oil changed every 3,000 miles or six months or after every seemingly coincidental encounter with a fainting goat. Though we all may delay getting this necessary service for our beloved steel-combustion chariots, this deal is the perfect opportunity to deal with one of the nagging chores you've been meaning to get around to for ages.
125 W Lewis & Clark Pkwy.
Clarksville
Indiana
As Kentuckiana's only hand-car-wash facility, River City Splash is the only way to gently and meticulously spiff up four-wheeled living rooms without hiring a crew of mimes who never actually touch the car while working. Each ultimate splash wash includes a hand wash and dry, wheel cleaning, interior blow-out and vacuuming, window cleaning, dash and center-console wipe-down, seat cleaning and dressing, door-panel wash, tire dressing, and exterior hand wax. Sparing delicate car exteriors from clumsy machinery and assembly-line service, River City employs a crew of live people who deftly revive your car's lustrous sheens with steady-handed precision. River City's crew always uses high-quality cleaning products, never recycled banana-peel wipes.
13160 West Highway 42
Prospect
Kentucky
---