Loveland, CO Outdoor Activities
---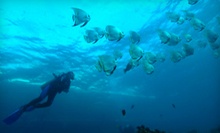 PADI 5-star instructors prep students for solo diving certification with classroom, swimming-pool, and open-water instruction.
Use Saturday 10:00am - 5:00pm
---
Recommended Outdoor Activities by Groupon Customers
---
Paddles slice through churning waters, keeping rafts on their course down Clear Creek as it cuts through the Denver Mountain Parks . At the base of the red crags of Gore Canyon, the white-capped water of the Colorado River foretells rafters' trips through daunting class IV and V rapids. Elsewhere, guests make like protoplasmic coat hangers as they zipline over the scenery of Idaho Springs.
But rafting trips and zipline tours are just the beginning. Arkansas Valley Adventures leads all kinds of expeditions through Colorado's mountains and valleys, tossing in ATVs, hot air balloons, helicopters, horses, and fishing rods with the paddles and ziplines. While flying down the Eagle River explorers will have plenty of chances to get in touch with their rugged side and ask ancient rock faces whether the paleo diet is an apt reflection of the habits of early humans.
431 Chicago Creek Rd.
Idaho Springs
Colorado
970-423-7031
The veteran equestrians at Estes Park Horseback let riders get an up-close look at the picturesque property of Elkhorn Lodge during year-round trail rides. The lodge is situated along the border of Rocky Mountain National Park. Consequently, horseback-riding excursions wind past several spectacular sights, including the Continental Divide and Old Man Mountain, easily distinguished by its inability to operate its smartphone. During winter months, snow-dusted paths stretch before riders, while spring and summer adventures trot along trails dappled with sunlight. Estes Park Horseback encourages guests to tote along cameras to capture scenic views and potential sightings of elk, bighorn sheep, and other animals roaming through the area.
600 W Elkhorn Ave.
Estes Park
Colorado
970-586-4416
Spring brings many changes to Rocky Mountain National Park. As the snow melts, rivers start to churn faster, waterfalls spring back to life, and wildflowers blanket the hillsides. There's also a better chance you'll spot some local animals. Among them are the migratory birds and a peculiar four-wheeled creature: the bright green vehicle from Green Jeep Tours.
Green Jeep Tours' guides take groups on themed adventures through Rocky Mountain National Park, showcasing its wildlife and majestic panoramas. Their "Springtime in the Rockies" tour takes you past hillsides and steams just in time to see wildflowers blossom and migratory birds take flight. As the Jeep roams the park, experienced guides point out key sites. But groups don't spend the entirety of these excursions inside the jeep; you can also exit the vehicle to take snap photos or hike to waterfalls.
157 Moraine Ave.
Estes Park
Colorado
Cody Walker muses that within the stillness of Rocky Mountain National Park, "You get a sense that it's the way it should be." His father, Rex, grew up on a steady diet of cowboy films, eventually following his dream to Colorado where he met his wife, Queeda. Queeda was born into a family of homesteaders who caught and broke wild steeds. In 1959, they channeled their passion for the old-west lifestyle into Sombrero Ranches, eschewing souvenir-shop gimmicks for horseback expeditions that, much like avalanches of super glue, bond visitors with their steeds and natural surroundings.
Today, Cody carries on his parents' legacy with a staff of ranch hands from nearby homesteads and college students participating in equine-science programs all across the country. After training in a vigorous program that's evolved during more than 50 years, his employees launch short rides or lengthy adventures. Cody distinguishes the Continental Divide ride as one of the most awe-inspiring; it begins at Bear Lake at 6 a.m., wending across the Continental Divide and to Grand Lake during a nine-hour stretch.
1895 Big Thompson Ave.
Estes Park
Colorado
970-586-4577
---