Restaurants in Loveland
---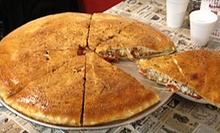 A charity-owned pizza joint crafts New York–style pies from homemade sauce and dough baked in a stone-hearth oven
---
Recommended Restaurants by Groupon Customers
---
When George Clooney was in town filming The Ides of March, he made reservations at Trio Bistro.
Equal parts California wine bar and Florida coastal bistro, Trio Bistro has won over celebrities, critics, and patrons with its fresh seafood, including grouper flown in from Florida daily, as well as its meticulous service. Cincinnati.com praises Trio Bistro's staff, saying, "there is clearly a good system in place that allows servers to do their job well," and Gayot lauds the "young vibe, all-ages clientele and a hip, circular bar made for hanging out." This carefully maintained ambiance accommodates any dining experience, be it an in-and-out dinner or a leisurely evening sharing a bottle of Orin Swift's blend of zinfandel, cabernet, syrah, and petite sirah.
Located across from Nordstrom's, Trio Bistro, which is independently owned, has spent nearly a quarter century perfecting its bounty of steaks, seafood, and specialty pizzas and flatbreads. The menu draws inspiration from kitchens all over the globe—it's packed with pizzas that deliver Thai and Mediterranean toppings, fish that hails from Alaska and New England, and meatloaf, a 20-year mainstay. The bistro's small plates have earned them an excellent rating on Zagat.
Sunlight comes flooding through the venue's elongated windows, glinting off cherry wood accents and warm white tablecloths. In the Veranda room, two fireplaces blaze.
7565 Kenwood Rd.
Cincinnati
Ohio
513-984-1905
Plates of food travel beneath the ironwork of original bank-teller windows and around an authentic bank vault at Teller's of Hyde Park, located inside the historic Hyde Park Savings and Loan building. Bright skylights give the spacious interior a contemporary feel. Diners can enjoy a seasonal menu of modern American cuisine, including dishes such as chicken cordon bleu or 12-ounce Black Angus steaks with whole-grain-mustard demi-glace. Chefs also try their hands at regionally and internationally inspired dishes such as Cajun pasta and seared ahi tuna doused in dynamite sauce, which confused bank robbers often use in attempts to rob the restaurant's vault.
Teller's keeps more than 30 beers on tap and more than 120 bottles of wine ready to uncork at a moment's notice. Along with the dining room and vault, Teller's of Hyde Park seats guests on an upper-level mezzanine and, weather permitting, a second-story patio.
2710 Erie Ave.
Cincinnati
Ohio
US
The chefs at Blue Elephant Restaurant craft Thai curries, Japanese sushi, and Italian pasta dishes, tying them all together with the common thread of fresh ingredients and careful preparation. They specially order ingredients that are not available locally to ensure that each dish contains the freshest possible items. Basil leaves flavor the Thai-style basil chicken, and cashews add salt and crunch to mango chicken. Within sushi rolls, thinly sliced fish such as tuna and salmon complement the silky texture of cream cheese and avocado.
Prior to establishing the restaurant, the owners committed themselves to observing environmentally responsible building practices. As a result, the entire building is constructed from sustainable and recyclable materials. Energy-efficient light bulbs illuminate the dining room, and a geo-thermal heating and cooling system regulates the temperature. On stormy days, an onsite pond directs raindrops into the soil, preventing them from falling into a gutter or discarded chip bag.
2912 Wasson Rd.
Cincinnati
Ohio
513-351-0123
Chi-nnati's pizza menu lets you build your own pie or put your faith in a carefully catered creation such as The All-In—which unites pepperoni, sausage, mushrooms, onions, green peppers, and black olives ($18.95 for a 10'' deep-dish)—or the gourmet Mediterranean dressed in kalamata olives, feta, green peppers, and onions ($16.95 for a 10'' deep-dish). Go thin with the crust if you don't like getting sauce in your mutton chops, or go deep and show off virtuosic spork skills. The deep-dish options take a little more time to slow-bake (around 30 minutes), since Chi-nnati's has to wait for the Windy City to deliver authentic flavors to its ovens via a special pizza portal, then clear out any extra-dimensional monstrosities that came with it. If you get peckish waiting for your pie, Chi-nnati's also serves up hot sandwiches, dogs, and more.
7980 Hosbrook Rd.
Cincinnati
Ohio
---