Photography & Portraits in Lowell
---
Photography & Portrait Deals
---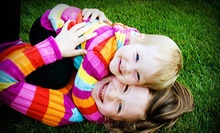 A professional-quality copy of a cherished photo, rendered with rich color and sharp detail as an 8" x 10" gift print
Use Saturday 10:00am - 4:00pm
---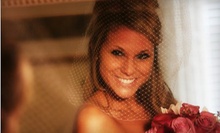 Family of photographers has specialized in portraits for more than 30 years
Use Friday 10:00am - 5:00pm
---
Recommended Photography & Portraits by Groupon Customers
---
Your package includes a session for up to six people (up to $105 value; $10 per person over six people) and three sheets of the same pose that include:
63 Main Street
Maynard
Massachusetts
Equipped with the very best Canon electric eyes and the most effective of high-pitched coos, Rufo will coax the stateliest of poses from even the most muttacular troublemaker during the 30-minute photo session ($100). Your pet-shoot can take place at Rufo's Waltham studio or on location within 25 miles of Rufo's studio. After the shoot, clients will pick a favorite image to keep as an 8"x10" print ($25) and a 5"x7" print ($25). This deal also includes 20% off additional prints of your pet's session, ideal for establishing lucrative modeling careers. And with no restriction on what type of pet Rufo will shoot, you can bring any member of your menagerie, including massive mastiffs, diminutive dachshunds, and ignacious iguanas.
274 Moody Street
Waltham
Massachusetts
At age 10, it was choreographed dance moves, Miami Vice_–inspired suits, and mixtapes. During his teenage years, it was stints on MTV's _The Grind and appearances in music videos and national commercials. Nelson Cruz has always had a knack for bringing the party with him, a talent that he parlayed into a gig as a master of ceremonies and event planner for one of New York's exclusive entertainment agencies. Now in business for himself, Nelson brings his considerable experience and Rolodex full of party contacts spanning Manhattan, Westchester, and Long Island to bear on all of life's special occasions. Whether supplying photo booths for a rock 'n' roll themed wedding, or carving an ice sculpture in the shape of Honus Wagner, Cruz and his crew outfit bashes with theme-appropriate appropriate entertainment and the latest lighting and sound equipment. Cruz collaborates closely with hosts, listening to all their pre-party needs before dispatching seasoned DJs, photographers, and party motivators—most of whom moonlight as actors and dancers—to keep dance floors filled with moving feet and happy faces.
56 Columbus Ave.
North Easton
Massachusetts
508-238-3944
It's no surprise that Brad Seaman ended up in the photography business. He is the son of a father who worked as a global film-supply manager for Kodak and dabbled in professional photography and a mother who seldom left home without her camera. Though Brad's immersion in the photo world was something of a recent development—he started the company in 2011—he has quickly demonstrated an innate flair, using his Nikon D700 Pro DSLR to snap nearly 25,000 pictures in a year and glamorize clients in pictures commemorating their high-school graduation, engagement, wedding, or return from a tour with the Ghost of Braces Past. Brad also specializes in portraits of families and pets, letting clients celebrate the togetherness of their household and its four-legged mascot.:m]]
14 Wren Terrace
Quincy
Massachusetts
617-481-6063
Now a professional photographer who trained at the New England School of Photography, Erik first cottoned on to photography while living in Europe. Awestruck by the beauty and excitement that comes with trekking around unfamiliar places, he wanted to pull the sights through the lens of his camera and keep them from weathering in his memory. His newfound passion for photography snuck into his luggage on his trip back to the U.S., where it grew into a full-blown career of photographing boudoir shoots and weddings.
Patton Boudoir's 900-square-foot studio, decorated like an old-fashioned dressing room, sets an elegant backdrop for tasteful photo sessions. Commercial lighting casts a flattering glow over skin, and bottles of champagne set a festive mood. During boudoir sessions, Erik uses a mix of humor and specific direction to create images that draw out each client's personality, celebrate their beauty, and show off the elegant curve of their antennae. Depending on the package, the shoot takes the form of a full-fledged event with professional makeup artist Michelle working at Erik's side, styling hair, applying makeup, and orchestrating the wardrobe. After the shoot, Erik lightly retouches and individually tones prints to mimic darkroom techniques.
215 Boston Post Rd.
Sudbury
Massachusetts
617-959-0767
Worcester Photo Studios unveils a picture-snapping emporium to customers and photographers alike. Inside the 10,000-square-foot facility, a dozen shooting areas surround sessions in a wide range of settings, and mammoth bay doors grant access to larger-than-life props, such as cars, boats, and scale replicas of downtown Worcester. For shutterbugs lacking their own home base, the studio offers a membership program that includes use of its spaces; in the future, the studio plans to install a classroom, salon-style stations, and a kitchen set, complete with fully functioning appliances and a fully functioning Emeril Lagasse.
90 May St.
Worcester
Massachusetts
800-210-9531
---