Restaurants in Lowell
---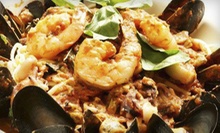 Grilled flatbread pizzas, family-recipe lasagna, and spicy shrimp in angel hair pasta perfected during more than 30 years of service
Use Tuesday 11:30am - 2:30pm
---
Recommended Restaurants by Groupon Customers
---
ZaZa's chef and culinary virtuoso Manrique Alvarenga's menu features a variety of regional Italian, American, and seafood cuisine. Patrons can sample specialties such as seafood risotto with lobster, clams, mussels, shrimp, bell peppers, and peas ($27) or herb-rubbed rack of lamb with au jus, butternut squash, and asparagus ($26). Follow an opener of ZaZa wings ($8) with the flavor fireworks of gemelli and sweet Italian sausage ($16) in a garlic-oil pecornio romano cheese sauce with leeks, black olives, and sun-dried tomatoes.
114 Broadway
Saugus
Massachusetts
When owner Alessandra Siniscalco opened Café Piazza Dolce, becoming the chef of a celebrated Italian trattoria was the last thing on her mind. While the restaurant originally sold only espresso, gelato, and fresh baked goods, Café Piazza Dolce's popularity soon transformed it into a cozy eatery serving authentic Italian pastas, pizzas, and grilled dishes. The menu, comprised of both a weekend brunch and daily dinner selections, brings together entrees from every region of Italy. Caprese salads often start dinners, followed by house-made pastas for main courses. Hand-tossed pizzas rise in wood-fired ovens, topping with ingredients such as egg, prosciutto, or bacon pesto, and the kitchen's grill chars a wide range of proteins from steak to salmon. On the weekends, the chefs have a sleepover at the restaurant so they can be up early preparing pancakes, poutine, and gourmet egg sandwiches for brunch.
831 Main Street
Winchester
Massachusetts
781-838-6092
Main Street Pizza, a family owned and operated restaurant has proudly been serving the town of Tewksbury for over fifteen years. With over twenty pizza toppings and using only the finest and freshest ingredients, Main Street Pizza has established itself as one of the finest pizzerias in the area.
1268 Main Street
Tewksbury
Massachusetts
978-858-0332
At WICHIT, patrons can draw up blueprints for their own sandwiches or choose from signature house specialties. Served on a choice of eight types of bread, custom sandwiches include meats such as seasoned pulled pork and new york sirloin strip and are covered in fresh veggies such as dill pickles, caramelized onions, and avocado. On the other hand, unique hot and cold house specialties brim with venerated offerings, from the sushi-inspired spicy tuna-maki sandwich to the oven-fresh Stonemill with sirloin strip steak and roasted garlic aioli.
15 Union Street
Lawrence
Massachusetts
The practiced chefs at Buono Bistro have spent the last 30 years creating a mouthwatering menu of classic Italian comfort food jazzed up with a gourmet twist. In addition to their daily specials, they craft gnocchi gorgonzola, lobster ravioli, and wild-mushroom risotto from scratch. The expansive menu also includes such nonpasta specialties as braised-lamb osso buco and veal stuffed with provolone and prosciutto.
Basking in the glow of an ornate, glittering chandelier, guests can sip a handcrafted martini or a glass of bold wine. Though the food and decor are decidedly upscale, Buono Bistro keeps it low-key, offering diners a relaxed atmosphere akin to a billionaire's treehouse.
220 Sutton Street
North Andover
Massachusetts
978-258-0658
Latin and American cultures collide at Tango Grill Cafe. Each cuisine's comfort foods receive their share of space on the seasonally rotating menu, although the Mexican, Caribbean, and South American influences tend to appear most predominantly. Flaky empanadas can emerge from the kitchen along with adobo-rubbed sirloin steak or pan-seared crab cakes with lemon aioli. However, the chefs also forge eclectically inspired dishes such as philly spring rolls with shaved beef, peppers, and cheese, and irish eggs benedict with corned-beef hash.
Although gentle Latin music serenades guests most evenings, karaoke aficionados stop by on Tuesday nights for a chance to sing their favorite song or give a lecture on the proper way to fold a fitted sheet.
12 Chelmsford St.
Chelmsford
Massachusetts
978-256-5540
---