Things to Do in Lubbock
---
Recommended Things to Do by Groupon Customers
---
At the Lil Jungle within South Plains Mall, sock-clad kids aged 9 and younger bound about on open-air cushions, race their friends down inflatable slides, and hop around in a jungle-themed bounce house with inflatable palm trees. The family-owned Jump N Jungle entertains kids at its second indoor locale, the 10,500-square-foot Big Jungle. Along with a selection of slides similar to Lil Jungle's, the climate-controlled Big Jungle enthralls youngsters with climbing structures, an inflatable shaped like a playful tiger lying on its back, and a bounce castle where kids learn to leap and play the lute simultaneously. In the summer, Big Jungle also hosts four-day camps where attendees play games, enjoy bouncer time, and work on crafts and coloring projects.
12209 Geneva Ave.
Lubbock
Texas
Expert horse wranglers lead riders of all levels through trail rides in the sprawling, dusty desert just outside Lubbock. Riders climb on top of horses appropriate for all levels, and absolute beginners can profit from a 10- to 15-minute orientation before their ride.
4216 E. Country Rd. 5400
Lubbock
Texas
Dave's Need 4 Speed revs entertainment engines with a trio of attractions that send adrenaline juices coursing through thrill seekers of all ages. Laser-tag combatants equipped with light-blasting carbines sprint, crawl, and conga dance through a pirate-ship-themed battleground where glowing barrels and wooden bridges conceal camouflaged warriors and deflect misfires back into the darkness. The illuminated fairways of a cosmic mini-golf course unfurl amid radiating urban backdrops, challenging putters to sink holes in one beneath the shadows of the Statue of Liberty and other American landmarks. Guests who share Dave's disdain for sluggish steering can hop into a go-kart and whip around one of the center's age-appropriate tracks, which foster high-speed excitement with a fresh slathering of melted butter prior to each race.
P.O. Box 16047
Lubbock
Texas
806-797-7223
In 1973, Jimmy and Katie Dean signed the papers to purchase Joyland Amusement Park, which had fallen into neglect after first opening in the 1940s. They thoroughly revamped the 13 attractions the park had then, and Katie still helps manage the more than 30 kiddie, thrill, family, and water rides that send guests rolling, spinning, and splashing today. From the Skyride's gondolas that sail high overhead, families take in scenic vistas of an antique carousel, the speedy Galaxi coaster, and a log flume powered by Old Faithful's underachieving brother. Joyland opens its gates from mid-March until early fall, closing in the winter months for rollercoaster-hibernation season.
600 Broadway
Lubbock
Texas
Owners Jeff and Michelle Dow met at the University of Iowa on athletic scholarships for gymnastics. After decorated careers that included spots on the U.S. Nationals team, the duo moved to Lubbock and founded Tega Kid's Superplex in 1995. Assisted by a skilled staff, they entertain and educate kids in teamwork and the athletic arts during sports programs, camps, and events. Though planted in gymnastics classes and fertilized with hand-grip chalk, the 18,000-square-foot facility has blossomed into a diverse space that teaches noncompetitive dance, cheerleading, tumbling, and swimming lessons that follow the USAG Junior Olympic Program's curriculum. The facility also houses a preschool, afterschool activities, and summer events and is a licensed provider of Motion Evolution, an interactive fitness program for kids.
7621 82nd St.
Lubbock
Texas
806-866-9765
Three years after founding Louise Hopkins Underwood Center for the Arts in 1997, Louise Hopkins Underwood's operation finally found a permanent home in the city's vacated Fire Department Administration Building. These days, her vision for a thriving contemporary-arts community has grown into a four-block campus with nine buildings spread across 64,000 square feet. The LHUCA team repurposed those structures—warehouses and former municipal buildings among them—into arts spaces that include an exhibition hall and four galleries whose nearly 5,000 square feet display local, national, and international artists. The renovated Icehouse accommodates rehearsals and performances of dance, music, and performance art, and the 159-seat Firehouse Theatre's 5.1-surround-sound mix brings films to life more effectively than hiring Dr. Frankenstein as a projectionist. Along with showcasing the work of prominent figures, the center's teachers nurture up-and-coming artists with classes in disciplines such as oil painting, bagpiping, and creative writing.
511 Ave. K
Lubbock
Texas
806-762-8606
---
---
Things to Do Deals - Recently Expired
---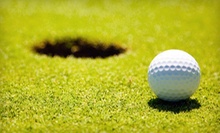 Players schlep GPS-enabled golf carts across bermuda grass when playing 18-hole course designed by George Williams in 1997
---
---