Things to Do in Lubbock
---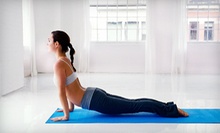 Certified teachers practice classic yoga styles at classes seven days a week; organic, fair-trade coffee onsite supplies a postclass boost
---
Recommended Things to Do by Groupon Customers
---
At the Lil Jungle within South Plains Mall, sock-clad kids aged 9 and younger bound about on open-air cushions, race their friends down inflatable slides, and hop around in a jungle-themed bounce house with inflatable palm trees. The family-owned Jump N Jungle entertains kids at its second indoor locale, the 10,500-square-foot Big Jungle. Along with a selection of slides similar to Lil Jungle's, the climate-controlled Big Jungle enthralls youngsters with climbing structures, an inflatable shaped like a playful tiger lying on its back, and a bounce castle where kids learn to leap and play the lute simultaneously. In the summer, Big Jungle also hosts four-day camps where attendees play games, enjoy bouncer time, and work on crafts and coloring projects.
12209 Geneva Ave.
Lubbock
Texas
Expert horse wranglers lead riders of all levels through trail rides in the sprawling, dusty desert just outside Lubbock. Riders climb on top of horses appropriate for all levels, and absolute beginners can profit from a 10- to 15-minute orientation before their ride.
4216 E. Country Rd. 5400
Lubbock
Texas
Dave's Need 4 Speed revs entertainment engines with a trio of attractions that send adrenaline juices coursing through thrill seekers of all ages. Laser-tag combatants equipped with light-blasting carbines sprint, crawl, and conga dance through a pirate-ship-themed battleground where glowing barrels and wooden bridges conceal camouflaged warriors and deflect misfires back into the darkness. The illuminated fairways of a cosmic mini-golf course unfurl amid radiating urban backdrops, challenging putters to sink holes in one beneath the shadows of the Statue of Liberty and other American landmarks. Guests who share Dave's disdain for sluggish steering can hop into a go-kart and whip around one of the center's age-appropriate tracks, which foster high-speed excitement with a fresh slathering of melted butter prior to each race.
P.O. Box 16047
Lubbock
Texas
806-797-7223
Owners Jeff and Michelle Dow met at the University of Iowa on athletic scholarships for gymnastics. After decorated careers that included spots on the U.S. Nationals team, the duo moved to Lubbock and founded Tega Kid's Superplex in 1995. Assisted by a skilled staff, they entertain and educate kids in teamwork and the athletic arts during sports programs, camps, and events. Though planted in gymnastics classes and fertilized with hand-grip chalk, the 18,000-square-foot facility has blossomed into a diverse space that teaches noncompetitive dance, cheerleading, tumbling, and swimming lessons that follow the USAG Junior Olympic Program's curriculum. The facility also houses a preschool, afterschool activities, and summer events and is a licensed provider of Motion Evolution, an interactive fitness program for kids.
7621 82nd St.
Lubbock
Texas
806-866-9765
The 50th Street Caboose, sister restaurant of the Copper Caboose, which was established in 1977, creates a rollicking, family-friendly setting, where the worlds of Tex-Mex cuisine and virtual entertainment collide. The restaurant's menu of charbroiled steaks, beefy fajitas, and taco dinners grants diners the energy to tackle an arcade stocked with more than 100 games, which have included popular titles such as Frogger and Terminator: Salvation. Exceptional button-smashers who earn handfuls of tickets can head to the redemption area to retrieve various prizes, such as toys, stuffed animals, and mounted piñata heads. The sounds of clacking billiard balls and contagious laughter vie for airspace as adults swig frosty brews in the lounge area, and 50th Street Caboose's party rooms reserve space for birthday celebrations, sporting events, and private get-togethers.
5027 50th St.
Lubbock
Texas
806-796-2240
US Open champ Mike Scroggins gazed anxiously at the fallen pin as it rolled slowly across the waxed wood, inching its way toward the frame's only survivor, the seven pin. Finally, the rolling pin tapped the seven, which wobbled to one side, then the other—and finally teetered over, giving Scroggins a strike and clearing the way for him to win his 45th career PBA victory.
The chronicler of this triumph was the Lubbock Avalanche-Journal, and the site of it was South Plains Lanes. For nearly two decades, the alley's 40 polished lanes have set the stage for dramatic showdowns such as that one. It is little wonder then that bowlers would be tempted to vie for strikes until three in the morning on weekends, when the lanes are briefly used as shortcuts for trucking routes. Automatic scoring tracks the competition, and a snack bar fuels the bowlers. Between games, bowlers can fling darts or head to the billiards tables.
5150 69th St., Lubbock
Lubbock
Texas
---