Professional Services in Ludlow
---
Professional Service Deals
---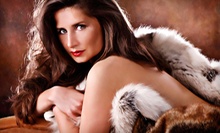 Experienced photographer puts clients at ease as they pose to their own music in a private candlelit studio
---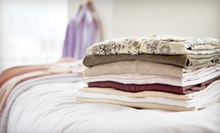 Combination laundry service and self-serve laundromat offers pickup and drop-off, plus a flat-screen TV and WiFi for waiting customers
---
Recommended Professional Services by Groupon Customers
---
The staff at Zoots Dry Cleaning extracts stains and stress by pairing eco-friendly dry-cleaning services with the convenience of extended evening and Sunday hours, 24-hour drop-off and pickup services (available at most locations), and an automated drive-thru system. Team members clean clothes, draperies, bedding, and rugs with a biodegradable solvent as opposed to harsh PERC chemicals, and some staff are trained to expertly excise stains from the delicate lace and beadwork of bridal-gown bodices. Most stores also have a tailor on location who is able to alter ensembles in a snap. Customers get e-mail notifications when orders are ready or they can download a smartphone app to keep a close eye on the status of their dirty laundry.
633 Park Ave.
Worcester
Massachusetts
508-363-3700
The owners of Big Z Cleaners, Twin City Dry Cleaners, & Squeeky's Cleaners & Laundromat wash and dry-clean garments with environmentally friendly practices and a keen eye for detail honed over a span of 40 years. After dry-cleaning silk blouses, suits, or dress shirts stained with business-related marinara sauce, specialists press collars and cuffs and preserve their shapes with a customizable dose of starch. The team also carefully executes wash, dry, and fold services that conclude with exemplary folding and placement on hangers.
901 Maple Ave.
Hartford
Connecticut
Though Lauren Cooksey started out with just a Salvation Army camera in hand and three children in tow, the photographer and single mother was determined to fulfill her dream of achieving a successful career in her chosen art. Her talent and sheer willpower paid off; today, Lauren continues to snap shots under the moniker Cooksey Photo and has even enlisted one of those aforementioned toddlers, Tracy, to join her mission.
With 20 years of industry experience behind them, the mother-daughter photography team captures candid images of individuals and families, crafting prints with warm, sepia tones brushed with custom color. During photo shoots, the duo uses handmade sets and props to coax out the personality of each baby, graduating high schooler, or beloved mannequin. Afterward, they select the best image to edit before dressing it up with daubs of digital color. Finished prints from a family session spruce up a lonely end table, or a print from a pet photo shoot can enliven a mantel in a doghouse. The new in-home studio, which opened in June 2011 is also child-friendly.
25 Elm Hill Rd.
Vernon
Connecticut
US
860-474-5566
Elegant Affairs elevates the concept of traditional brunch with delicious cuisine from lauded caterers and smooth jazz music. Elegant Affairs has been catering since 1989 and has experience crafting menus for intimate occasions or parties as large as 4,000 attendees. For the jazz brunch, they create a specialty menu that includes breakfast and lunch favorites such as french toast and caesar salad as well as a full cash-only bar stocked with mimosas, bellinis, and other morning cocktails. As guests taste sweet and savory brunch dishes, jazz musicians such as Jon Berman and Eric Bascom supply an ethereal live soundtrack.
1380 Main St.
Springfield
Massachusetts
413-734-9267
Kelly and Kathy's friendship first began in high school, staying strong throughout their college years in Virginia and an eventual move back to Connecticut. Kelly's passion for photography led her to establish her own studio, and Kathy's business and education degrees directed her to teaching—though she never gave up on her childhood dream of becoming an artist. With Simply K Studios, the duo finally combined their respective experiences and industry savvy into a lifestyle photography venture, documenting weddings, senior portraits, infants, and families.
The shutterbug pair tries to capture each client's one-of-a-kind character during sessions, which typically travel to a nearby location or homecoming game reenactment of personal significance. Their prints, digital slideshows, and packages make for prime scrapbooking fodder as they transfer memories to tangible forms.
137 Main St.
Wethersfield
Connecticut
860-368-8011
"We were always the kids in the group with cameras," Christopher Anderson reminisced in an interview with The Register Citizen of his more-than-decade-long friendship with Eric Dinnen. The two self-taught shutterbugs transformed their photographing hobby into freelancing careers before joining forces in 2010 to shoot local bands and stage performances. Soon thereafter they formed Iconography By, which hosts portraiture sessions in its naturally lit studio adorned with framed photos and canvas gallery wraps from recent shoots. Outside of the studio, Eric and Christopher capture cherished moments at weddings and corporate Survivor events. Clients can peruse their proofs two weeks after their session before determining which poses to preserve as prints or high-resolution digital images.
79 Main St., 2nd floor
Torrington
Connecticut
860-626-5188
---